2018 Women of Distinction Nominees | Entrepreneurship & Innovation
Recognized nationally, the YWCA Women of Distinction Awards honours individuals and organizations whose outstanding activities and achievements contribute to the well-being and future of our community.
Congratulations to the 2018 nominees in the category of Entreprenuership & Innovation
NOEL ASMAR
Noel is a designer and e-commerce pioneer whose multi-million dollar business, the Noel Asmar Group, is grounded in tasteful, purpose-driven clothing. In 2002, after a decade of international experience in the luxury hospitality industry, Noel launched the first online spa uniform company. As the world's only "designer" uniform line, her concept quickly evolved to a collection of hospitality uniforms that are supplied in luxury hotels, resorts and spas across more than 60 countries. As CEO, Noel scaled the Asmar Group globally, further expanding her portfolio in 2011 to include an equestrian collection, and was selected to dress the Canadian Equestrian Team for the 2016 Olympic Games. Noel recently debuted her fashion collection to international acclaim, and was recognized as one of Canada's Top 20 Female Entrepreneurs in 2016. 
BECKY BRAUER
As Co-Founder and Head of Culinary at Fresh Prep, Becky took big risks to establish Metro Vancouver's greenest meal kit delivery startup. She helped Fresh Prep evolve from a passion project that delivered 100 meals out of a Kitsilano-based juice shop to an industry-leader that prepares and delivers meal kits to more than 7,000 customers across 16 municipalities. Despite fast-paced growth, Becky remains committed to supporting small businesses and prioritizing local farmers. Under Becky's leadership, Fresh Prep launched an in-house recycling program and became the only meal kit delivery service to offer reusable ice packs and cooler bags. Becky is also a passionate advocate for food security. Fresh Prep donates its leftover food to community programs and Becky is currently developing a cooking class for low-income families.
Lauren combined her passion for empowering women and girls with her experience working in the startup community to launch The Prevail Project, a platform that helps the next generation of women entrepreneurs define their own version of personal and professional success. As Founder and Creative Director, Lauren empowers her followers to learn and network by connecting them to stories and resources collected from inspirational, unconventional women leaders. From pitching and business development to managing a team of content producers, Lauren oversees every aspect of her business and is currently expanding the project with a web series and documentary. Lauren's commitment to women and girls is inspiring: she led empowerment programs for teens through REALgirl, volunteered as a coach and mentor with Create Change Foundation and actively supported eating disorder awareness.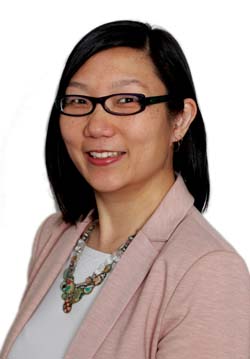 BONNIE FOLEY-WONG
Bonnie is on a mission to level the playing field in the traditionally male-dominated investment and start-up communities. She founded Pique Ventures, an impact investment and management firm, to challenge the status quo within the financial and technology industries and create an investment environment that promotes gender equality, diversity and inclusion. As an angel investor and founder of one of Vancouver's first women-led venture capital firms, Bonnie inspires a new generation of women leaders, mentoring and coaching women investors and start-up CEOs to succeed in the high-risk venture ecosystem. Bonnie, a published author and the recipient of multiple provincial and national awards, was named one of BC's Top 30 Female Mentors in 2017.
MANDY GILL
Mandy really does motivate. As CEO of the international brand, MGM (Mandy Gill Motivates) Fitness, Mandy shares her own experience as an anorexia survivor to speak out on body image and appearance, especially among girls and women. Mandy launched her fitness and nutrition business at the age of 25 and has dedicated her career to helping others transform their minds and bodies to reach their full potential. She recently launched the Mandy Gill fitness app for personalized fitness and nutrition guidance and became a strategic partner in the private training facility Mandy Gill Powered by New Edge Alliance Inc. A Reebok-sponsored athlete and plant-based guru, Mandy also gives back, raising awareness and funds for a number of children's charities.
MELANIE GREENOUGH
Melanie understands the power of intentional success. As Founder and CEO of Melaniegreenough.com, she helps thousands of clients launch or scale their businesses through her online training programs and webinars. Melanie also offers professional planning, VIP business strategy and training days, specializing in helping entrepreneurs balance work and life to achieve their professional and personal goals. A sought-after speaker, Melanie has shared the stage with some of today's most popular motivational speakers, empowering thousands of people around the world to realize their dreams.
DEBRA LYKKEMARK
Caterer-entrepreneur Debra Lykkemark has built a career on breaking barriers. As Chairman and Founder of Culinary Capers Catering and Special Events, Debra transformed a humble Vancouver café into an award-winning international catering business. Under Debra's leadership, Culinary Capers has catered an exclusive dinner on the Great Wall of China, a Formula One race gala in Beijing, a 4,500-person gala for an NHL all-star Game and events at the 2006, 2008 and 2010 Olympic Games. Debra served on the International Caterers Association Executive Board for nine years, including a two-year term as President, and has been ranked among the top-100 female entrepreneurs in Canada by PROFIT and Canadian Business. She is active in the Vancouver community, as a speaker and mentor, and gives generously to the arts.
TEA NICOLA
A metallurgical engineer-turned-financial-advisor, Tea is on a mission to democratize wealth management in Canada. In 2012, Tea co-founded WealthBar, an online financial planning service tailored to middle-class investors. The first of its kind in Canada, WealthBar pioneered the robo-advisor model, which pairs financial advisors with clients through an online platform that makes investing easier. As CEO, Tea has grown WealthBar from a promising startup to a nation-wide service with more than $200 million in assets under management. Tea attributes her drive to her early experience immigrating to Canada as a Bosnian refugee. In 2017, Tea was recognized as a Business in Vancouver Top 40 Under 40. She is presently a Director with Polyglot Software Association, a non-profit supporting diversity in software development, and a former Chapter Lead for Canada Learning Code.
EDOYE O. PORBENI
Edoye has been an advocate for effective health and social policies throughout her life. A former journalist, she spent her early career reporting on health issues affecting marginalized communities in the US. After working on a federally-funded initiative to establish HIV/AIDS resource centres across the Lower Mainland, Edoye founded Future Health Ventures Inc., a group of companies dedicated to improving lives through innovative health services and technologies. As CEO, Edoye applies her skills as a Certified Project Management Professional to lead initiatives that advance health services for youth, women and seniors, as well as people living with chronic and infectious diseases. Edoye continues to break new ground in integrated healthcare technology and recently designed an app that allows doctors to easily connect for advice and support. 
CAROL ROBINSON
As Principal and Owner of Harbour West Consulting, Carol leads a values-driven, multi-faceted business that provides innovative, flexible recruitment and human resources consulting to clients across Canada. An established Executive Search Consultant, before starting Harbour West Carol worked for the Province of British Columbia, where she identified candidates for multi-level provincial agencies, executive boards and commissions. Carol has spoken locally and internationally on public sector search, appointment and board governance practices and is an active volunteer with a passion for causes that support women's health and leadership development. Carol serves as a Board Member of Big Sisters of BC Lower Mainland and is a Public Member for the College of Midwives of British Columbia.