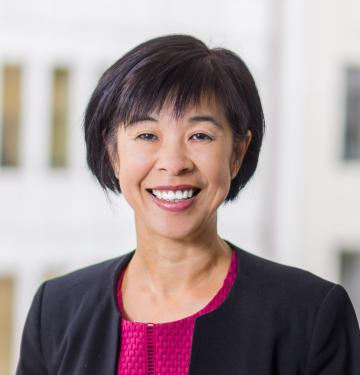 Michelle Sing has spent the past 25 years committed to YWCA Metro Vancouver, where she provides overarching HR leadership to the executive and 400+ employees spread over 58 locations.
She was appointed into the role of Interim CEO on April 20, 2018 until October 29, 2018. Michelle currently holds the position of Vice President: Human Resources, Volunteers, and Crabtree Community. 
Michelle has enjoyed role modelling the values-based leadership that is so fundamental to the YWCA's reputation and culture. As a leader who walks her talk, Sing also holds operational responsibility for the YWCA's most vulnerable clients in Vancouver's Downtown Eastside at Crabtree Corner Community Resource Centre, where her inclusive and collaborative style has made a significant impact. She has in the past, held operational responsibility for YWCA's four early learning and child care centres.  Listening, learning and then crafting solutions, her compassionate and empowering leadership motivates and supports those program leads and volunteers to make a difference in the lives of single mothers and their children. Sing was named as the 2018 HR Professional of the Year by the Chartered Professionals in Human Resources of British Columbia and Yukon (CPHR BC & Yukon).