French Pastries: From Paris to Macaroncouver
You're in Vancouver, but craving a little taste of Paris. We can't promise that you will find something in Vancouver that comes close to the cold metallic taste of the Eiffel Tower, but we do have some pretty great macaron shops to satisfy your cravings.
We selflessly took on the agonizing task to track down three very different local shops within walking distance of the YWCA Hotel to carry out a burdensomely delicious taste test.
Our dessert exploit led us to Bel Café's eccentric menu, Footo Croissants' au naturel macarons and Faubourg's meticulously crafted classical confections. We tried each shop's unique take on vanilla and chocolate macarons.
Not only is this a great place for breakfast and lunch, but it's also one of the best places to indulge your macaron craving. They make over 2000 macarons a week, so there's no excuse not to check out all the macarons on their whimsical and fun menu.
What we tried:
Vanilla Bean
The vanilla bean macaron had a confetti texture and the light and airy sweetness was perfectly complimented by its woody aroma. Everyone also really loved the after taste.
Dark Chocolate
Everyone loved the initial crunch of the dark chocolate macaron shell and the burst of melt-in-your-mouth chocolate. It was a true indulgence that left you wanting more, but strangely satisfied at the same time.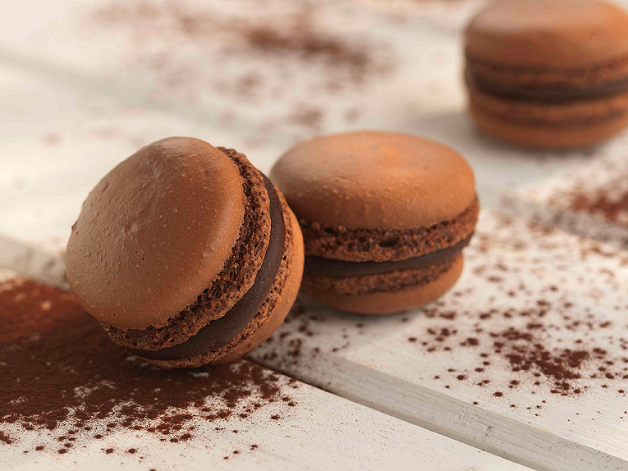 Bel Cafe's packaging was also a hit with everyone!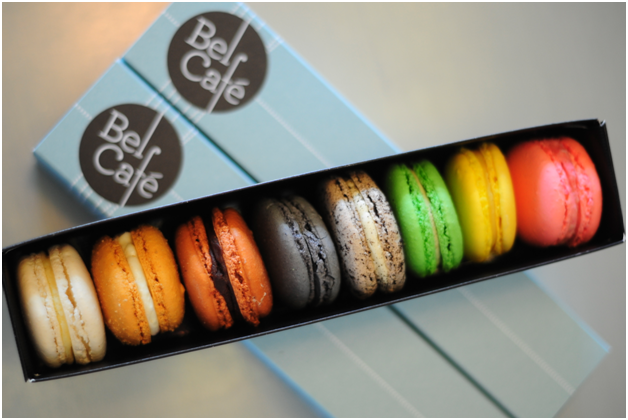 Check out Bel Cafe on Facebook and Instagram.
Don't let the name fool you! Not only does this place have Fresh Out Of The Oven (FOOTO) croissants — clever, huh? — it also has torturously delicious macarons. Footo takes an organic approach when it comes to making their delicious treats by omiting food colouring and carefully pairing shell flavours with fillings.
This results in an interesting selection of macarons:
Chai Tea: a cinnamon macaron filled with chai tea ganache
Gianduja: a hazelnut macaron filled with chocolate ganache
Lemon Poppy Seed: a poppy seeds macaron filled with fresh lemon curd
Matcha: a matcha green tea macaron filled with matcha white chocolate ganache
Mocha: a chocolate macaron filled with coffee ganache
What we tried:
Because of their unique flavour palette, we chose whatever macarons came closest to chocolate and vanilla — the gianduja and matcha macarons.
Gianduja
Footo's gianduja macaron is coloured in muted earth tones with a cookie shell made of hazelnut flour and a filling of luxurious chocolate ganache.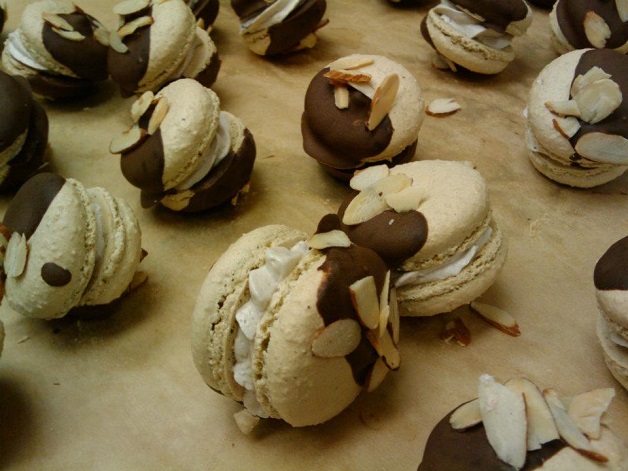 Matcha
Footo's matcha macaron was a whole new experience for our taste buds. It combined the delicate texture of the macaron with the light herbal roundness of green tea.
If you don't want to wait for your order, you can call it in ahead of time at 604.568.6500. Then just make the short 5 minute walk from the hotel.
Check out Footo Croissant on Facebook.
For a true French macaron made in the traditional Parisian style, head to Faubourg. And since you're already in the neighbourhood, pop into the Health + Fitness Centre to work all these calories off!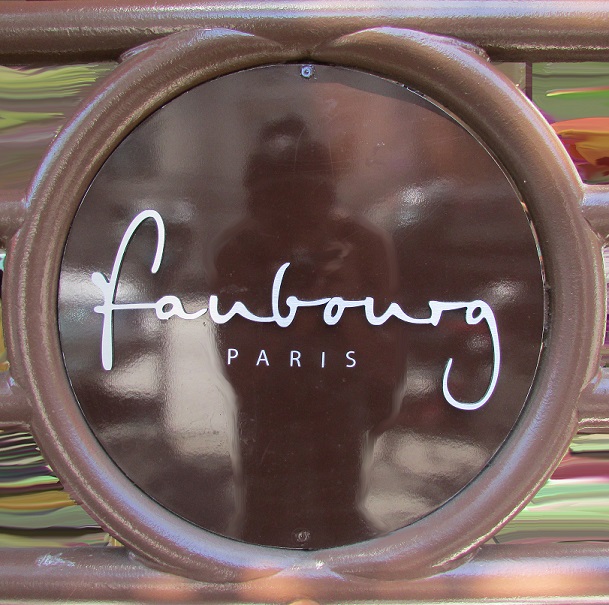 These macarons are elegant and delicate, crafted by classically trained pastry chefs. Faubourg strives to meet true Parisian standards every single time with their macarons, but they definitely have fun with their menu.
What we tried:
Tahitian Vanilla Bean
If somebody were to invent a machine that turns ice cream into macarons and then put a gourmet vanilla ice cream into that machine, the Tahitian Vanilla Bean macaron is what they would get. It's simply amazing.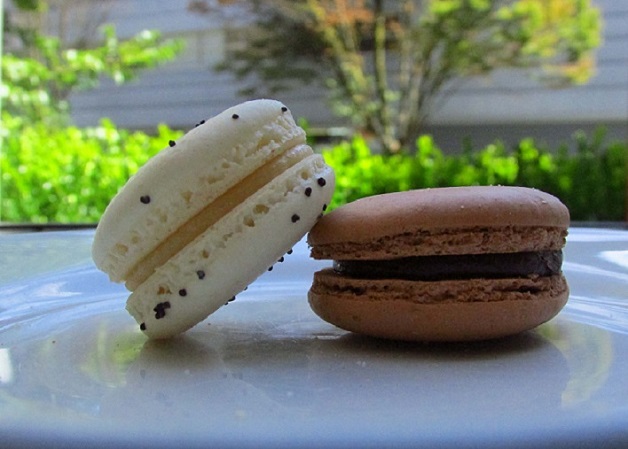 Dark Chocolate
The dark chocolate macaron delivered the quintessential chocolate experience with its velvety smooth filling and varying notes of cocoa. Everyone also loved how the bitterness of the cocoa mingled with the sweetness of shell to showcase a balanced profile of tastes. 
Check out Faubourg on Facebook and Instagram.
Whether you're a macaron connoisseur or you've never tried a macaron before, we want to hear what you think! Go out, do your own taste test and let us know what your favourite shop and flavour is.