It's Media Literacy Week in Canada!
Media Literacy Week (November 3-7) is a national event highlighting the importance of teaching children and teens digital and media literacy skills to ensure their interactions with media are positive and enriching.
Hosted by MediaSmarts and the Canadian Teachers' Federation, this year's theme – Youth & Social Networking: Creative, Connected, Collaborative – encourages adults to work with young people to explore the opportunities that social media provides for contributing positively to our communities and building digital skills for the future.
Why is media and digital literacy important for young people?
As the internet becomes more central to our lives, our online and offline identities become less separate. We often refer to today's youth as 'digital natives' because of the natural way they engage with all things digital. 
As Matthew Johnson, Director of Education with MediaSmarts, explains:
Canadian youth live in an interactive, 'on demand' digital culture where they are used to accessing media whenever and wherever they want. Instant-messaging, photo sharing, texting, social networking, video-streaming and mobile Internet use are all examples where youth have led the charge in new ways of engaging online.
But do today's youth have the knowledge and skills they need to be safe while using these technologies? Without guidance, warns Johnson, youth remain amateur users of these technologies even though they are so immersed in cyberspace.
That's where digital literacy comes in.
Digital literacy is more than technological know-how. According to MediaSmarts it includes "a wide variety of ethical, social and reflective practices that are embedded in work, learning, leisure and daily life."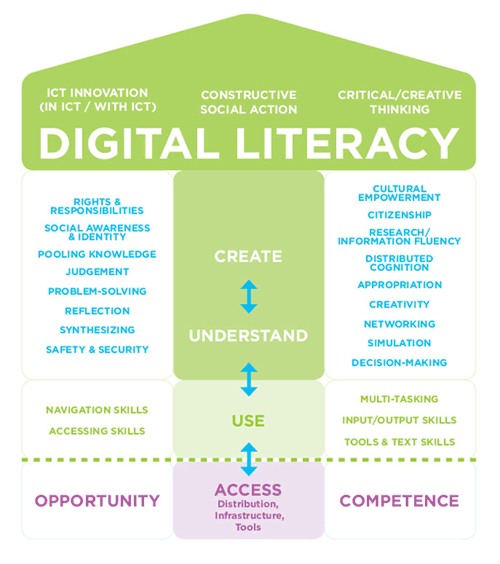 Media literacy
Technology literacy
Information literacy 
Visual literacy
Communication literacy
Social literacy
How can parents and other adults foster digital literacy in children and youth?
Here's a roundup of some great resources you can use to engage the kids in your life around digital literacy (we promise you'll learn something too!)
How we're supporting media and digital literacy at the YWCA
Here at the YWCA, our Youth Education team uses an intergenerational mentorship model (which includes high school mentors, university-aged mentors and mature adult mentors) to deliver our after-school programs, That's Just Me, Welcome to My Life and Boys 4 Real. These programs teach kids about self-esteem, healthy lifestyles and relationships and digital citizenship and internet safety. 
We also host an annual Youth Conference, developing and delivering workshops in partnership with youth and focused on a range of issues including sexualization, social media safety, media literacy and violence against women.
Our High School and Aboriginal mentorship programs work with high school girls one-to-one and in groups to meet positive role models, explore their career and education options, learn leadership skills and better prepare for their futures.
Stay tuned! In honour of Media Literacy Week, we'll be posting more on youth in digital spaces.