Three SkyTrain destinations you have to visit!
Vancouver had a glorious summer -- and now the temperature has dipped and rainclouds are gathering once more... This doesn't mean you can't enjoy our beautiful city… just hop on our SkyTrain!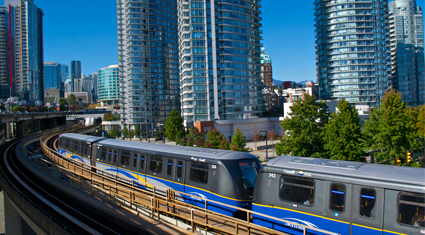 Riding the SkyTrain is a fun, inexpensive and quick way to explore Metro Vancouver…rain or shine. This elevated, light rapid transit system consists of 3 lines – the Expo Line, Millenium Line and Canada Line – connecting 48 stations throughout Metro Vancouver. You can get a DayPass for $9.75 and explore our city to your heart's content. Here are three of our favourite  neighbourhoods along the Expo Line you definitely have to visit!
Main Street – Science World Station
This station is located near the YWCA Hotel and it's the oldest and the busiest station in the system! Stepping out of the station, you'll immediately see the eye-catching dome of Vancouver's Science World, where kids – with grown-ups in tow -- enjoy the numerous interactive exhibits, from the human body and electricity to the hidden universe.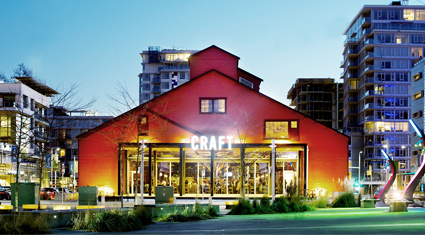 The next stop is the Olympic Village. Located two blocks from Science World, this growing community was home to more than 2,800 athletes and officials during the 2010 Winter Olympics, and it's now Vancouver's newest urban neighbourhood! This area has kilometers of seawall for your avid walkers and cyclists, and features some great shops, restaurants and cafes for those leisurely moments. Some of Vancouver's coolest public art (the BIG birds) can be found in the central plaza, and with the opening of Craft Beer Market in the restored Salt Building, this area now has the largest selection of draft beer in Canada!
Broa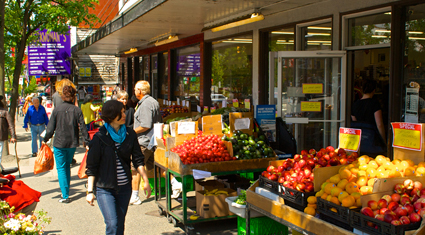 dway – Commercial Drive Station

Get off at this station to stroll the vibrant neighbourhood locally known as the Drive. Historically the hub for Italian Canadians, today the area is a melting pot of cultures and cuisines. Along the 21 blocks of Commercial Drive (Venables Street to 13th Avenue) –you can find every type of cuisine imaginable -- from great Italian and Japanese dining to Middle Eastern and Caribbean…the options seem endless. This diverse neighbourhood is also home to an exciting mix of independent boutiques, cafes and shops.  Don't forget to stop by the neighbourhood deli Santa Barbara Market to sample its delicious prosciutto, cheeses and olives, and rest your legs with a stop at Cafe Deux Soleils for a cup of espresso…or Earl Grey.
Metrotown Station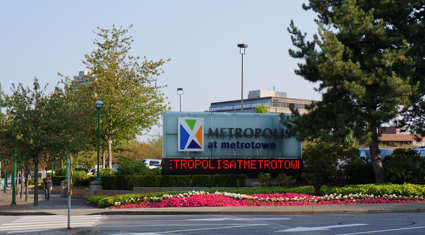 Located in the neighbouring municipality of Burnaby, Metrotown station is just 15 minutes from downtown Vancouver by Skytrain. Connected to this station is the biggest shopping mall in B.C., Metropolis at Metrotown, and one of the largest malls in Canada! If shopping is your delight, this is the place. There are about 450 stores ranging from famous designers and housewares to grocery stores and restaurants! Since it's an indoor mall, it's the perfect place to spend a rainy fall day. If you have little ones, be sure to take them on the train that runs through the mall  – they'll love it!
Have you explored our city via SkyTrain? Share your favourite stops with us.