Celebrating Chinese New Year…Family, food and centuries old traditions
A very large portion of the world will be celebrating Chinese New Year on Thursday, February 19, 2015 -- to welcome in the year of the Sheep, Ram or Goat, depending on where you are in the world. Also known as the Lunar New Year or Spring Festival, this festival is celebrated in countries with significant Chinese populations including China, Taiwan, Singapore, Indonesia and Malaysia.  And for a multicultural city such as Vancouver, Chinese New Year (CNY) is a huge celebration!
Celebrated worldwide, customs and traditions vary from country to country, but they all have three things in common: family, food and tradition. Traditionally, families thoroughly clean the house to get rid of ill-fortune. A large, sumptuous meal will be prepared for the New Year's Eve dinner. Windows and doors will be decorated with red and yellow creative crafts with popular sayings of "happiness and prosperity."  Some YWCA staff kindly shared their Chinese New Year family traditions and memories with us:
Peggy
Family is a big part of CNY. We celebrate with grandparents, cousins, aunts and uncles, and close family friends; the more the merrier! Back home, my family hosts the extended family's Chinese New Year get-together at our place, so preparation and cleaning takes place as far as one week in advance. My family gathers on the day of the dinner to cook together and that is one of my favorite parts of the New Year; I get to learn recipes and cooking techniques from my elders and my favourite dishes include Chinese steamed fish, and red bean soup for dessert.
Ashley
Growing up, CNY was my favourite time of the year; I loved seeing all my relatives and playing with my cousins. We wore our new clothes and got red envelopes. Food plays a major role in this two-week celebration. We do a big clean up ahead of time and decorate our home with flowers, red lanterns and crafts, including the "good fortune" paper craft on our doors.  We live in a seaside, so our New Year's Eve dinner has lots of delicious seafood -- from crabs to shrimps and abalones to sea cucumbers! But having dumpling is a must; it's the most typical CNY food in northern China and is my favorite dish.
Marco
While the rest of my family cleaning and decorating our house, I was busy counting how much money (red envelope) I will get (laugh)! On New Year's Eve, we would have a family dinner and my favourite dish was and still is turnip cake; I would then go outside hanging out with friends before our family went to visit our relatives. I have a family of my own now and started to teach my 2 years old daughter about our family traditions.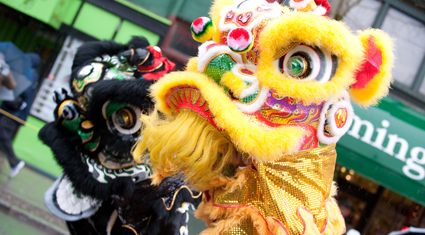 Vancouver is getting ready to usher in the Year of the Sheep, and the preparation for festivals is in full swing! Here's a list of some of the activities that are happening near our hotel:
Do you celebrate Chinese New Year? We'd love to learn about your traditions! Please share with us in the comment section below. Gong Xi Fa Cai; may the Year of Sheep bring you happiness, prosperity and health.