A Midsummer's Ice Cream Tasting
July is National Ice Cream Month, a holiday introduced to the world by a US Senator from Kentucky and signed into law by none other than President Ronald Reagan, surprisingly. So, in the spirit of Ice Cream Month, I went on an ice cream tasting excursion, putting my dream of a beach body on the line. 
During the excursion, my taste buds were whisked away into Utopia by a mouth-watering assortment of frozen delights just as the characters of Shakespeare's A Midsummer Night's Dream were whisked away into a dreamland by meddling fairies. The fairies in my dream came in the form of ice cream from What's Shaken Milkshake Bar, Rain or Shine, Soft Peaks and Earnest Ice Cream. 
Bonus! They're all easily accessible from the YWCA Hotel.
The first stop on the ice cream tasting?
What's Shaken Milkshake Bar (586 Davie Street)
Although known for its shakes, it is also home to my favourite ice cream flavour: Bordeaux Cherry. 
It tastes exactly the way that you would expect cherry ice cream to taste and it has whole cherries in it! Whole cherries! It's creamy and fruity and sweet and my mouth is watering just describing it. Even if cherries aren't your thing, this is definitely worth a try!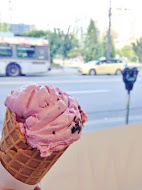 And their cookies and cream is equally delicious. The cookie to cream ratio was perfect, maybe even a little more cookie than cream, dare I say. 
What's Shaken is also right across the street from Emery Barnes Park, the perfect place to enjoy your ice cream!
Rain or Shine (102–1926 West 4th Ave)
Rain Or Shine is the most fun you can have with ice cream rolled up into one place. They have whimsical flavours available all year round and seasonal favourites like Malted Milk Chocolate Honeycomb or their new vegan Strawberry Mint Sorbet on rotation.
I had their honey lavender and peanut butter and though I know what you're thinking, they tasted amazing together.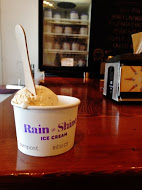 The honey lavender is a delectable combination. The lavender is perfectly complimented by the subtle sweetness of the honey, which brings out hints of rosemary.
The peanut butter ice cream was scrumptious. It was sweet, nutty, and just the right amount of salty. It also had these tiny bits of crystalized peanut butter that were a pleasantly sweet surprise.  
Rain or Shine makes their waffle cones fresh and sometimes they are still warm from the press when you get them. Once you have your ice cream, the best place to enjoy it is in Delamont Park on West 6th which is a short walk from their store. 
Also make sure to swing by on Taco Tuesdays for a waffle taco filled with your favourite ice creams and toppings!
Soft Peaks (25 Alexander St.)
Soft Peaks is a quaint organic soft serve place in historic Gastown. Their soft serve is made fresh daily and paired with a diverse range of toppings from Himalayan pink salt to TimTams. 
I tried the Sunrise in California which is topped with a sweet and sour Yuzu marmalade. As soon as the ice cream hit my tongue, I realized what they meant by their slogan, "a twist on milk."
I was expecting the undeniable creamy sweetness of soft serve that I'm used to, but I was delightfully surprised and it instantly led me to revaluate everything I have ever known about soft serve. The ice cream tasted so airy, pure, and guilt-free and the marmalade cut through it with a resounding burst of sweet citrus. It was like nothing I've had before and I've had non-stop cravings ever since. 
The best place to enjoy their soft serve is while exploring Gastown or unwinding on the second floor of the shop, if you're in need of a break from exploring. 
Earnest Ice Cream (1829 Quebec Street)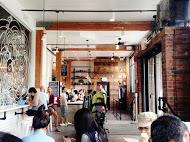 Earnest Ice Cream is home to a smorgasbord of flavours, each more unique than the last. There are about 15 year-round flavours and a bucket load of seasonal and special offerings on rotation on any given day. Make sure to try all the different flavours before ordering because it's the responsible and sensible (and most yummy) thing to do.
After trying almost their entire menu, I set my sights taste buds on the Matcha Green Tea. It had a light, cool, and earthy taste. 
Earnest took the best parts of tea and turned it into an ice cream, so you can enjoy it in the summer. I'm not the biggest tea fan, but as soon as you turn tea into ice cream, it's so perfect that tears begin to stream down my face in awe.
Also if Earnest is not the cutest little place in Vancouver, I don't know what it is!
What flavour are you celebrating national ice cream month with? Did we miss your favourite place in Vancouver? Like gelato better? Whatever it is, we want to know! Especially since I've given up hope on a beach body and can enjoy even more frozen delights guilt-free!