Supergirl donates super foods to single moms
Single Moms Have Some 'Super' Friends
Vancouver is known as Hollywood North because of the large number of television and films that choose our beautiful city as their set. Supergirl on the CW network is one of the many productions our city plays host to. Last week, Supergirl (known for her fantastic strength and X-ray vision) demonstrated one of her lesser-known super powers: generosity.
One of the recent episodes of Supergirl contained a scene in a farmers' market (No spoilers! The episode airs later this Spring). The Set Decoration team used their TV magic to create a bustling market complete with baskets full of fresh, colourful produce. When the film crew had wrapped, the Dressing Team were left with a dilemma – what to do with the ten market stalls of fresh produce they no longer needed.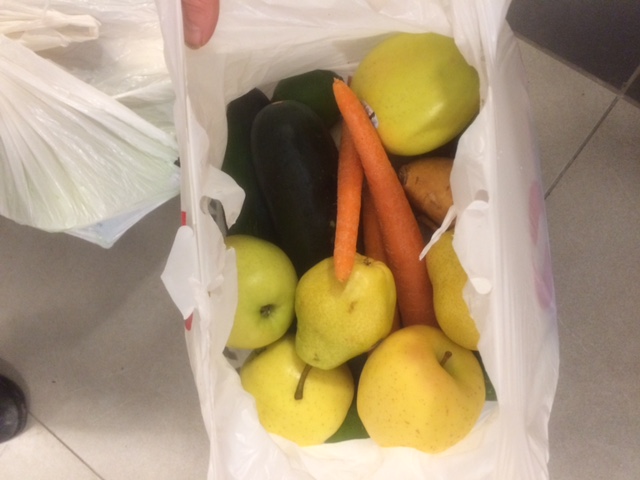 "We had all this quality produce and we wanted to make sure it went to people who could really use it. My team was incredibly keen to help," said Set Decoration buyer, Tiffany Sheppard, who was aware of some of the work YWCA does to serve single mothers. Tiffany connected with our YWCA Alder Gardens, YWCA housing for single mothers and children, and the Supergirl team was able to deliver the produce to the families at Alder Gardens.
What arrived was a bunch of super foods including potatoes, sweet potatoes, carrots, onions, limes, apples and zucchini. Community Development Coordinator for Alder Gardens, Megan Law, was on site to receive the donation. "It was awesome!" she said. "I know so many of our families struggle to afford enough fresh produce so I knew our moms would really benefit from this donation." Megan created bags of fresh produce for each of the families at Alder Gardens and had enough left over to benefit other single mothers' programs in Surrey including our Single Mothers Support Group and our second-stage transition house.
One in five BC children is living in poverty and more than half of them are the children of single mothers. In Metro Vancouver alone, half of all children are living in poverty. For low-income families, food security–having reliable access to sufficient affordable, nutritious food–can seem unattainable. Evidence suggests children living with food insecurity have poorer school performance and experience added challenges as adults, including a higher prevalence of diabetes, cardiovascular disease, psychological and social development issues. Donations like the one from Supergirl  make a huge difference in the lives of our program participants.
A huge thanks to the production team at Supergirl for partnering with YWCA Single Moms to help create this super experience!
You can be a hero to a single mom by making a donation to help her access the support and resources she needs to improve her life. Click here to make a donation.
To learn more about our Single Mother Programs contact Jenn Bateman at jbateman@ywcavan.org | 604 619 5276