Janet Austin, CEO, YWCA Metro Vancouver
Janet Austin, B.A.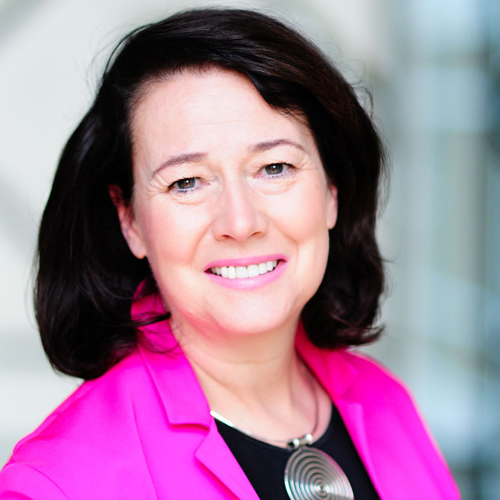 As CEO of YWCA Metro Vancouver, Janet Austin is responsible for one of BC's largest and most diversified non-profits, delivering services to tens of thousands of people each year in more than 40 locations across Metro Vancouver.
Raised in Calgary, she is a graduate of English from the University of Calgary. Janet spent the early years of her career in a variety of public sector roles in Calgary, working in regional planning and running public consultation and communications projects for the Alberta government. She eventually moved to B.C., where she began working with BC Housing.
It was there that Janet says she got the bug for public service and realized how important the business community was in being part of the solution. "You have to reach out broadly across society" to effect change, she observes. "The way to a healthier society requires an integrated approach, and change has a social component." As director of development services, she oversaw the development of the province's new-build social housing for seniors and families, as well as transition housing, homeless shelters and group homes for people with disabilities.
Prior to joining the YWCA Janet served as executive director of Big Sisters of BC Lower Mainland. 
Janet was named in Vancouver Magazine`s Power 50 for 2014 and is a recipient of the Business in Vancouver (BIV) Influential Woman in Business Award, the Vancouver Board of Trade Community Leadership Award and Wendy MacDonald Diversity Champion Award, the Queen's Golden and Diamond Jubilee Medals, the SFU Beedie School of Business BASS Award, the YWCA Canada Carolyn Barry Bray Award and the YWCA Canada Cleta Herman Award, the Big Sisters Big Heart Award for outstanding contribution by a volunteer and the Downtown Vancouver BIA Lifetime Achievement Award.
In 2008, Janet was included in the Women's Executive Network's list of Canada's 100 Most Powerful Women. She also received an Honorary Doctorate of Laws from Kwantlen Polytechnic University in 2013. In 2016, she was named BIV CEO of the Year in the Non-profit category and was invested as a Member of the Order of BC.
Janet serves on:
TransLink Board of Directors (Vice-Chair), HR & Governance Committee (Chair), Stakeholder Relations & Service Committee, Joint Planning Committee
Greater Vancouver Board of Trade Board of Directors (Past-Chair), Policy Council, Council of Governors
The Board of the Canadian Paediatric Society (Past Public Member)
The Canadian Council on Social Determinants of Health (CCSDH) - Healthy Child Development Task Group (Past Member)
The City of Vancouver's Healthy City for All Leadership Table
The Honorary Advisory Board of Big Sisters of BC Lower Mainland
UNICEF Canada – Canadian Index of Child and Youth Well-being Advisory Reference Group
The Organizing Committee for the National Retreat for Women
The UBC President's Strategic Advisory Council and the UBC Community-based Research Task Force
BC Housing - Riverview Lands Technical Advisory Working Group
The Scientific Advisory Board of the Women's Health Research Institute (Past)
Janet is also an annual speaker at the Canadian Board Diversity Council (CBDC) 'Get on Board' Education Program in Vancouver.
In the past, Janet has been an active community volunteer with a range of organizations. Janet led The Vancouver Board of Trade as Chair in 2014-15, during which time, the organization hosted 142 events with a cumulative audience of more than 23,000 people! She served in board and volunteer positions with the TELUS Vancouver Community Board and Education Sub-Committee, the Dr. Peter AIDS Foundation, MOSAIC, United Way of the Lower Mainland, the Council for Early Child Development, Leadership Vancouver, the BCIT Non-Profit Management and Fund Development Program Advisory Committee and the BC SPCA. She has also served on the BC Provincial Advisory Council on Social Entrepreneurship, the Leadership Council of the BC Government/Non-profit Initiative (GNPI), the Blue Ribbon Council on Vancouver's Business Climate and the City of Vancouver Women's Task Force.