Looking for a great team-building event in Metro Vancouver? Why not volunteer as a group? Corporate volunteering is a great way for your organization and staff to give back to the communities you do business in.
Serve a nutritious meal at breakfast, help beautify the grounds at one of our housing communities or take part in our Escape From Poverty Challenge. We offer a range of volunteer opportunities for small groups and projects for larger teams who are looking to offer their specialized skills or labour.
YWCA Project
Location
We can host the event at your office or at the YWCA Hotel (733 Beatty Street, Vancouver) or YWCA Program Centre (535 Hornby Street, Vancouver)
Role of Volunteer
The Escape from Poverty Challenge is an interactive experience where teams must make difficult decisions based on the limited budget of a low-income single struggling to parent, feed her children and pay rent.  
No of Vols & Time Commitment
Minimum 15 -  maximum 28 volunteers. Monday to Friday any time. The challenge runs for 45 minutes.  Teams will then participate in a talking circle (15-30 mins) to share experiences and hear from the women whose lives inspired the Escape from Poverty Challenge.
Cost/Donation
Each team must raise a minimum of $500 to participate. Teams include up to 3-4 individuals – they can be your colleagues, friends or family.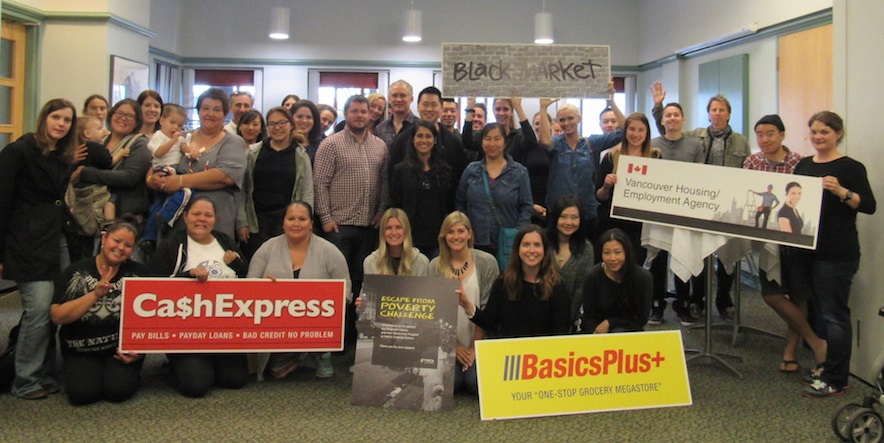 "I'm still buzzing from yesterday! The energy in the office following yesterday's experience is so wonderful. Every single person who attended was moved." 
— Escape from Poverty Challenge participant
---
For more information about corporate volunteering and team-building, contact Vanessa Wellington at 604 895 5826 | groupvolunteers@ywcavan.org