Need a room for self-isolation? A space for self-quarantine due to exposure?
Or arriving back to Canada and need to carry out the remainder of your 14-day self-quarantine (after the mandatory 3-days)?
YWCA Hotel Vancouver is offering a special self-quarantine rate to serve our community, flatten the curve and do our part! 
Reminder: all international travellers need to stay at government approved hotels for their initial 3-day self quarantine. YWCA Hotel Vancouver's offer is for locals and travellers looking for more budget-friendly options to carry out the remainder of their 14-day quarantine after the initial 3 days.
Reserve your room now online or contact us at +1 (604) 895-5830 or hotel@ywcavan.org.
See below for the latest travel restrictions and updates.
*Select 11 or more nights during booking (www.ywcavan.org/hotelbooking) for quarantine rates to appear for these room types: Double Rooms with Private Bathrooms, Double-Double Rooms with private bathrooms.
May-Jun | One room single occupancy (1 person)
– Private Bathroom
May-Jun | One room double occupancy (1-2 persons)
– Private Bathroom
Jul-Sep| One room single occupancy (1 person)
– Private Bathroom
Jul-Sep | One room double occupancy (1-2 persons)
– Private Bathroom
Travel restrictions in Canada
Updated on May 25, 2021:
Starting February 22, all air travellers must reserve a room in a Government of Canada-approved hotel for their first three nights of their 14-day self quarantine. Anyone arriving in Canada from abroad will have to wait for the results of their airport test for up to three days at a supervised hotel. 
Until June 15 at midnight, an order restricting non-essential travel between certain regions of the province remains in place under the Emergency Program Act (EPA) Ministerial Order No. M182. Please check the Government of British Columbia's Travel and COVID-19 page for latest updates.
Recreational travel within your region is allowed. This includes travel for:
Vacations, weekend getaways and tourism activities
Visiting family or friends for social reasons
Recreation activities
A room with one double bed, private bathroom
Mini fridge
Microwave
Free Wi-fi
Free local calls 
A list of delivery services including grocery and food services while you self-isolate
Book with us to help fund critical YWCA programs serving women and families in our local communities.
Contact us for more information:
+1 604 895 5830
hotel@ywcavan.org
Your self-quarantine with YWCA Hotel
If you are staying with us, the location of you self-isolation will be:
YWCA Hotel Vancouver
733 Beatty Street, Vancouver
604 895 5830
How you will travel to your isolation location: 
Public transportation can be used if you can maintain physical distancing of two metres from other passengers.  We recommend taxi and we ask that you wear a mask at all times.
Arranging the necessary supports: 
Have a plan in place to make sure you have enoough groceries and meals delivered and any prescriptions you might need. A list of deliverable services will be available at check-in.  There are no cooking facilities available but a microwave and a small fridge are in your room.   
Cleaning supplies: 
Clean the bathroom and any touch-points regularly with cleaning products provided in your hotel guest room.
 
OUR FRIENDLY STAFF IS ALWAYS AROUND!
Our hotel staff at the front desk is always around 24 hours a day/seven days a week and available to help during your stay!
Reserve your room now online or contact us at +1 (604) 895-5830 or hotel@ywcavan.org.
Prepare
Travellers must register their self-quarantine plans electronically via ArriveCAN before crossing the border or boarding a flight.
You will have your own room with a door that can close and a separate bathroom. 
Do not share dishes, drinking glasses, towels or bedding with anyone.
Resources
If you're feeling unwell, use the BC COVID-19 Self-Assessment Tool to help determine if you need further assessment or testing for COVID-19: 
The symptoms of COVID-19 include cough, fever, sore throat and difficulty breathing.
Visit: https://bc.thrive.health/
If you cannot use the online tool, call 8-1-1 (toll free) or 7-1-1 (deaf and hard of hearing), 24 hours a day/seven days a week. 
You can complete this assessment for yourself, or for someone else, if they are unable to.
For the latest medical updates, including case counts, prevention, risks and testing: 
Call 1 888 COVID19 (268-4319) between 7:30 a.m. and 8 p.m., seven days a week (available in over 110 languages)
Guidelines
Protect others by washing your hands (for at least 20 seconds) frequently, coughing into your sleeve and greeting with a wave instead of a handshake, hug or kiss.
Practice physical distancing: always stay 2 metres (6 feet) away from others.
Do not host visitors or family during your self-isolation — keep in touch with friends and family with video chats or phone calls instead.
Know that many parks, playgrounds, businesses and other amenities may be closed temporarily due to COVID-19.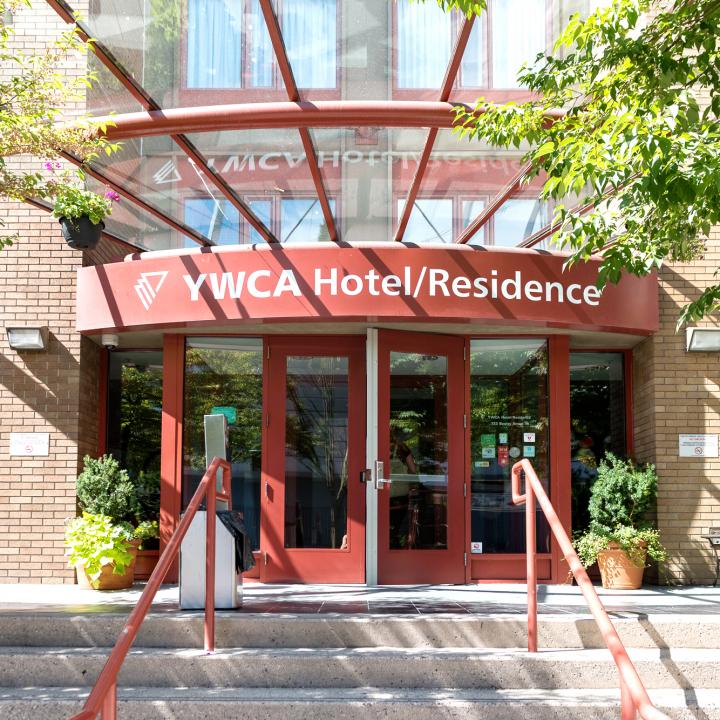 Looking to stay longer
in Vancouver?
Staying in our city for a while longer? Check out our residence/ extended stay options, offering convenience and community right in the heart of downtown Vancouver. 
Our
Location
Conveniently located in Downtown Vancouver, steps from transit and close to shops, restaurants and attractions.
 
2 mins walk to
BC Place
Rogers Arena

6-15 mins ride to


Stanley Park
Granville Island

3 mins walk to 
Queen Elizabeth Theatre
Vancouver Public Library

10 mins walk to
Gastown
Yaletown
Waterfront

5-7 mins ride to
Canada Place
Cruise Ship Terminal
Vancouver Convention Centre