6 Scenic Walking or Biking Paths Close to Downtown Vancouver
Many visitors come to Vancouver hoping to pause and take in our beautiful natural scenery. So, we've gathered a few suggestions from our staff and friends of scenic routes around Downtown Vancouver (or close to the downtown core).  
Yaletown – Kitsilano Beach – False Creek Loop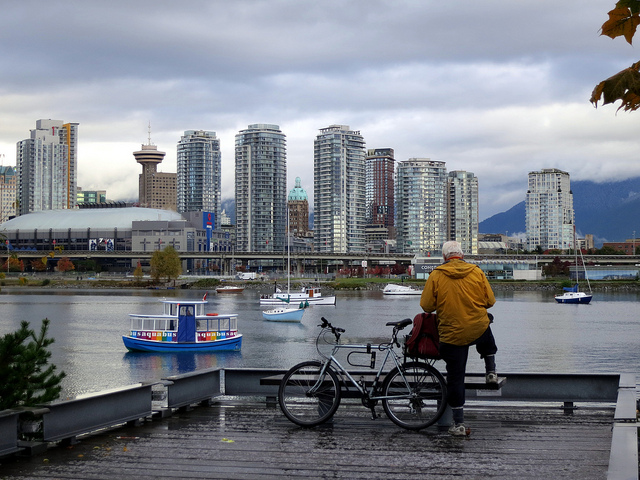 Photo of False Creek by Ruth Hartnup: https://flic.kr/p/dmmf1f
Locals love to stroll and jog along this waterfront path. Start at the Yaletown Ferry Dock on Marinaside Crescent and continue along the path, leading you through Yaletown's waterfront and parks. Next you'll go over the Burrard Street bridge, continuing through Kits Beach -- one of our crown jewels in the city -- with rollerbladers and joggers sharing paths and others congregating on the sandy beaches and grassy areas. Lastly you'll circle past breath-taking views along False Creek, passing by a few of our museums and our family-friendly Science World.  
If you're only going for a nice walk, we'd highly recommend going for the shorter route along the Yaletown waterfront to False Creek and back, but for those of you who are looking for a jog or a ride, the entire loop is 11.1km in length.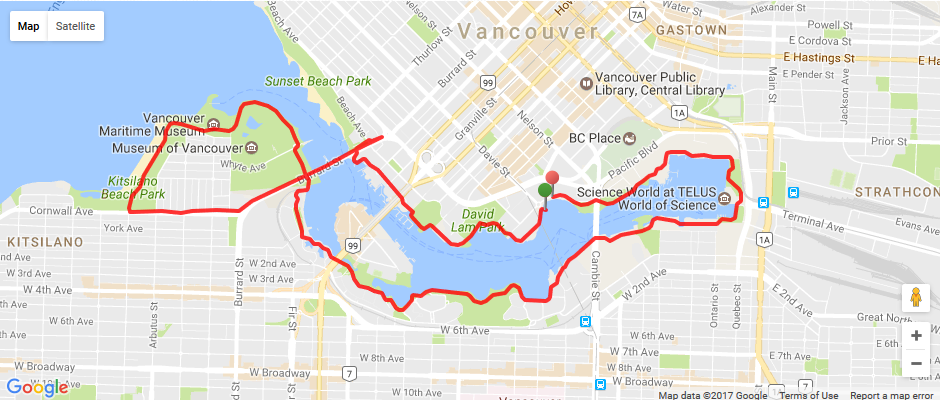 Route details: http://www.mapmyride.com/ca/vancouver-british-columbia/yaletown-false-creek-extended-loop-course-1459285
Queen Elizabeth Park – VanDusen Botanical Gardens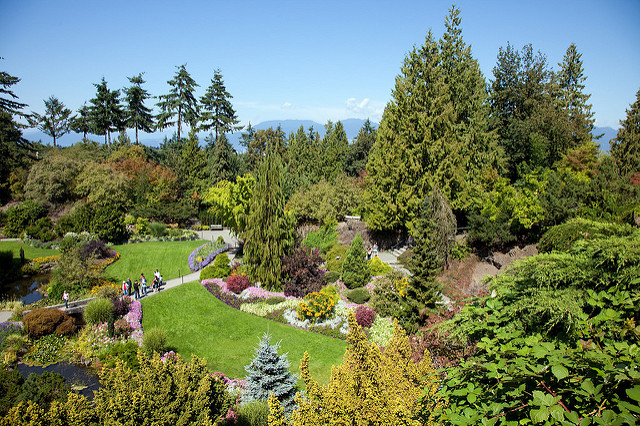 Photo of Queen Elizabeth Park by s.yume: https://flic.kr/p/6Qffee
Looking for a walk, a jog or a ride through some of our notable parks and gardens? Take the Midtown/Ridgeway or Ontario Street bike route (or SkyTrain) to Queen Elizabeth Park, home to the Bloedel Floral Conservatory, beautiful lush greeneries, water fountains, mini golf course, basketball and tennis courts. After checking out the various green spaces, head west along 37th Avenue to reach the VanDusen Botanical Garden, where plant species from around the world are on display year-round. This route is 4.48km in length.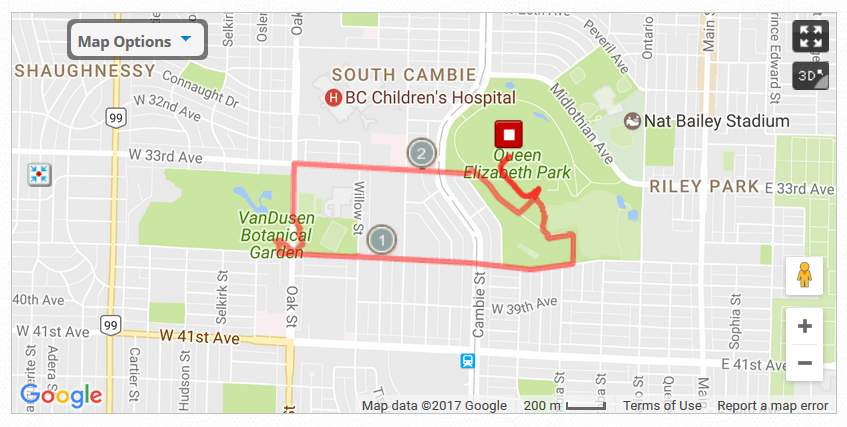 Route details:​http://www.mapmywalk.com/routes/view/1483818910
Stanley Park Seawall Loop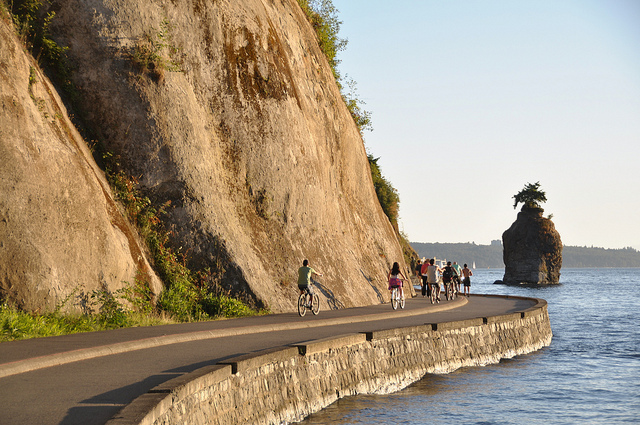 Photo of Stanley Park Seawall by abdallahh: https://flic.kr/p/fNgECV
Stanley Park is the main reason most outdoor enthusiasts pack their bags for Vancouver. The park is a lush rainforest with an incredible seawall right in the heart of our city's downtown core, complete with forest trails, cycling routes, jogging paths, beaches, restaurants, play areas and a water park; it's a playground in our very own backyard (and a jogger/cyclist's dream come true).
If you're a first timer, we'd suggest an easy cycling route around the seawall starting at the Denman/ Georgia intersection where you can rent a bike/ pair of rollerblades at one of the rental shops. Head down to the path by the waterfront (you can't miss it) and follow the paved path along with the dozens of people who will also be jogging or walking the trail. This nice and easy seawall loop is 9.25km in length and takes most people less than an hour to complete on a bike. Locals love to take a detour and enjoy the lovely second and third beaches along the shoreline, some even head further south into English bay to visit restaurants, shops and to experience the hustle and bustle of the city beach.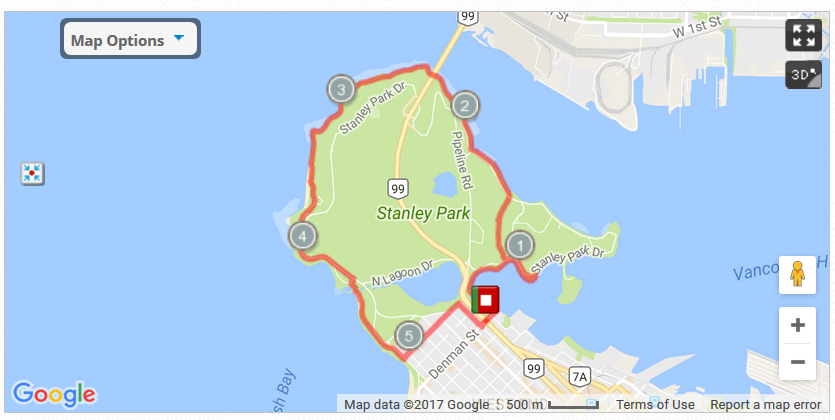 Route details: http://www.mapmywalk.com/routes/view/1483997800
Coal Harbour Seawall Walk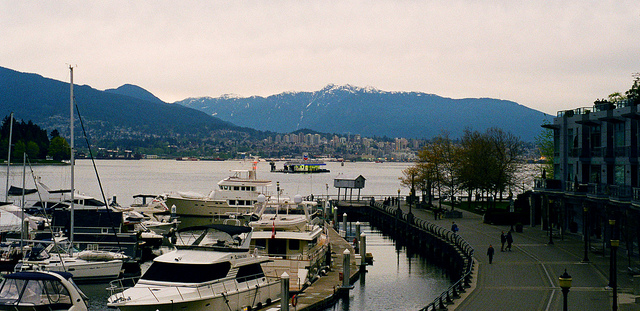 Photo of Coal Harbour by Chris Clogg: https://flic.kr/p/etSfda
Feel like walking and soaking in views of Vancouver's beautiful shoreline and mountains? We highly recommend heading down to Coal Harbour where you can experience it all without leaving downtown. Start at the Olympic Cauldron and head west along the walkway. You'll pass by incredible public and green spaces all sharing the accessible, multi-use seawall.
This path is 1.5km in length and takes around 30 minutes at a nice strolling pace. We highly recommend extending your walk to head down to Robson Street via Denman, and looping back up to Canada place. You will pass by our notable shopping destination, amazing food, great architecture, our cruise ship terminals and Flyover Canada.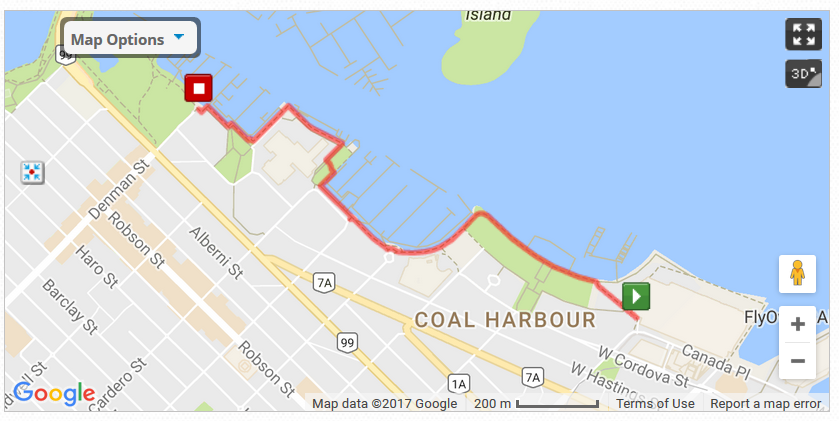 Route details: http://www.mapmywalk.com/routes/view/1484751202
Jericho Beach – Spanish Banks – UBC
Photo of Jericho at Sun Set by paige_eliz: https://flic.kr/p/83onQB
For a ride through parks, beaches and our city's charming University campus landscapes, you'll want to head out to the west side of the city.
Start out at Jericho Beach, a great spot for windsurfers and sailboats in the waters of the English Bay. The bike path winds along the shoreline, past Spanish Banks. Most visitors would take a quick stop here to enjoy the sandy beaches, a picnic and a game of volleyball; or you can keep following the route, which leads up to the outskirts of our renowned University of British Columbia campus grounds. This sprawling campus is a city-within-a-city with a population of more than 50,000 people. The sizable campus grounds are also home to the Museum of Anthropology, the UBC Botanical Garden, Greenheart TreeWalk and Nitobe Memorial Garden.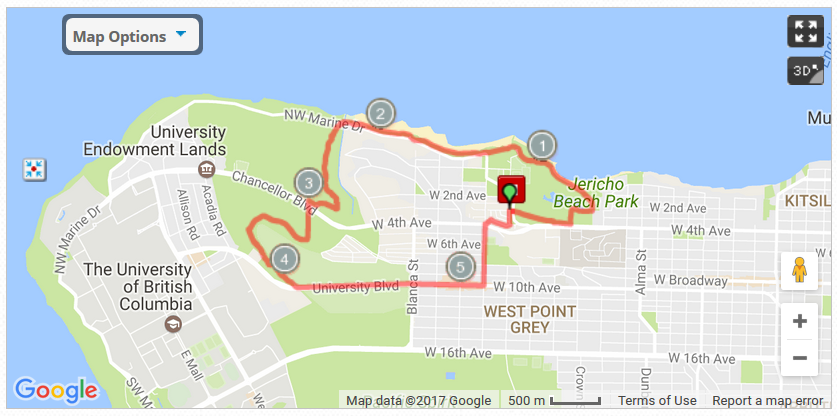 Route details: http://www.mapmywalk.com/routes/view/960143713
Pacific Spirit Regional Park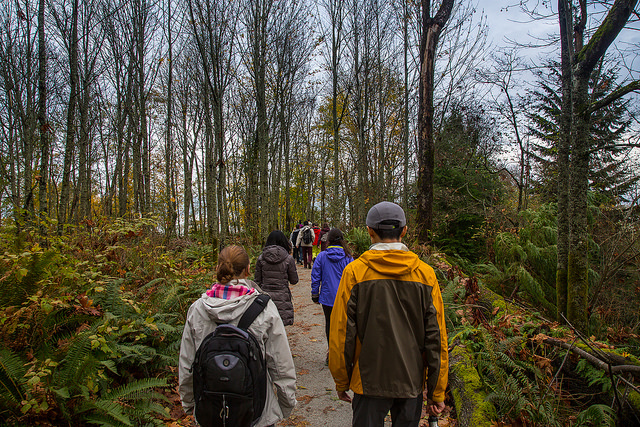 Photo of Pacific Spirit Park by Kyle Pearce: https://flic.kr/p/Hdd46P
For those of you looking for an outdoor adventure in the city, you will want to take a trip out to the nearby Pacific Spirit Regional Park, where unpaved bike paths cut through lushly forested areas. Close to UBC and on the West side of Vancouver, the Pacific Spirit Regional Park offers a network of trails contained in more than 750 hectares of forest. The trails in the park are popular with local residents and accessible year-round. The best way to see the park is to view the park map and determine your own route. If you're looking for ideas, here's a nice 9.7km route that will take you through this incredible forest.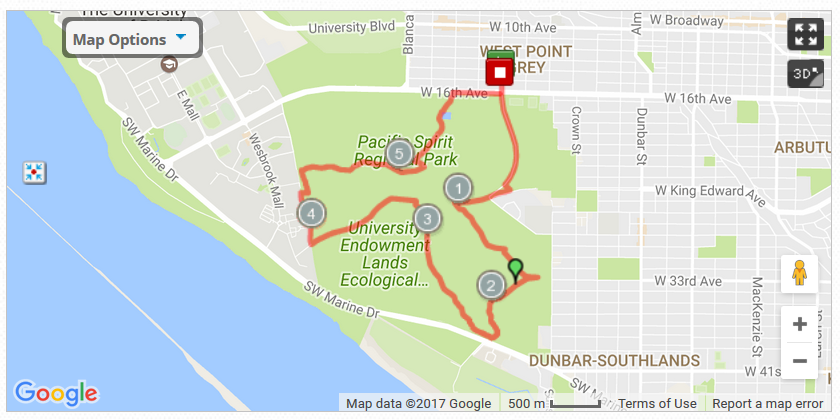 Route detail: http://www.mapmywalk.com/ca/vancouver-british-columbia/pacific-spirit-regional-park-route-261097213
---
Cover photo by Gabriel Santiago: https://unsplash.com/search/stanley-park?photo=b-yEdfrvQ50