Activities and attractions along Vancouver's skytrain
Vancouver's transit systems makes it quite easy to get around town (especially downtown) and explore the surrounding areas. Visitors can access many Vancouver might-sees and attractions by hopping on the Skytrain. Lucky for our guests, YWCA Hotel Vancouver is three blocks away from the Skytrain and ten minutes away from the Canada Line.  Here are some notable must-dos along the Expo Skytrain Line and the Canada Line:
---
Expo Line Skytrain Line
The Expo Line, named after the Expo 86 world's fair hosted in Vancouver makes its way around some of our most notable attractions. The Expo Line operates two routes. One route operates between Waterfront Station and King George Station and the second route operates between Waterfront Station and Production Way–University Station. As of October 22, 2016, the Millenium Line no longers extends its service downtown. Customers can transfer to the Millennium Line at Commercial–Broadway Station, Lougheed Town Centre Station and Production Way–University Station. You can transfer to the Canada Line, SeaBus and West Coast Express at Waterfront station.
Stadium-Chinatown Station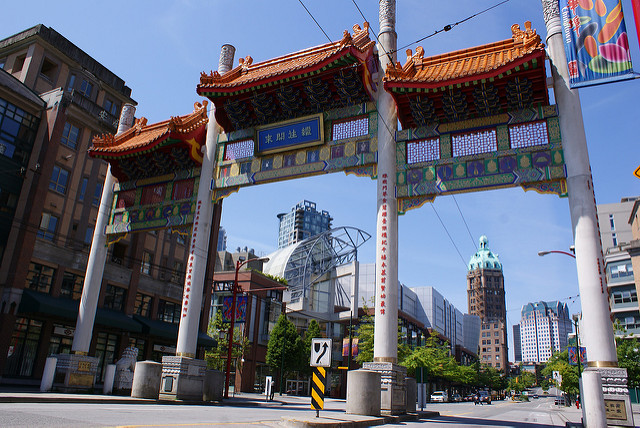 Chinatown, Vancouver by lawrence's lenses on flickr creative commons: https://flic.kr/p/6qG2Yx  
Located near BC Place Stadium, Rogers Arena, this station is three blocks away from our hotel. Sports fans and concert goers can walk to where the games and entertainment takes place at our stadiums and arenas, followed by a trip to the The BC Sports Hall of Fame and Museum. This station is also located steps from Chinatown and is close to a number of cultural attractions, including the Vancouver Public Library's Coliseum-like Central Branch, Queen Elizabeth Theatre, and the Dr. Sun Yat-Sen Classical Chinese Garden.
Main Street-Science World Station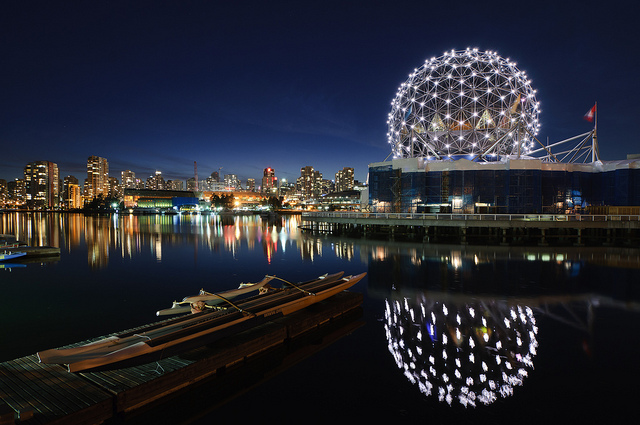 Science World in False Creek by Bruce Irschick on flickr creative commons: https://flic.kr/p/8hGg7M
The gateway to accessing False Creek via skytrain, the Main Street-Science World Station is the oldest and the busiest station in the system! Stepping out of the station, you'll immediately see the eye­-catching dome of Vancouver's Science World, where kids – with grown­ups in tow ­­enjoy the numerous interactive exhibits. Visitors can learn about rocket science, human anatomy, electricity and dinosaurs, or catch an educational film on the giant screen at the OMNIMAX Theatre.
Commercial-Broadway Station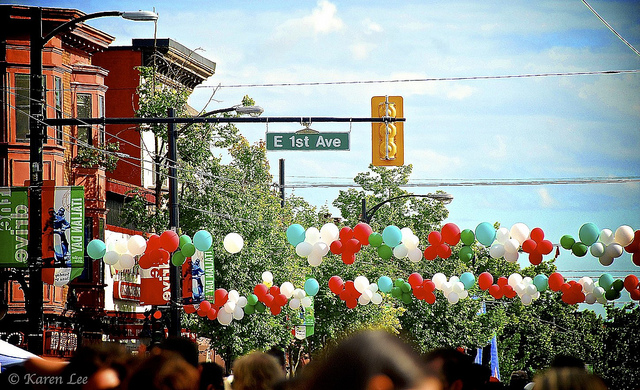 Commercial Drive by Karen Lee Colangelo on flickr creative commons: https://flic.kr/p/iZDzzQ
Get off at this station to stroll the vibrant neighbourhood locally known as the Drive. Historically the hub for Italian Canadians, today the area is a melting pot of cultures and cuisines. Along the 21 blocks of Commercial Drive (Venables Street to 13th Avenue)–you can find every type of cuisine imaginable. From great Italian and Japanese dining to Middle Eastern and Caribbean, the options seem endless. Walk north up Commercial to explore this diverse neighbourhood's exciting mix of independent boutiques, ethnic grocery stores, cafes and shops.
Metrotown Station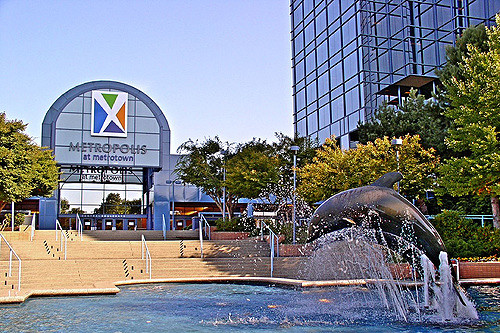 Metrotown by Jon the Happy Web Creative on flickr creative commons: https://flic.kr/p/LrWuU
Located in the neighbouring municipality of Burnaby, Metrotown station is just 15 minutes from downtown Vancouver by Skytrain. Connected to this station is the biggest shopping mall in B.C., Metropolis at Metrotown, and one of the largest malls in Canada! If shopping is your delight, this is the place. There are about 450 stores ranging from famous designers and housewares to grocery stores and restaurants! Since it's an indoor mall, it's the perfect place to spend a rainy fall day. If you have little ones, be sure to take them on the train that runs through the mall – they'll love it!
New Westminster Station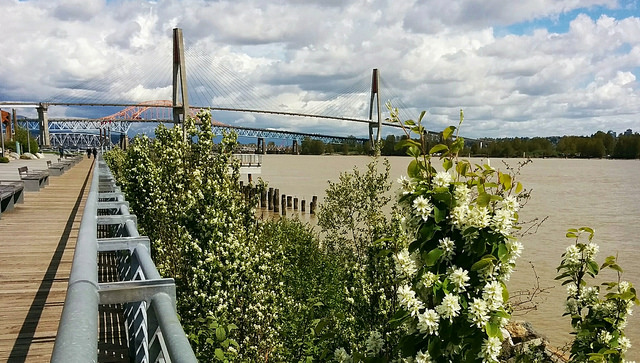 Westminster Pier Park by Dennis S. Hurd on flickr creative commons: https://flic.kr/p/nhEx7m
Named by Queen Victoria, "New West" combines a modern urban waterfront with a core of historic brick and stone buildings and homes. Fraser River Discovery Centre, two minutes away from New Westminster Station, connects individuals to the Fraser River (BC's largest water system). Together families will discover interesting facts about the mighty Fraser through fun, hands-on, interactive exhibits, programs & events.
---
Canada Line
The Canada Line opened in 2009 connecting Vancouver Airport to downtown. During the 2010 winter Olympics, the train carried an average of 228,190 passengers per day. There are many shopping and sightseeing destinations along the line.
Waterfront Station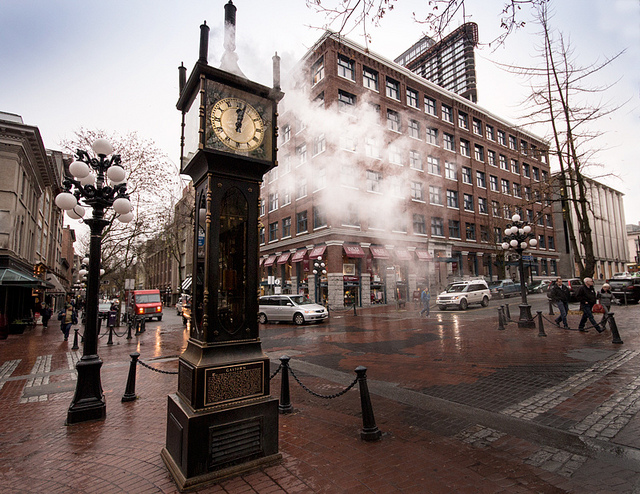 The Gastown Steam Clock by Devlon Duthie on flickr creative commons: https://flic.kr/p/dAed8E
Waterfront station is central to many of Vancouver's best attractions. The station is walking distance from Gastown, an awesome area for sightseeing with its old buildings, cobblestone streets and the Gastown Steam Clock. You can also shop for souvenirs or enjoy a delicious meal at one of the great restaurants or bars in the area. Waterfront Station is also near the Canada Place Cruise Ship Terminal, the Vancouver Convention Center which have sea wall access and offer breathtaking views of the north shore mountains.
Vancouver City Centre Station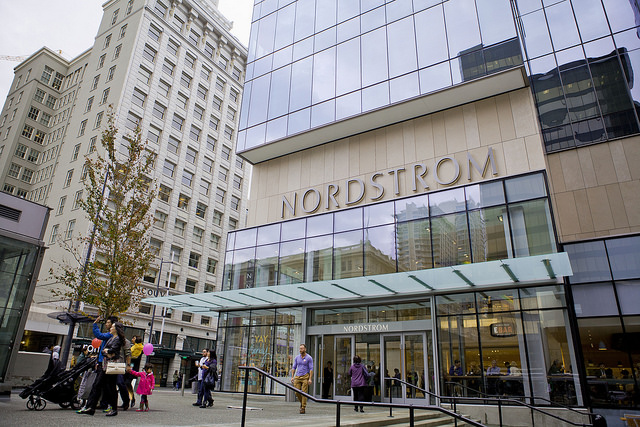 A shot of Vancouver City Centre by GoToVan from flickr creative commons: https://flic.kr/p/yA997A
The downtown stop on the Canada Line takes you right to the Pacific Center shopping mall with underground access to the Hudson's Bay and Nordstroms. You can also go visit the boutiques or have lunch on Robson Street. If shopping is not your favourite, you can also visit the Bill Reid Gallery of Northwest Coast Art or the Vancouver Art Gallery, both a short walk from the station.
Yaletown-Roundhouse Station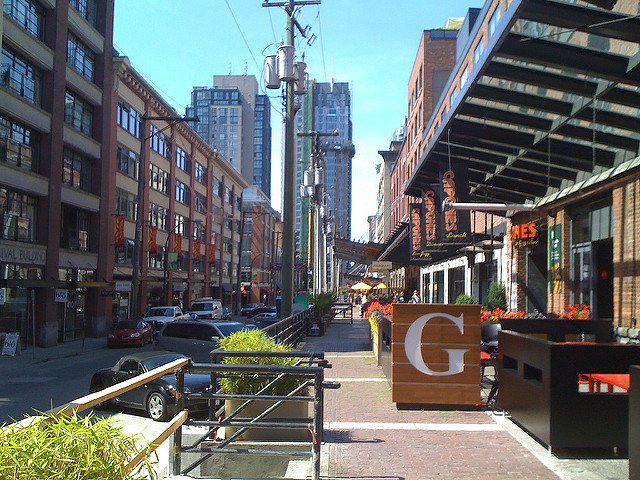 The Yaletown platforms by Alexis Lê-Quôc from flickr creative commons https://flic.kr/p/6BBkqp
Yaletown is a great area to go have a meal or beverages on one of the many cosy patios that are located on what used to be platforms for loading textile onto trains headed east. There are also great fashion boutiques and hair salons if you feel like treating yourself. This warehouse district boast of many award winning businesses, so you're bound to find some good treats during your visit there.
King Edward Station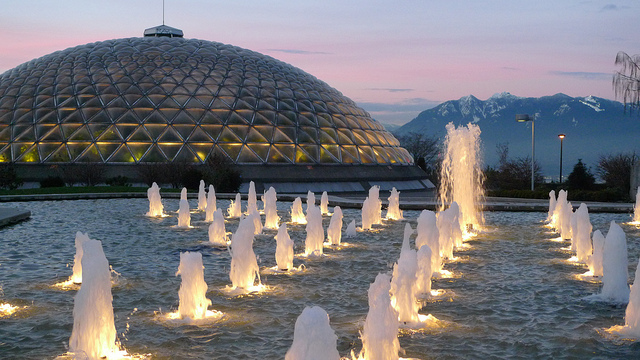 Queen Elizabeth park at night by Ruth Hartnup found on flickr creative commons https://flic.kr/p/8YQS42
If shopping and eating downtown has you feeling like reconnecting with nature, stop at King Edward Station.  It's located a few blocks away from Queen Elizabeth Park. You'll catch great views of downtown since the park is on the highest point in Vancouver, about 152 meters above sea level. There are tons of activities you can do, including visiting the Bloedel Conservatory,  have a game of pitch-and-put or have lunch at Seasons in the Park restaurant.
Aberdeen Station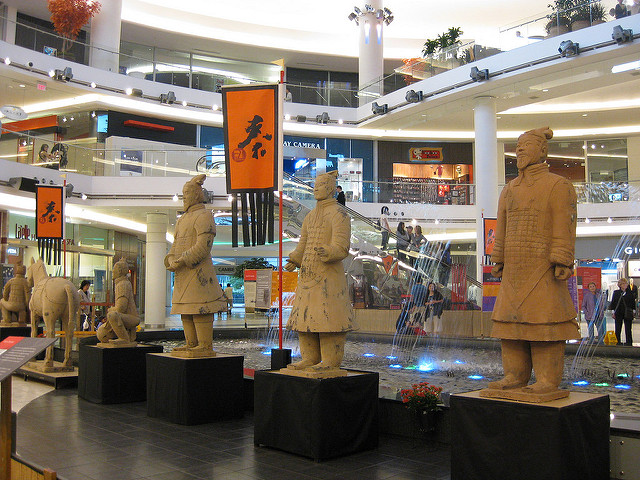 Statues inside Aberdeen Center bywyn ♥ lok found on flickr creative commons https://flic.kr/p/6PZR2k
Once past Bridgeport Station, the Canada will begin to take you through the heart of Richmond. Richmond is an Asian cultural paradise, with the Asian community in Richmond accounting for over 60% of the city's population. Aberdeen Station is situated in one of the city's centres, right next to Aberdeen Mall, Parker Place, and close to bubble tea shops, arcades, karaoke cafes, badminton centres and many malls serving authentic Asian cuisines. We would highly recommend venturing out to Richmond's Alexander Road or better known as "eat street" for some of the most delicious Asian food you'll encounter outside of Asia.