Best Vancouver Festivals, Celebrations and Markets in the Spring and Summer
When it comes to Spring and Summer festivities in Vancouver, there are so many choices and too little time. Restrictions and cancelled events because of the pandemic has created some major demand for the Vancouver festivities to return bigger and better than ever before. We're here to help you sift through the multiple suggestions and here are our top picks for the biggest and best festivals, street parties and markets:
Honda Celebration of Light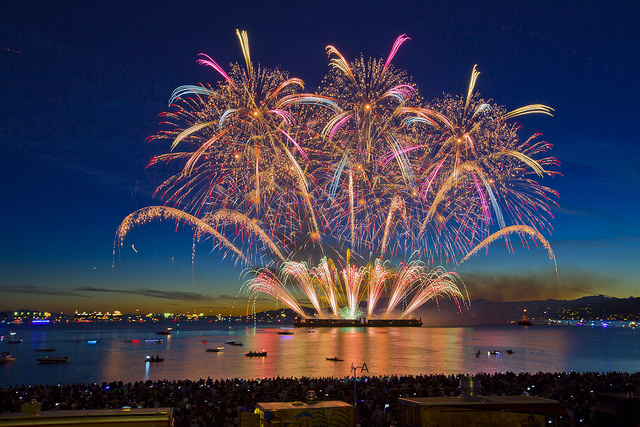 Photo of Honda Celebration of Light Festival by GoToVan on​ Flickr. https://flic.kr/p/JCWGw5
This event is one of the best fireworks displays in the world and one of our biggest summer events, crowds flock to the waterfront around English Bay and Burrard Inlet, setting out picnic blankets and folding chairs on the beach to take in the show. Fireworks are choreographed to music as they're launched in front of our picturesque backdrop of the English Bay for three summer nights at the end of July and three countries compete each year to wow Vancouver crowds. Bring a picnic and make a night of it! Bands start hitting the stages on the beach in the early afternoon, getting crowds warmed up for the spectacular main event.
Wednesday and Saturdays during the last two weeks of July
English Bay
http://hondacelebrationoflight.com
The Richmond Night Market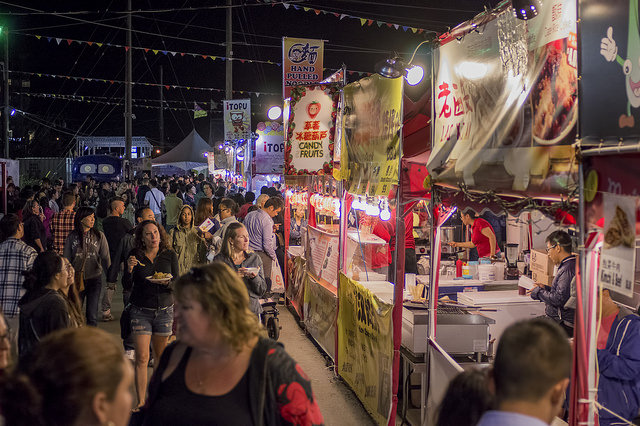 Photo of Food Stalls at Richmond Night Market by Ross G. Strachan on Flickr:  https://flic.kr/p/q574RC
Richmond Night Market opens its gates annually to bring us food, inexpensive knickknacks, games and entertainment during Fridays, Saturdays, and Sundays from May until October. Drawing crowds of locals and visitors alike, the market boasts an impressive cross-section of cultures and cuisines. This is one of the largest night markets in North America and pays homage to the massive markets found throughout Asia. You can expect to find a variety of mouth-watering food, including curly potatoes on stick, spicy squid rings, barbecued skewers, bubble waffles, mango desserts, and much more. Get there early, bring plenty of cash – as many vendors do not accept credit card, and prepare to feast and have fun!
Friday – Sunday evenings from May through to October
Bridgeport Station next to River Rock Casino Resort
http://richmondnightmarket.com/
Bard on the Beach Shakespeare Festival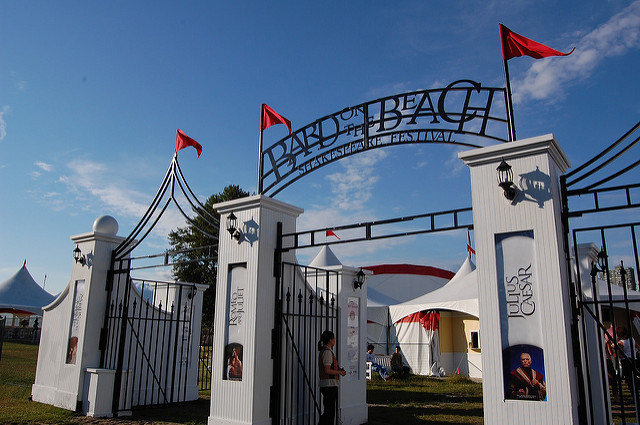 Photo of Bard on the Beach entrance by *MandyJ* on Flickr: https://flic.kr/p/2hN5PW
Presented in a magnificent setting on the waterfront in Vancouver's Sen̓áḵw/Vanier Park, the Festival brings to life the magic of Shakespeare's great plays, related dramas, and several special events in two performance tents from June through September. In addition to its plays, the Festival offers opera, choral and orchestral concerts, wine tastings and educational events. The tented Bard Village is home to many activities and amenities including informal pre-show talks, concession and bar services, and the Bard Boutique.
June through September
Sen̓áḵw/Vanier Park
https://bardonthebeach.org/
Khatsahlano! Street Party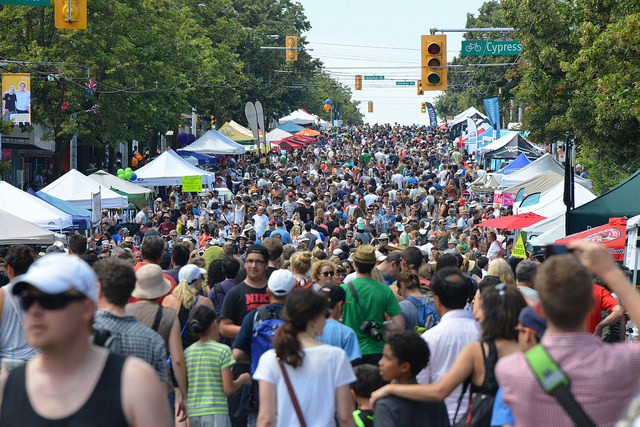 Photo of Khatsahlano Street Party by Sherwood411 on Flickr: https://flic.kr/p/oirPYG
Looking for a large street party that is also a music and arts festival? Look no further than Khatsahlano,squeezing in 50+ bands, beer gardens, food vendors and tons of fun in one day. Great local music will provide the soundtrack and Vancouver will provide the backdrop. During thsi event, West 4th Avenue in beautiful Kitsilano will transform into a 10-block street party, with local shops and restaurants taking to the sidewalk with sales, samples, giveaways and games.
Usually happens during early July.
West 4th Avenue, Vancouver
http://www.khatsahlano.com/
TD Vancouver International Jazz Festival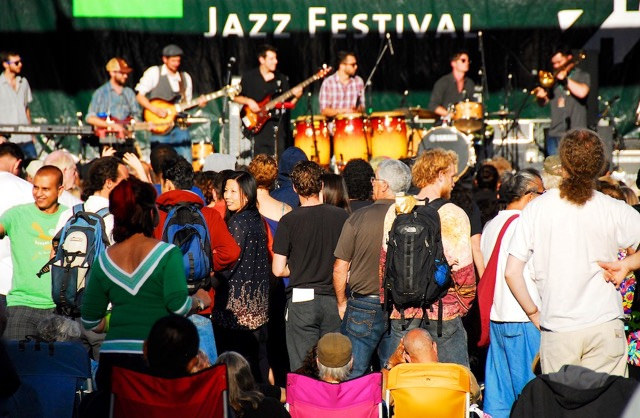 Photo of TD Vancouver International Jazz Festival by karenleephotography.biz on Flickr: https://flic.kr/p/N3x6xM
The Vancouver International Jazz Festival happens annually for ten days at the end of June and is BC's biggest and most acclaimed music festival with over 400 concerts attracting more than 500,000 people each year. Rich tapestry of jazz, blues, funk, Latin, fusion, electronica and world music fill the air at venues big and small, indoor and outdoor across the city featuring over 1800 musicians from Canada and around the world performing at over 40 venues citywide.
Usually happens during the last week of June.
http://www.coastaljazz.ca/
Fair at the PNE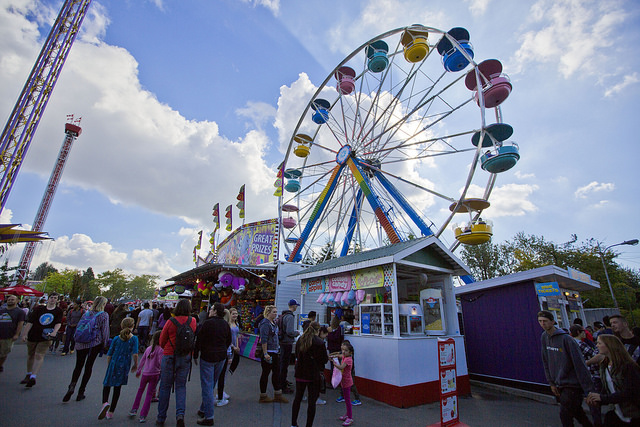 2016 Summer Fair @ Pacific National Exhibition by GoToVan on Flickr: https://flic.kr/p/KULnFz
Carnival games, shows, attractions and delicious food options are enough to make this the ultimate summer spot. With over 35 new nightly concert acts and tons of local favourites such as the Super Dogs, The Wooden Coaster and so much more, you do not want to miss out! Come early and bring your own food if you like to save some money, or come hungry and try all the delicious food options available. Most importantly, plan a schedule for all the different events to see; the fair schedule is slightly different each year is and always jam-packed.
Daily starting mid-August, ending on Labour Day in September
PNE at Hastings Park
http://www.pne.ca/
KitsFest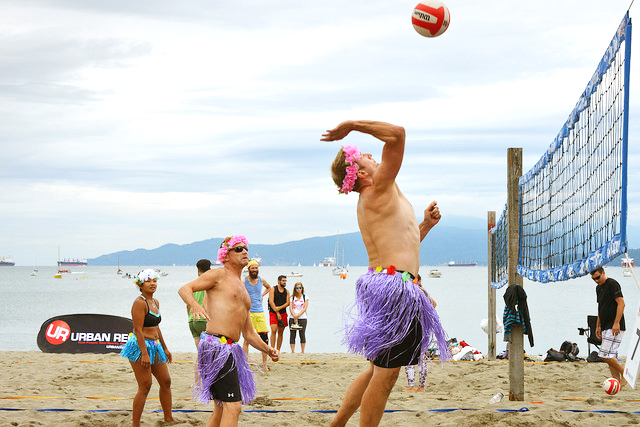 Photo of KitsFest by Sherwood411 on Flickr: https://flic.kr/p/wNT7Kp
A one-of-a-kind beach festival, KitsFest celebrates community and healthy living with three vigorous days of sports tournaments, live entertainment and beach side lounging. The festival features basketball, beach volleyball, water polo and tennis tournaments, along with a Lululemon sunset yoga, Zumba class and DJ's playing on-site all day through early evening.
Usually happens during the first weekend of August
Kitsilano Beach
http://kitsfest.com/
Vancouver International Children's Festival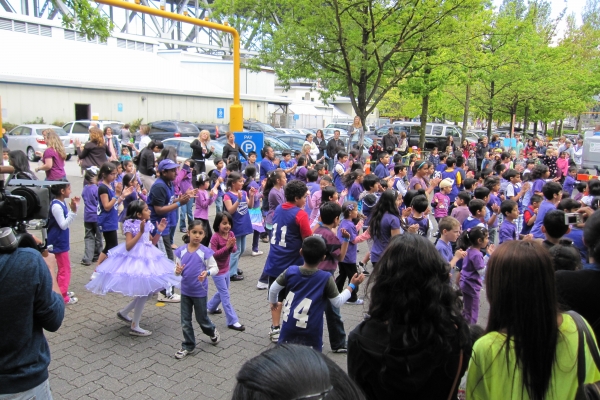 Photo of flashmob by Arts Umbrella: http://dev.artsumbrella.com/news/flash-mobs-and-face-paint
A joyous and stimulating experience for the youngest of audiences, the Vancouver International Children's Festival is a world-renowned weeklong festival of performing and visual arts for young audiences. This intimate performance is designed to capture the imagination and curiosity of the little ones. Don't miss this rare opportunity presenting theatre, music, dance, circus, puppetry and storytelling using the language of music and movement. 
Usually happens during the end of May to early June
Granville Island
http://www.childrensfestival.ca/
Granville Island Farmers Market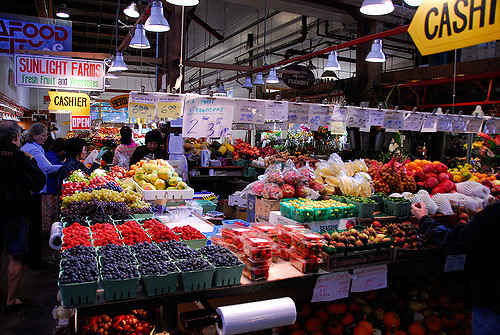 Photo of Granville Island Farmers Market by Curtis Brown on Flickr: https://flic.kr/p/q2XuA
Celebrating over 30 years of all things fresh straight from the farm, Granville Island Farmers Market is the most established and oldest of its kind in Vancouver. Throughout the summer and early autumn months, it's the go-to place to get the freshest produce from local farmers - from the field to your table. And while you're there, don't forget to stop by the Public Market at Granville Island (a favourite destination for locals and tourists alike). Open all year long, there are produce vendors, along with local food and craft artisans, prepared foods and so much more to see and do.
Every Thursday from June to Late September
Granville Island
https://granvilleisland.com/granville-island-farmer-s-market
Vancouver Folk Music Festival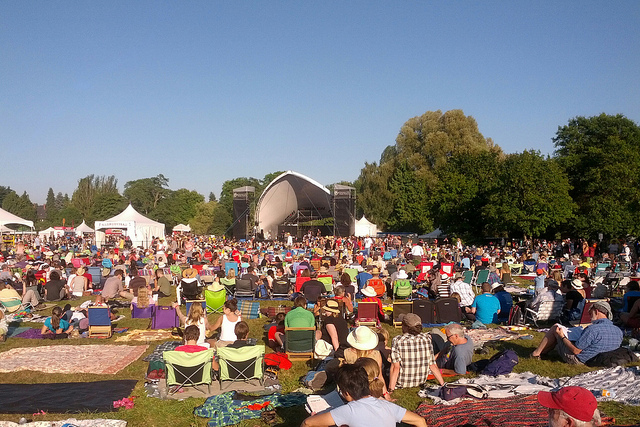 Photo of Vancouver Folk Music Festival by Christopher Porter on Flickr: https://flic.kr/p/fcPdmp
Taking place annually, the Vancouver Folk Music Festival (VFMF) consistently lures an array of local and international talent to Jericho Beach Park. The Festival features more than 70 hours of music on eight outdoor stages – three evenings of mainstage concerts and two full days of performances throughout the park. The Festival also features a twenty-vendor food area, a crafts market, a stage, a Festival Community Village and an activity area dedicated to the little folks and their families. Bring a blanket or tarp to sit on the ground. The maximum size of blankets and tarps allowed on-site is 8'x8′. Lawn chairs are permitted but the chair legs have to be under 4.5 inches or 11.5 cm.
Third weekend of July
Jericho Beach Park
http://thefestival.bc.ca
Carnaval Del Sol
Photo of Carnaval De Sol by Asalavel: https://flic.kr/p/f5djtG
The biggest Latin festival in the Pacific Northwest and indisputably the Lower Mainland's grandest Latin fiesta. Carnaval del Sol, recreates the atmosphere of a vibrant city plaza in Latin America. The festival showcases live musical bands, Native Canadian and Latin American visual art, traditional folk dances from different countries, arts and crafts displays, dancing and culinary lessons and a Latin American inspired fashion show.
Weekend in early July
Jonathan Rogers Park
http://www.carnavaldelsol.ca/
Vancouver Farmers Market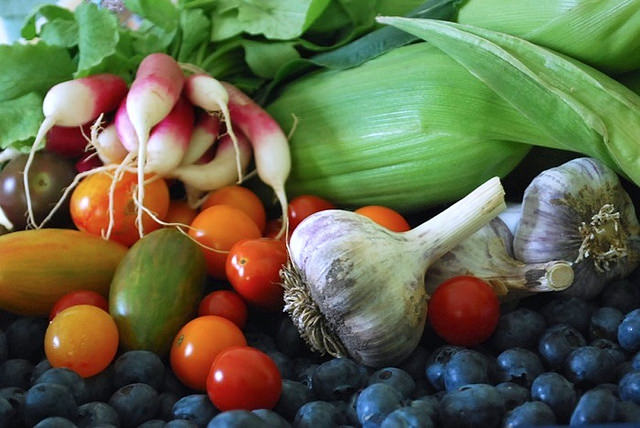 Photo of Farmet's Market hual by Heather Joan on Flickr: https://flic.kr/p/ocdhyV
When it comes to eating local, there's no better place to start than a farmers' market. Meet growers, bakers, farmers and craftsmen who bring their wares straight from their fields and workshops to your shopping bag. The Vancouver Farmers Market offers a great chance to explore what's in season, and for consumers to get to learn more about where their food is coming from, new ways to prepare it, and spend some time out in the community. There are multiple markets held around the city from spring to fall, so make sure to check out their website to find the proper days and location!
May through October
Saturdays: Trout Lake, West End, Riley Park
Sundays: Kitsilano, Mount Pleasant
Wednesdays: Downtown
Thursdays: False Creek
https://eatlocal.org/
5X Fest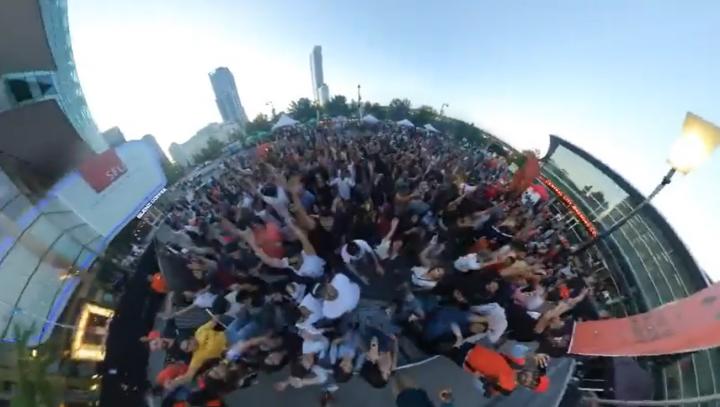 Screenshot of 5X Fest taken from: https://www.facebook.com/5xfest/videos/352350223521601
North America's essential South Asian youth culture festival, 5X Fest is a multi-day, multi-venue festival covering music, visual art, fashion, and culture hosted by the Vancouver International Bhangra Celebration Society. Started out in its former form as the City of Bhangra Festival, this new block party takes place in Surrey or a week in mid-June and includes a massive celebration of culture with an open-stage party, art, movie screening and more.
Usually happens during mid-June
https://www.5xfest.com/
Vancouver Italian Day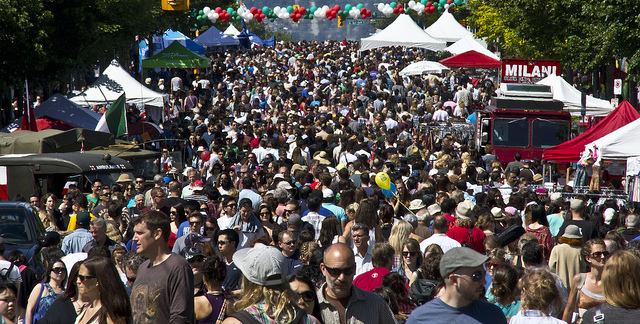 Photo of Italian Day by Ruocaled on Flickr: https://flic.kr/p/eMDA9A
Italian Day on The Drive is a vibrant cultural street festival celebrating Italian culture, heritage and respective immigrant contributions in Vancouver. Every year, 14 blocks of The Drive–from Venables to Grandview Highway gets transformed into a living, breathing, cultural party. Decked out with merchants, food vendors and restaurant patios, as well as live music, street performers, theatre, children's amusement zones and more, Italian Day on The Drive represents one of the largest one-day cultural street festival in the city
The second Sunday of June
Commercial Drive
http://italianday.ca/
Concord Pacific Dragon Boat Festival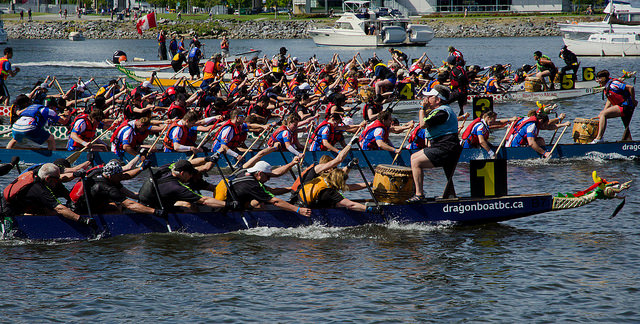 Photo of Vancouver's Dragon Boat Festival by Roaming-the-planet on Flickr: https://flic.kr/p/nMBDYC
So much family-friendly fun, with loads of action, food, music on the World Beat stage, and art – and it's free! The 3-day fest of world-class dragon boat racing features more than 5,000 racers from around the world paddled in unison to the sound of beating drums in races that run in eight-minute increments. From its beginnings as a modest attempt to build bridges between ethnocultural communities, Vancouver's Dragon Boat Festival has grown over the years to become a major summer event in the city.
Last weekend in June
False Creek
https://concorddragonboatfestival.ca/
Vancouver Pride Festival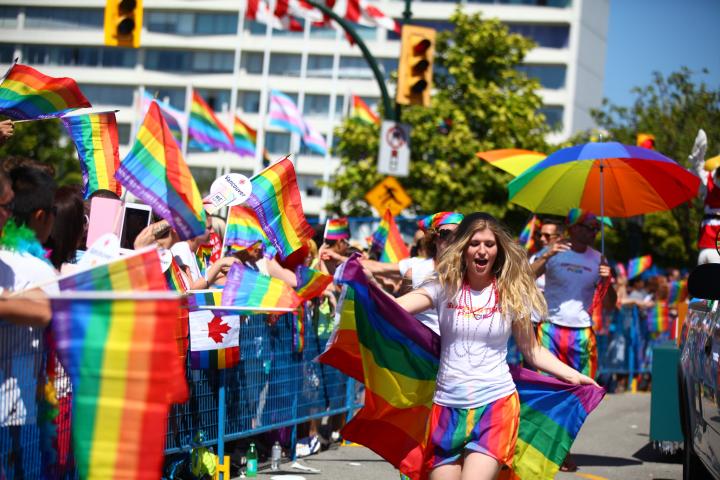 Photo of Vancouver Pride Parade by GoToVan on Flickr: https://flic.kr/p/oBL6fD
For over 40 years, the Vancouver Pride Society has organized the Vancouver Pride Festival and Pride Parade to celebrate and advocate for the vibrant 2SLGBTQAI+ community. This inclusive family-friendly event is the largest of its kind in Western Canada with over 500,000 people in attendance annually. Starting at Thurlow and Robson Street, the Pride Parade – which is the largest parade in Vancouver – proceeds down Robson Street, working its way towards Sunset Beach for the Sunset Beach Festival. If you want to watch along Robson, make sure you arrive early as it gets very crowded, quickly.
Sunday of BC Day Long Weekend
Downtown Vancouver, Sunset Beach
https://vancouverpride.ca/