Best Vancouver markets, fairs and festivities to visit in the Fall and Winter
Many guests don't know that certain markets, fairs, concerts and festivities only happen in Vancouver during the Fall and Winter months. Besides skiing, snowboarding, hiking, tubing, zipline and other fun outdoor activities, the city comes alive with cool indoor events and outdoor festivities. Local artisans and small shops are also preparing for the many local fairs happening in town.  
We've put together a list of some of our top picks, including places where you can give back to the local community! 
Vancouver Farmers Markets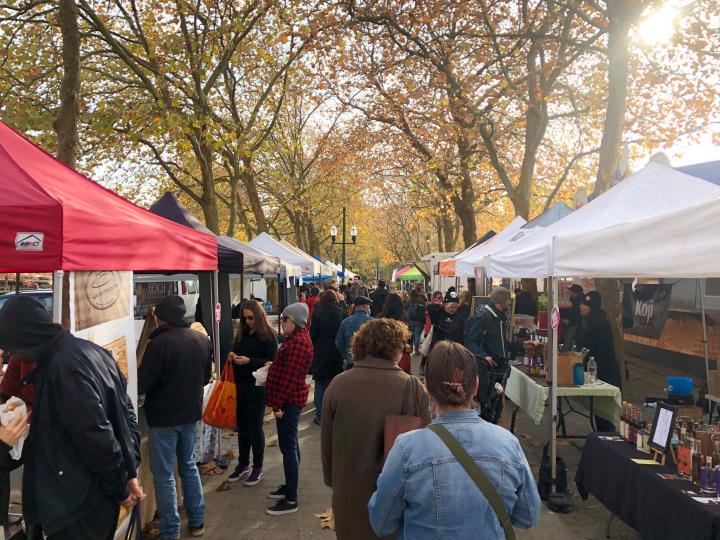 Credit: Hastings Park Farmers Market 
Want to check out local markets featuring our local producers and farmers? The weekly winter Vancouver Farmers Markets typically resumes during the beginning of November. Our farms and producers offer fresh fruits and vegetables, meat, eggs, dairy, and poultry, sustainable seafood, craft beer, wine and spirits, artisan food products, handmade craft, wild harvested foods, and hot food and coffee. There are tons of local products for you to see and bring home as souvenirs!  
When you shop at a Vancouver Farmers Market, you're not just buying fresh, delicious food directly from local producers – you're also contributing more than $15 million in direct and indirect benefits to the local and regional economy. These markets support 280 small scale BC farms and producers, and help keep 4,000 acres of local farmland in sustainable food production each year. Apart from supporting local businesses, you are helping those in need! The markets also help families living with low-income access fresh, healthy food from vendors through the Fresh to Families Project. 
Details: 
Annually during the first week of November till spring. 
Riley Park, 4601 Ontario St, Vancouver (Click for directions from YWCA Hotel) 
Hastings Park, 2901 E Hastings St, Vancouver (Click for directions from YWCA Hotel) 
https://eatlocal.org/  
Halloween Fright Nights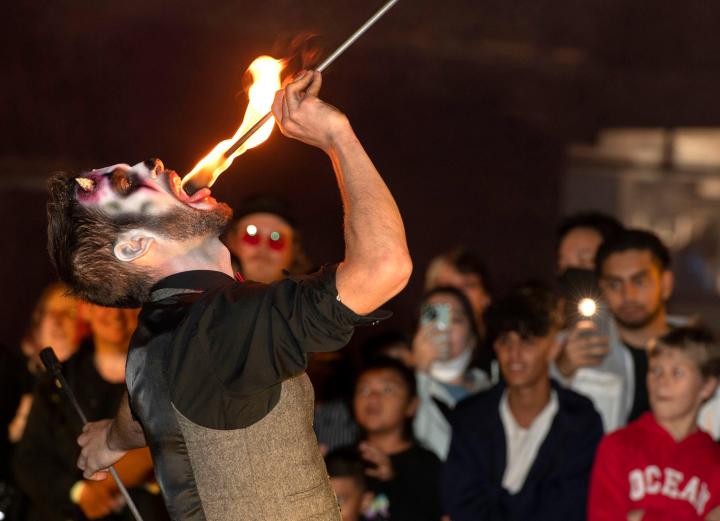 Credit: PNE/Playland  
Every year, the grounds of the Hastings Park (PNE) are transformed into a terrifying Halloween-themed experience. Fright Nights is Vancouver's largest and most popular venue for celebrating Halloween, where guests can expect to experience haunted houses, rides, creepy décor, a scare zone and live performances. It's a great place for older youth and adults, but definitely not recommended for children under 12, those over 65, or people with genuine fears (including claustrophobia). 
Details:  
Running most evenings from early October until Halloween night. 
PNE Fair, 2901 E Hastings St, Vancouver (Click for directions from YWCA Hotel) 
The Fright Nights entrance is via the Playland Entrance at East Hastings and Windermere St.  
https://frightnights.ca/  
The Circle Craft Christmas Market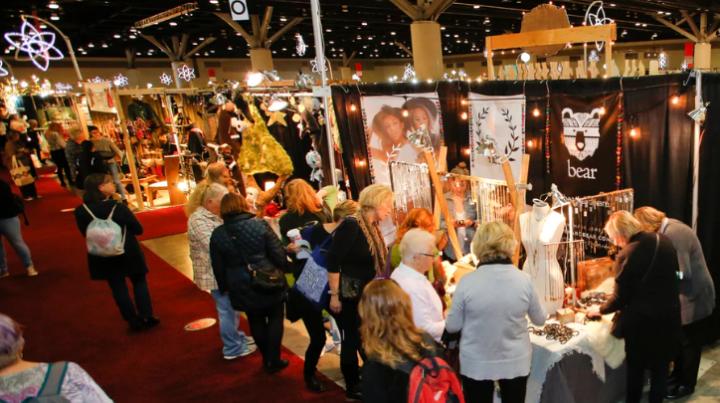 Credit: Circle Craft Christmas Market 
A Vancouver tradition for over four decades, this market's arrival traditionally kicks off the holiday shopping season in the city! The Circle Craft Christmas Market is Western Canada's largest craft fair of the winter season, featuring hundreds of craftspeople and artisans from coast-to-coast.  More than 300 exhibitors showcase fine pieces and modern design crafted in wood, clay, textiles, and metal during the market, and guests can shop for a huge variety of handmade gifts, including ceramics, jewelry, soap, home decor, ornaments, leather goods, art and more.  
Details:  
Usually happens during the second week of November.  
Vancouver Convention Centre, 1055 Canada Place (Click for directions from YWCA Hotel) 
https://circlecraft.net/pages/christmasmarket  
Vancouver Christmas Market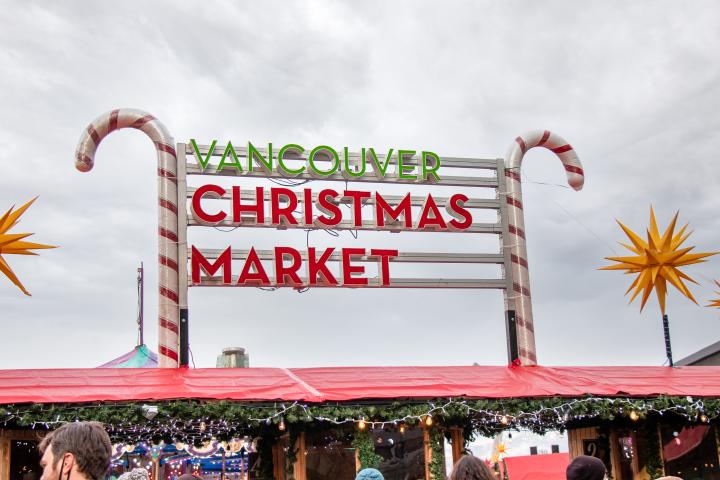 Credit: Margarita Young 
The Vancouver Christmas Market has become one of the city's most treasured holiday traditions. An annual affair that takes place at Jack Poole Plaza, the market is one of the Lower Mainland's signature seasonal events, offering an authentic German feast for the senses. See the twinkling pathways of a European-inspired Christmas village with more than 80 artisan huts stuffed with sweets, treats, and treasures. There's even large-scale activities and live entertainment! Festive foodies can sample Glühwein (mulled wine), a selection of German and Austrian beers, and a variety of sweet and savoury epicurean delights. 
Combining colourful décor, authentic gifts, enticing food and drink, and family entertainment, this market is perfect to take your friend, families, colleagues and guests! 
Details:
Starts the second week of November till Christmas. 
Jack Poole Plaza, 1055 Canada Pl, Vancouver (Click for directions from YWCA Hotel) 
https://www.vancouverchristmasmarket.com/  
Lumière Festival Vancouver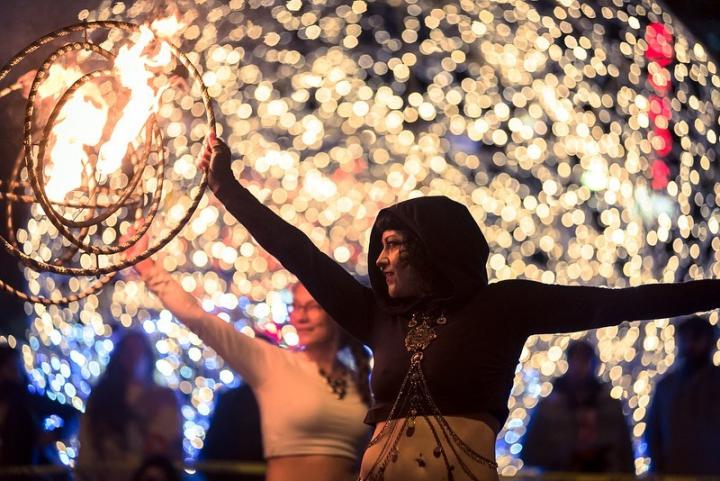 Credit: Lumière Vancouver 
An annual event inspired by light and artistic expression, Lumiere is an arts and lights event featuring installations that illuminate Vancouver's West End in the winter. It is also a truly local celebration driven by community and connection. During the festival, a series of light art installations, performances and community-building initiatives fill the West End, English Bay, Jim Deva Plaza and the Vancouver Art Gallery North Plaza. Taking place just prior to the holiday season, the festival is outdoors, free and pretty to see. Enjoy the amazing light displays and art installations that make the West End look extra pretty during the winter nights! 
Details:  
Starts the third week of November. 
Various locations 
https://www.lumiereyvr.com/2022     
PNE Winter Fair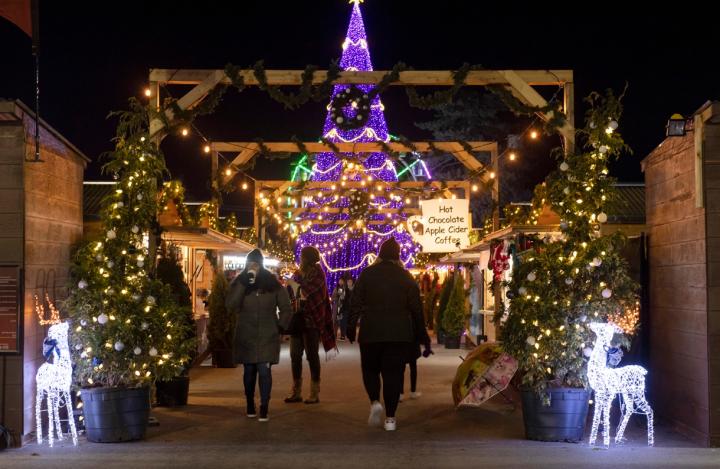 Credit: PNE/Playland 
A new addition to Vancouver's holiday festivities, the PNE Winter Fair runs for ten magical nights and features Nightly concerts, holiday-themed food and drinks, an outdoor Holiday Marketplace; live performances for kids; ice skating in the Agrodome; Christmas-themed Duelling Pianos; a WinterLights walk-through light display; and a nightly tree-lighting ceremony! 
The major draw for many may be the concerts, with a different big-name act each night. Make sure to bring your loved ones to experience this celebration, complete with twinkling lights, activities, and an "all-star" concert line-up of live musical acts! 
Details:  
Starts mid-December till Christmas. 
Hastings Park, 2901 E Hastings St, Vancouver (Click for directions from YWCA Hotel) 
https://www.pne.ca/winter/ 
Capilano Canyon Lights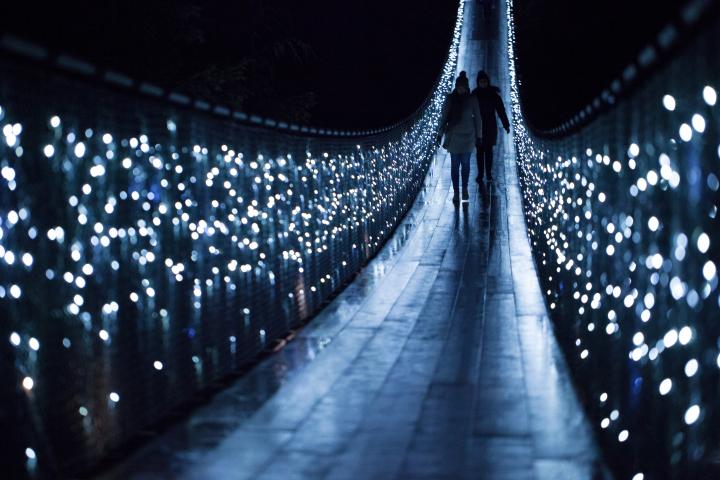 Credit: Capilano Suspension Bridge Park 
Considered one of the our most spectacular light displays adorning one of our most iconic attractions, Canyon Lights is a must see for those who want to capture that perfect shot. Be prepared to be dazzled by the thousands of lights glittering throughout the rainforest as guests across the Suspension Bridge. The park is home to the eight tallest Christmas trees in the world and its 250-year-old Douglas firs, which will also be sparkling brightly to celebrate the season.  
But it's not all about snapping selfies in the middle of the bridge! There is also live music, family-friendly activities and a walk-through light tunnel. Guests can also take a stroll through the "Arc de Lumina" light tunnel on the park's thrilling Cliffwalk. 
Partial proceeds from admissions will be donated to the BC Professional Fire Fighters' Burn Fund for fire and burn education in schools throughout British Columbia. Admissions also help Capilano continue to host the Twelve Nights of Christmas, offering passes to local charities. 
Details:  
Starts during the third week of November till mid-January annually. 
Capilano Suspension Bridge Park, 3735 Capilano Rd, North Vancouver (Click for directions from YWCA Hotel) 
https://www.capbridge.com/events/canyon-lights/ 
Got Craft? Holiday Show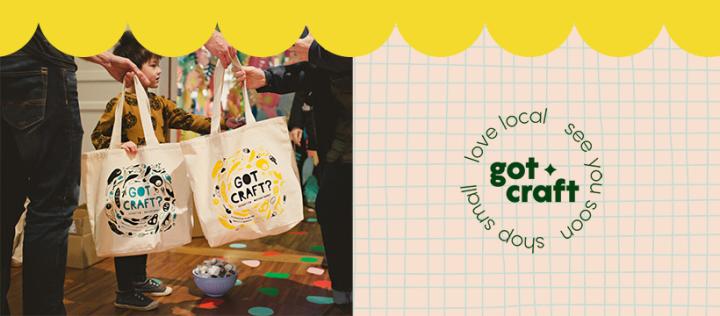 Credit: Got Craft? Holiday Show 
Come and connect with a conscious community seeking to support local small businesses! Hosted by one of Vancouver's largest indie craft fairs, Got Craft is a curated marketplace that showcases the best in independent craft and design. 
Taking place the weekend before Christmas, last-minute shoppers can browse and purchase unique handmade presents for friends and family. Featuring a more than 80+ artisan creators and small stores gathering from across Canada, a "kidpreneuers" area, delicious food and drink, music and good vibes. 
Details:  
Usually takes place the weekend before Christmas. 
Croatian Cultural Centre, 3250 Commercial Dr, Vancouver (Click for directions from YWCA Hotel)  
https://festivalnet.com/46347/Vancouver-British-Columbia/Indie-Shows/Got-Craft-Holiday-Show 
Festival of Lights at VanDusen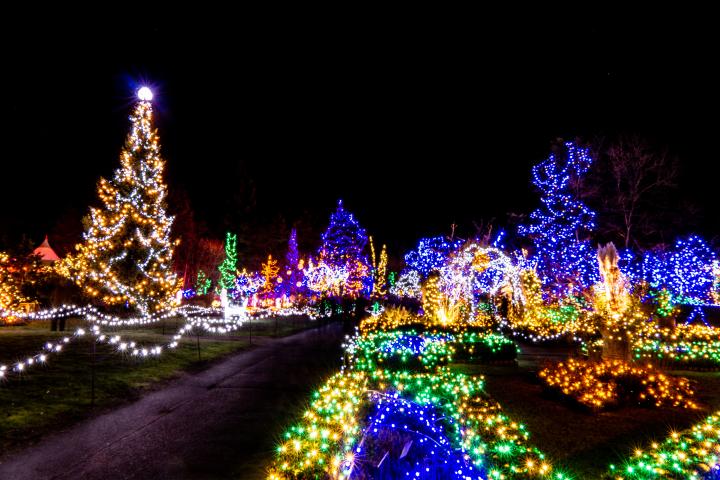 Credit: Oleg_Mayorov 
An enchanting winter garden awaits! Stroll into a magical winter wonderland with more than one million lights decorating 15 acres of VanDusen Botanical Garden during the Festival of Lights. This outdoor festive attraction is one of Vancouver's most popular go-tos with themed areas, tasty treats, unique light features, and holiday music. Wander through the romantic Rose Garden, and be sure to stop by the Scottish Shelter to light a candle and donate to Make-A-Wish.    
Details:  
Happens annually from the last week of November to the beginning of January. 
VanDusen Botanical Garden, 5251 Oak Street (Click for directions from YWCA Hotel) 
https://vancouver.ca/parks-recreation-culture/festival-of-lights.aspx 
Robson Ice Rink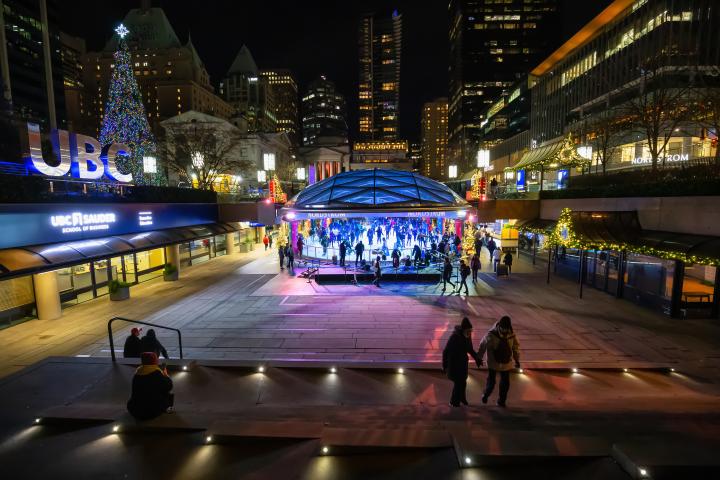 Credit: Edgar Bullon 
Free outdoor skating in downtown! You heard it. Every year, free ice skating takes place from December until February at Vancouver's Robson Square' outdoor covered ice rink. The rink also has an indoor skate rental where you can rent skates for a reasonable fee. There is also a cafe area and an outdoor patio with heaters. Live music performances usually take place from mid-December as part of the Christmas programming. 
Robson Square is a public space that includes a covered outdoor area, when it's not being used as an ice rink, this facility is heavily utilized by locals for dance lessons, special events and other activities. 
Details:
Annually from December until February.
Robson Square, 800 Robson St, Vancouver (Click for directions from YWCA Hotel) 
https://www.robsonsquare.com/  
Christmas at Canada Place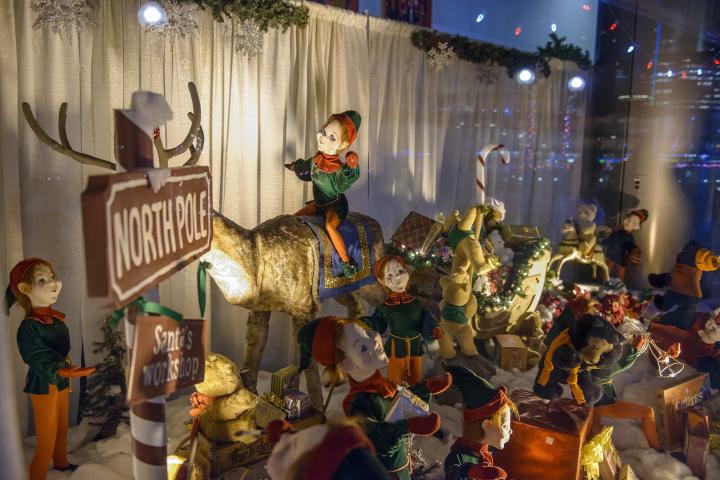 Credit: Canada Place 
This free, seasonal display at downtown's waterfront landmark at Canada Place have been capturing festive-seeking locals and visitors for more than 30 years! This family-friendly, outdoor experience will feature the historic Woodward's Windows and Avenue of Christmas Trees, delicious holiday recipes, a special holiday-themed Sails of Light display, Canada's North light display and more!  
Annually from December until January.
999 Canada Place, Vancouver (Click for directions from YWCA Hotel) 
https://www.canadaplace.ca/events/christmas/  
The Peak of Christmas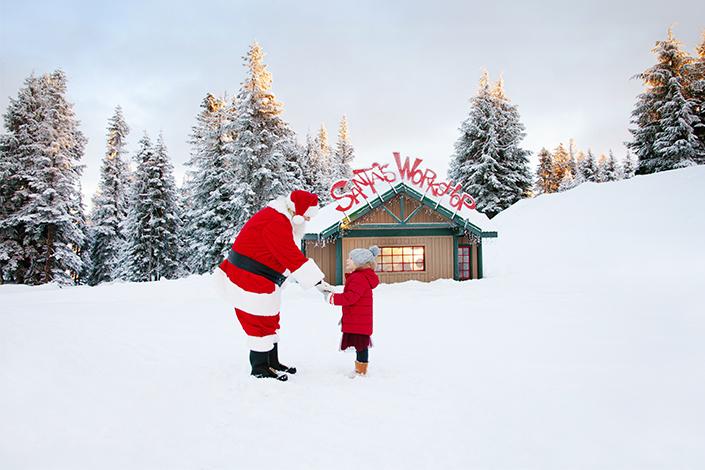 Credit: Grouse Mountain 
Get ready to experience a full mountaintop of holiday magic! From twinkling lights, to outdoor skating on a pond, to meeting Santa in his workshop, families and friends can expect a one-of-a-kind experience at Grouse Mountain's Peak of Christmas. 
Enjoy Vancouver's natural beauty when you stroll through Blue Grouse Lake, lit by breathtaking light installations, walk through the light tunnels and skate at the mountaintop Ice Skating Pond – the largest outdoor ice-skating pond in BC, surrounded by snow-topped trees. You wouldn't want to miss the Theatre in the Sky or visit Elf Headquarters and create your very own Christmas craft! 
Details:
Starts during end of November to early January. 
Grouse Mountain, 6400 Nancy Greene Way North Vancouver (Click for directions from YWCA Hotel) 
https://www.grousemountain.com/peak-of-christmas