You booked your tickets, you searched for hotels, you planned your itinerary, what's next?  
As you try to figure it all out, we're here for you as you prepare for your upcoming trip to Vancouver in the Autumn. See below for our tips and recommendations! 
What to pack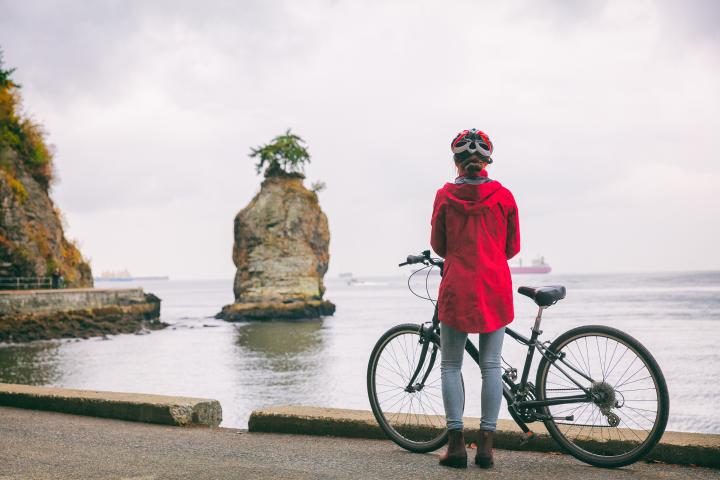 Vancouver is a pretty casual and laidback city. Unless you want to glam up for your trip, you do not need to worry about matching every outfit or packing trendy clothing. A city of athleisure wear, you will even see tees, hoodies, windbreakers, yoga pants and leggings as acceptable forms of casual wear when you head out to sightsee.  
For autumn-weather Vancouver, we'd recommend sticking to jeans, pants/trouser, a waterproof jacket, and layers layers layers . 
Should I bring an umbrella? 
Most Vancouverites wear rain jackets and waterproof outerwear instead of carrying umbrellas, but it is entirely acceptable to use one! We recommend an extendable umbrella that you can easily fit into your bag to bring during weather-ambiguous days. Since we are a coastal city, we will warn you in advance to not fully trust weather reports to be entirely accurate. 
Your phone may run out of battery. Bring a battery pack. 
Being a city of outdoor activities mixed with urban city-life and amazing culinary experiences, visitors will be constantly on-the-go. Whether you're taking the SkyTrain to False Creek, hopping on the Aquabus to Granville Island, or biking down Stanley Park, you may not be able to hop back to your hotel nor have access to a charging port. So, it's always a good idea to keep a battery pack and charging cable on you! 
Planning your vacation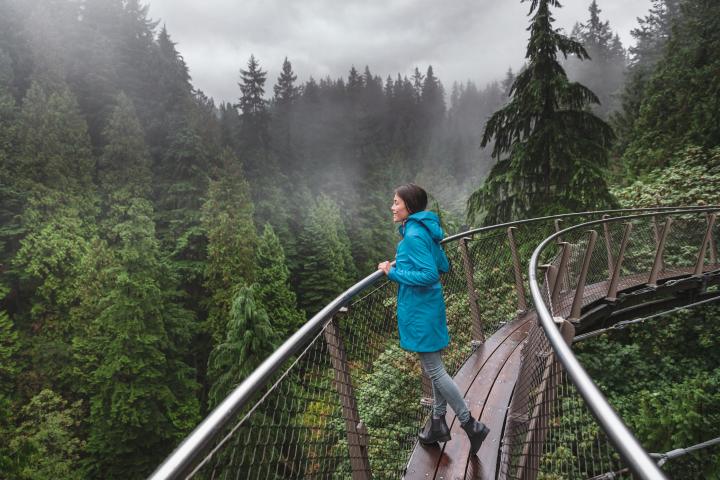 OCTOBER 
Weather:  
During October, temperatures during the day usually varies between highs of 13.1°C (55.6°F), with lows dropping to about 6°C (43°F). October usually gets a bit of rain, close to 115 mm (just over 4.5 inches). 
What to wear: 
It's important to layer up during the beginning of fall because you can get extremely warm during sunny days under a heavy hoodie. Bring some warm, waterproof clothing including sweaters, light jackets/ coats, and a  jacket to wear at night. Closed-toe shoes or boots are handy if you're heading outside when it's damp. Sunglasses are sometimes a good idea at the beginning of October. 
What to check out:  
Tons of Halloween events, such as PNE's Fright Night, Halloween events, local theatre, pumpkin patches, corn maze and concerts are great to check out during October. Our very own NHL ice hockey team – the Canucks will also be playing so it'll be a great time to check them out.  
NOVEMBER  
Weather:  
Average temperature during November is 6°C. Daytime averages reach 8°C while the nights cool down to 3°C.  On rare occasions the temperature falls to -2°C in November. November is rarely cold enough to snow in Vancouver, so most precipitation turns to rain. It usually rains a bit more in November than October, so indoor events and attractions starts to pick up! 
What to wear:  
Temperature will dip in November, so a warm jacket is necessary, but anywhere indoors will be heated, so layer-up! Waterproof or water-resistant outer layers are a must, and adding a warm hat/toque/beanie, scarf and touch screen gloves are also good ideas.  
What to check out:  
Winter markets, crafts and tons of festivities starts popping up around November. Don't miss out on the Canyon Lights, Lumiere Festivals, Circle Craft, Vancouver Christmas Market that pops up around this time.  
DECEMBER  
Weather:  
Average temperatures during December are between a high of 4.7°C (40.5°F) and a low of 1.9°C (35.4°F). We usually expect up to 188mm (7.4") of rain in this month. Dreaming of a white Christmas? There are usually two days of snowfall in December. You can still make the holiday season merry and bright by dressing for a festive night on the town! 
What to wear:  
To stay cozy and dry, you'll need warm clothes, a heavy waterproof jacket and outerwear. It's good to have sweaters and cardigans for layering, with a good light, wicking inside layer. Wear hats, toques (beanies), gloves, mitts and bring an umbrella. Waterproof and closed toe footwear is recommended. 
What to check out: 
December is usually filled with holiday events and fairs, shows, traditional Christmas concerts and performances. There are usually festivities every day, and malls are usually open till late. Be sure to keep an eye out on the calendar!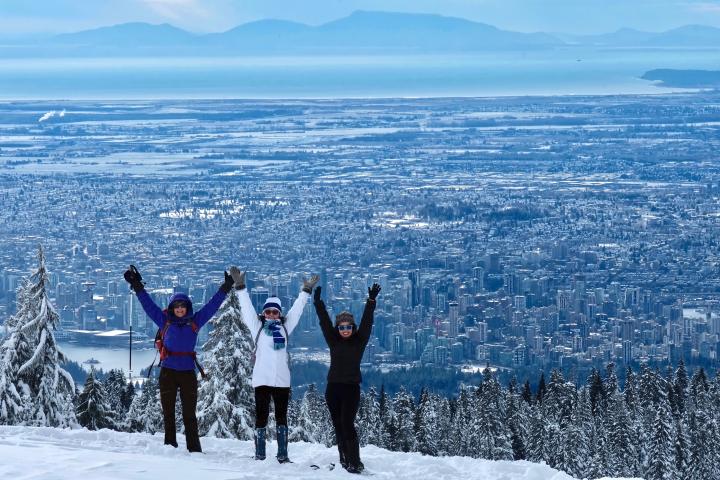 Travel tips 
Take advantage of our transit 
Many travellers are used to driving or taking an Uber or Taxi. However, Vancouver's transit system TransLink is convenient, especially with the SkyTrain systems – which has stops along many major attractions in the city. 
Vancouver's transit system includes buses, ferries, and Skytrain lines. 90-minute passes can be bought onboard transit with exact change (starting at $3 for adults) or via contactless Visa and Compass cards. 
Monthly, weekly, and daily passes are also available. You can buy tickets and Compass pass at YVR Airport, select stations, terminals and several Vancouver retailers. This card can be loaded with money to use during your visit. Visit TransLink's visitor's page for more information. 
Bring Interac Debit or a bit of cash 
If you're visiting markets, fairs, night markets, Asian stores and restaurants, or exploring Richmond, Coquitlam, Burnaby etc., you may want to have some cash (or Interac debit) on you. Some restaurants and stores do not take credit cards because of transaction fees, and you do not want to miss out on some of these famous mom-and-pops, craft stores or Asian delicacies.  
Free Internet and Wi-Fi 
Vancouver's downtown area (and most of the surrounding areas) is equipped with free public Wi-Fi. Our hotel also offers free wi-fi to guests.