Self-guided tours are a great way to explore Vancouver* and what this city has to offer! It offers you flexibility with no fixed departure times, privacy and a lower-cost option that does not involve tours or traveling in groups.   
We've put together a super fun list of self-guided tours and activities you can partake in! 
*While you're walking around, please keep in mind that our modern city of Vancouver was founded on the traditional territories of the Musqueam, Squamish and Tsleil-Waututh First Nations and that these territories were never ceded through treaty, war or surrender. We give thanks as settlers to be living, working and playing on this land.  
Self-Guided Mural Tour - Vancouver Mural Festival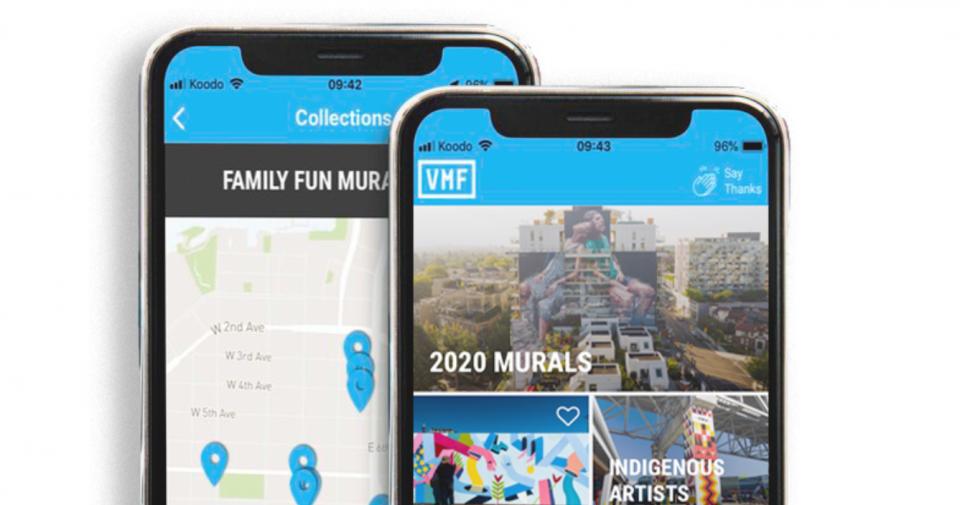 With 250+ murals around the city, Vancouver's lively mural and art scene brings colour and life into our city's streets and creates experiences that connect art and people in public spaces. Since 2016, the Vancouver Mural Festival (VMF) worked with artists and community groups to create large-scale murals, culminating in a street party and showcase event.  
Rain or shine, discover and learn about Vancouver's public art installations throughout Vancouver's neighbourhoods, streets and alleyways–any time of the year with the VMF's Mobile App.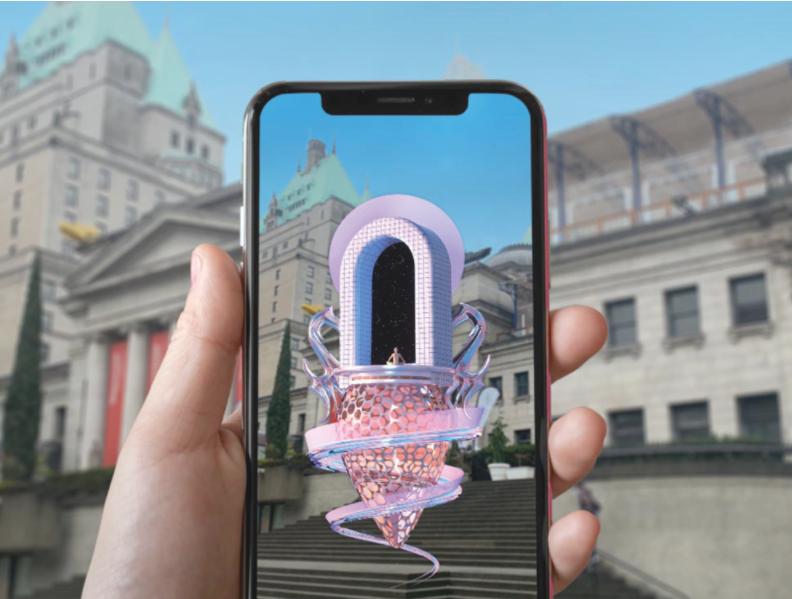 From February 12, 2021 to February 28, 2021, Vancouver Mural Festival's Winter Arts is blurring the line between the virtual and physical worlds, transforming public space across the core of Vancouver into an open-air gallery featuring Augmented Reality art to safely engage, connect and inspire! 
Learn more at: https://vanmuralfest.ca/  
Self-guided Walks with VanWalks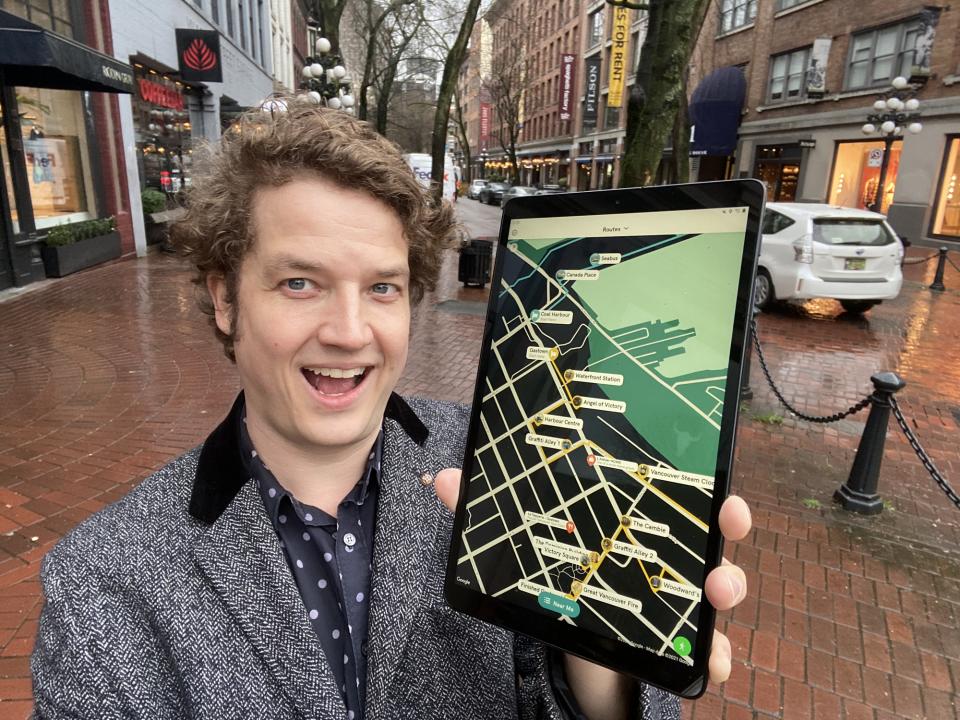 VanWalk app's lead developer, Chris King. | Photo: Chris King 
Explore Vancouver like a local with this app! The app's developer, Chris King, has been living in Vancouver for 20 years and is excited to give you a unique look into the most interesting aspects of the city. Choose from the Gastown, Chinatown or Coal Harbour routes for an experience that combines historical context, modern events, and local interpretation to provide an interesting and fun experience for tourists, new Canadians, and lifelong locals. 
Learn more at https://vanwalks.ca/  
Go on a Geocaching Adventure in the City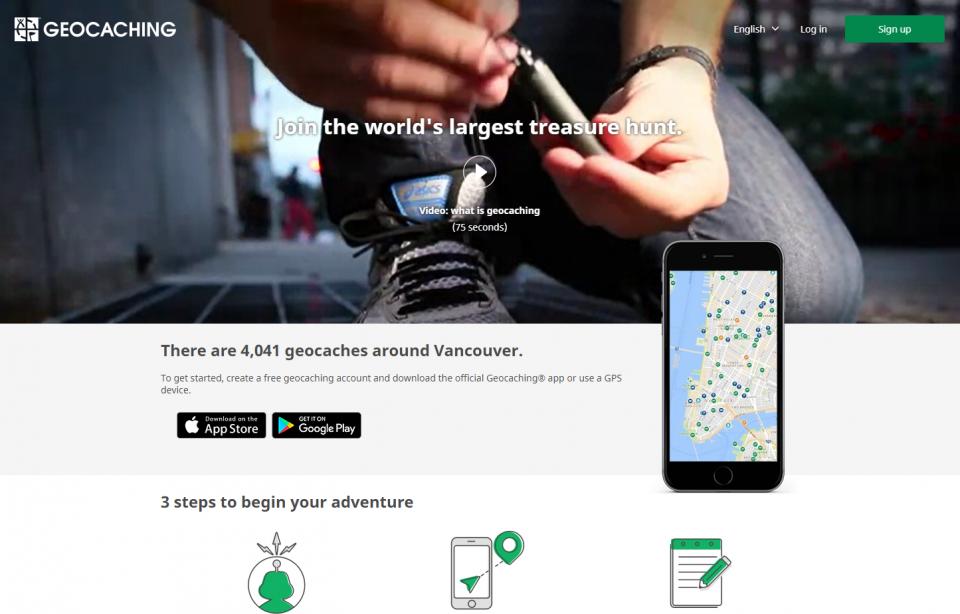 Join the world's largest treasure hunt around our city! There are millions of geocaches hidden around the world—with over 4000+ around Vancouver alone. Participants partaking in geocaching would navigate to a specific set of GPS coordinates and then attempt to find the geocache (container) hidden at that location. Once the geocache is found, the treasure hunters would sign and date the logbook and place the geocache back for the next group to find!  
It's super simple, just download the Geocaching app at https://www.geocaching.com/ to get started! 
-------
Disclaimer: Remember to take safety precautions while using external applications and exploring out in the city! Please be mindful of the weather, fitness level, terrain features and outdoor experience, that must be considered. Be prepared for your journey and be sure to check the current weather and conditions before heading outdoors. Always exercise common sense and caution. 
Other Notable Self-Guided Tours 
There are many more awesome self-guided tours that you can check out! Try looking at Lonely Planet's Self-guided Vancouver Downtown Grand tour that starts at the Olympic Cauldron or the Gastown walking tour from GPS my city! You can also check out the Legends of Vancouver tour that will take you through places of sacred meaning to local Indigenous People of the Squamish, Musqueam and Tsleil-Waututh Nations. These places all have their own legends that are documented in Pauline Johnson's book.