With nature, entertainment, shows, concerts, hiking trails and shopping all minutes away, Vancouver is the ultimate destination for a weekend getaway, a bachelorette party, a girl's trip, or a brief vacation. It's also one of the best places for a spontaneous trip with a group of friends.
You've already heard about the landmark tourist attractions and our amazing eateries. Good! We're not here to repeat what you already know. There are plenty more local spots in this city than meets the eye - that's why we've put together some recommendations to make your getaway, hangout or stag a special one:
Hang Out With Loveable Kitties
Photo of a cat inside Catfé. Photo source: Catfé.
If your group involves animal lovers, then be sure to pay a visit to Catfe, Vancouver's cat cafe. Reservations are recommended to visit the cat lounge and meet some furry feline friends! The cafe serves cute cat-themed drinks, pastries and all kinds of cat-themed merchandise, like postcards to send to everyone who missed out on the experience.
Catfé
Unit #2035 – Second Floor, International Village Mall,
88 W Pender St, Vancouver. Click for directions from YWCA Hotel.
http://www.catfe.ca/
Get Your Aprons Dirty At This Cooking School
Photo of a group celebrating during cooking school. Photo source: The Dirty Apron.
Food tastes better when you cook it with friends.  The Dirty Apron Cooking School cooking class gives you the opportunity to have a hands-on experience with other foodie friends. There's classes for amateur enthusiasts and they're offered on almost a daily basis, so be sure to check out this fun and delicious activity!
The Dirty Apron
540 Beatty Street, Vancouver. Click here for directions from YWCA Hotel.
https://www.dirtyapron.com/cooking-school/calendar/our-classes
Rise And Shine With Yoga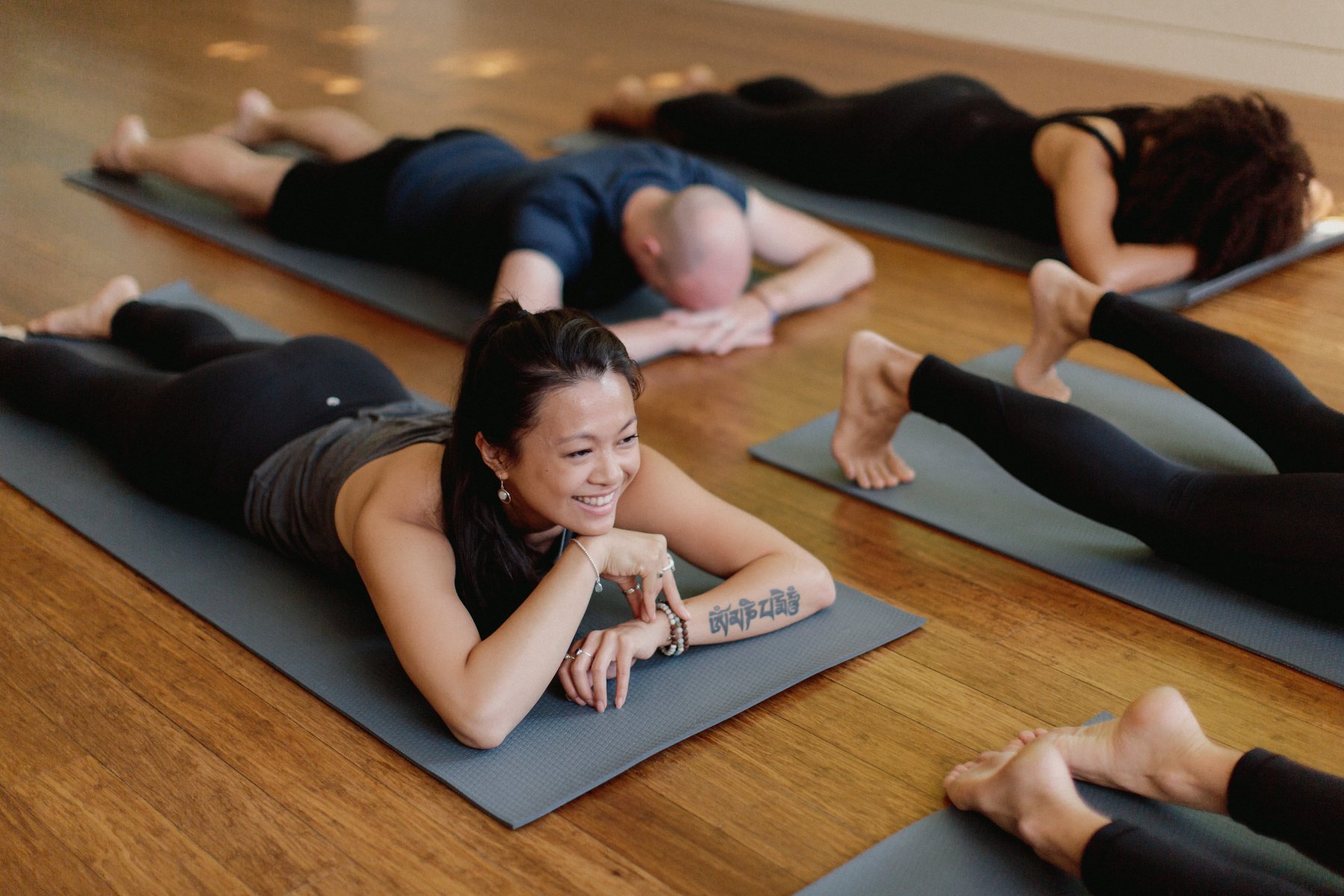 Relaxing at a Yoga class. Photo source: YYoga
Your experience of the city wouldn't be complete without indulging in a yoga class. Start your day off feeling rejuvenated and relaxed. Our city is filled with yoga enthusiasts and yoga studios alike. We even offer Yoga classes at the YWCA's Health + Fitness centre (free drop-ins for YWCA Hotel guests -- need to be 16 and older). Try a morning class in one of Vancouver's airy studios or maybe something different with yoga on a stand up paddle board in true West Coast fashion. Did you know that the yoga-inspired apparel company Lululemon started in Vancouver?
Our recommendations:
YWCA Health + Fitness Centre
Free when you're staying at YWCA Hotel (16+)
https://ywcavan.org/fitness
YYoga Downtown Flow
https://yyoga.ca/locations/downtown-flow
Oxygen Yoga and Fitness Yaletown
https://oxygenyogaandfitness.com/oxygen-yoga-locations/
Stand Up Paddle Yoga Flow
https://www.standuppaddlevancouver.com/home/sup-yoga/
Swordplay? Is that a thing?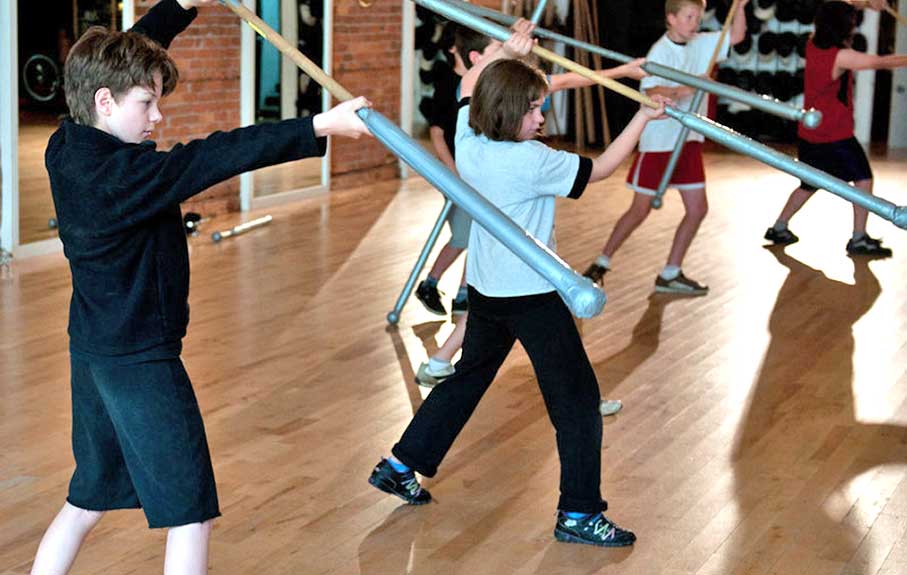 Children taking a class at Academie Duello. Photo source: Academie Duello.
Yes, it sounds like a lost art, but Vancouver's no foreigner to the medieval arts. Academie Duello Centre for Swordplay is a school of Western Martial Arts devoted to teaching the traditional martial practices of Europe. Their downtown location features introductory and ongoing mastery swordplay courses; stage combat and archery workshops. Drop by for an exciting 90-120 minutes where you'll take on the role of a renaissance noble training for their first duel. Go ahead, put on armour and immerse yourself in knightly training, experience the thrill of fighting from horseback, or take up the bow and test your poise and precision.
Academie Duello
412 West Hastings Street, Vancouver. Click here for directions from YWCA Hotel
https://www.academieduello.com
Solve a Vancouver Mystery Together
On a mission. Photo source: Vancouver Mystery Games
Hit the streets of Vancouver to look for clues, solve puzzles, and learn more about the city. Even locals who are familiar with Vancouver have so much fun on this adventure. Arrive at a 'mystery location', grab your gear and head out to solve a murder, complete a secret mission, or save the planet. Teams of two to five players collect clues and solve puzzles hidden around downtown Vancouver as a mystery story unfolds.
Vancouver Mystery Games
https://vancouvermysteries.com/
Enjoy a Sunset Dinner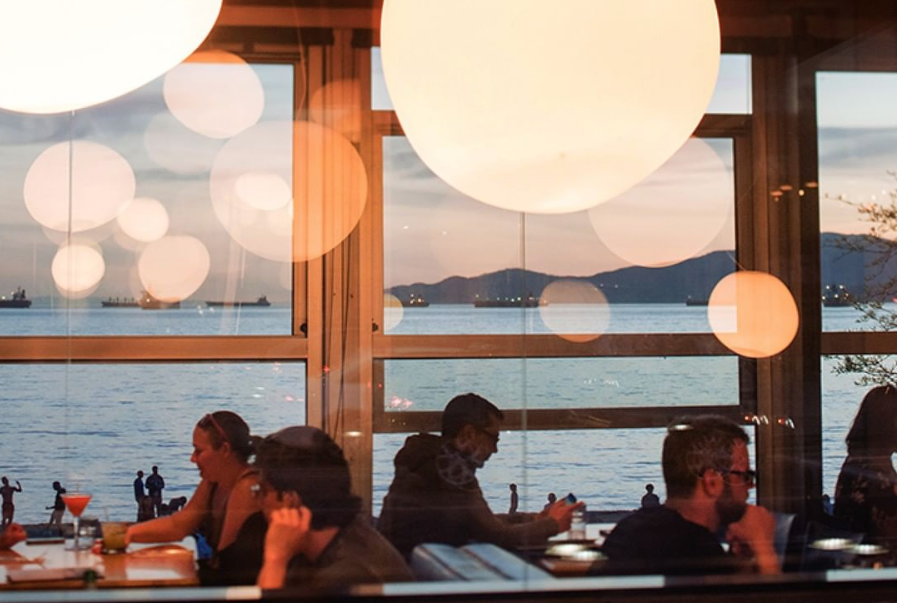 Sunset dinner at English Bay's Cactus Club. Photo Source: Cactus Club.
Whether it's atop a revolving restaurant or at a sunset dinner cruise, we recommend that you take in the sights and sounds of Vancouver from the best viewpoints in the city. Our local Top of Vancouver Revolving Restaurant offers stunning 360 degree views of Vancouver and surrounding areas. Time your dinner for sunset, you'll get awesome views of daytime and nighttime with an amazing sunset over English Bay. There is also a local Cactus Club with a patio featuring breathtaking sunsets that sits right on English Bay beach. Another good option is the sunset dinner cruises that float along through Vancouver's harbour and into Burrard Inlet with spectacular views of the sunset. Enjoy the relaxed dinner with a view and make memories with your besties.
Top of Vancouver Revolving Restaurant
555 W Hastings St, Vancouver. Click for directions from YWCA Hotel.
www.topofvancouver.com
Cactus Club English Bay
1790 Beach Ave, Vancouver. Click for directions from YWCA Hotel.
https://www.cactusclubcafe.com/location/english-bay/