A Friendly and Health Focused Space
in the Heart of
Vancouver
LOVE YOUR WORKOUT
Be safe, feel good, stay balanced #lovemyYWworkout.
YWCA Rooftop
Workouts
You can work out outdoors on our 5th floor rooftop garden! These workouts are available Mondays, Wednesdays, and Fridays (weather permitting). You can do an individual workout or attend a high intensity class on the rooftop without a mask, but you must maintain a physical distance of 2-metre and comply with all other COVID-safety protocols. Please resume mask-wearing when indoors.
The following equipment are available for an individual rooftop workout: dumbbells, kettlebells, steps, cycle bikes, foam rollers, smart toners, skipping ropes, and outdoor mats.  For outdoor classes, check out the Rooftop Schedule and book online through MyClub (under group fitness - rooftop classes). 
The rooftop space is limited and must be booked in advance for both classes and individual workouts. To access the rooftop take the elevator to the 5th floor (max 2 person/elevator). In inclement weather, rooftop access will be cancelled and your reservation will be valid for a 3rd floor gym workout.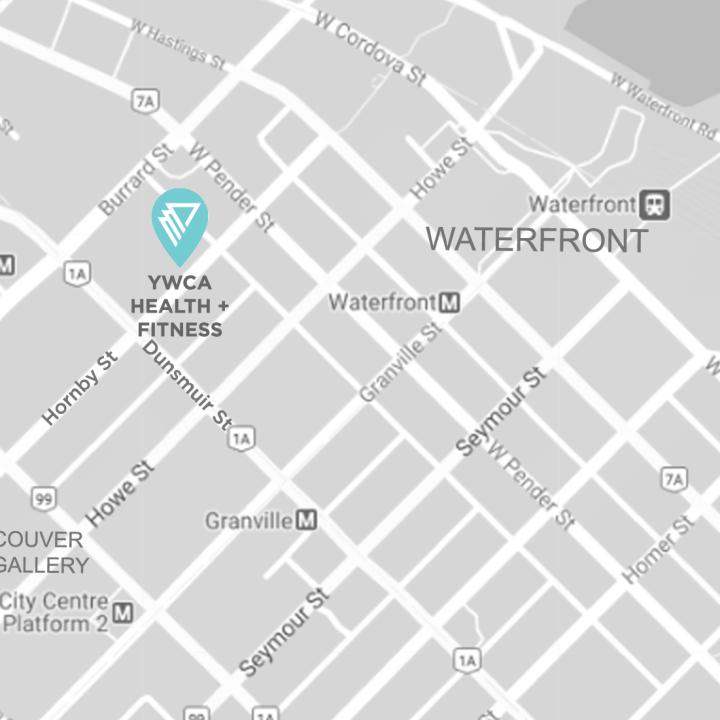 Our
Locations
YWCA Health + Fitness Centre
535 Hornby Street  |  604 895 5777
WORKOUT HOURS
Mon – Fri 5:45 AM – 9:30 PM
Sat – Sun 8 AM – 5:30 PM
Closed on Statutory Holidays
 
YWCA Fitness + Racquet Club
Lower Plaza, 1055 Dunsmuir Street | 604 681 0178
WORKOUT HOURS
Mon – Fri 5:30 AM – 8:30 PM
Sat – Sun 9 AM – 4:00 PM
Closed on Statutory Holidays
The Fitness +
Racquet Club
As a second location this newly renovated facility expands our amenities. Members will have access to both locations, just a five-minute walk apart! 

At FRC you can look forward to the following amenities and services.
18,000 square-feet of workout space in the downtown core
weight, cardio & meditation areas
fitness studio
5 squash/racquetball courts 
beautiful updated locker rooms with steam rooms inside