Best Things to Do When Visiting Vancouver in the Fall 
Best Things to Do When Visiting Vancouver in the Fall 
As the leaves turn into the autumn shades of red and gold, Vancouver emerges as a captivating destination in the fall. The crisp air, stunning landscapes, and a plethora of seasonal activities make it a perfect time to explore this coastal city. Whether you're a local looking for new adventures or a traveller planning your Vancouver getaway, here are some of the experiences that should be making the top of your autumn bucket list. 
Frolic in the Fall Foliage Oasis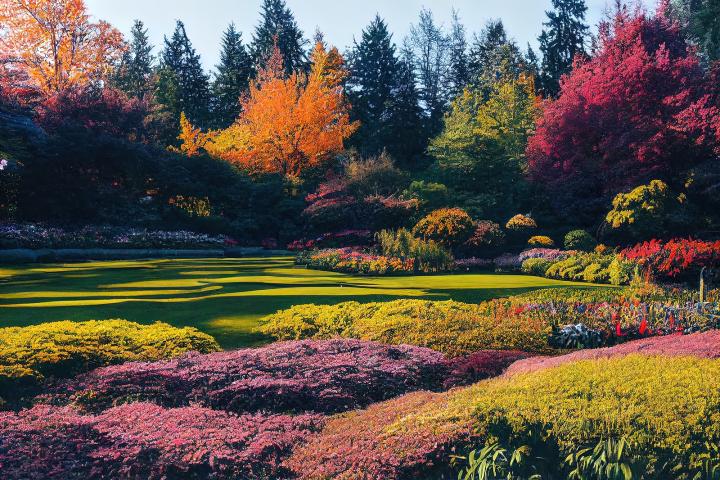 Photo of VanDusen Botanical Garden in the Fall 
Vancouver takes on a mesmerizing charm in the fall. Celebrate the autumn leaves in Vancouver while immersing yourself in the city's diverse landscapes. Here are our recommendations as you embark on a colourful journey through the city's enchanting parks and gardens: 
Stanley Park, a beloved gem in Vancouver, takes on a different personality in the fall. Explore the Seawall on a bike or by foot and witness the trees transforming into brilliant hues. Don't miss a visit to Beaver Lake for beautiful reflections of the fall colours. 
VanDusen Botanical Garden is a picturesque haven for nature enthusiasts. During the fall, the garden's collection of trees, including Japanese maples, transform into brilliant shades of red and orange. Stroll through the peaceful paths and revel in the beauty of the season. 
Dr. Sun Yat-sen Classical Chinese Garden is a serene classical Chinese garden in the heart of Vancouver's Chinatown. The garden's autumn foliage and peaceful ambiance provide an ideal setting for a leisurely stroll and cultural exploration. 
>> Read our post for directions and more details about our beautiful parks and gardens. 
Fall Farmers' Markets: Fresh and Local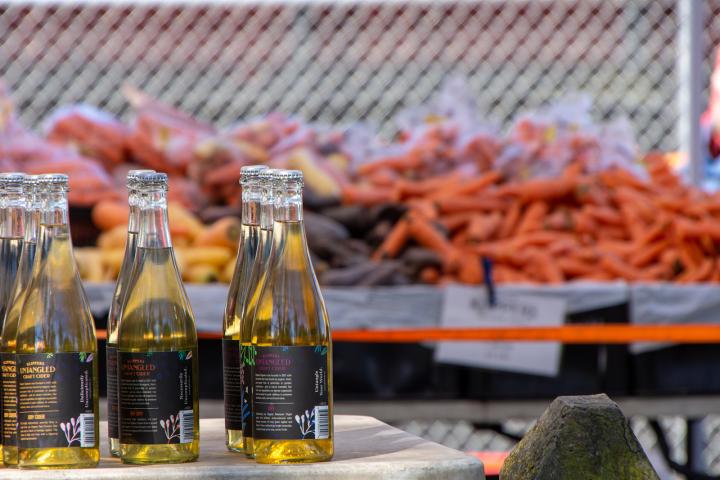 Photo of products at Riley Park Farmers Market 
Experience Vancouver's vibrant farmers' markets in the fall. Granville Island, Trout Lake, and Riley Park are just a few locations where you can sample fresh, locally grown produce, artisanal goods, and seasonal treats.  
Downtown Farmers Market runs on Wednesdays from May to the end of November. It's conveniently located at šxʷƛ̓ənəq Xwtl'e7énḵ Square, steps away from transit and just a 8–10-minute walk from the YWCA Hotel. The market showcases an impressive array of locally grown produce, freshly baked goods, artisanal products, and more. 
Granville Island is a cultural hub year-round, but it takes on a special appeal in the fall. Stroll through the Public Market, explore artisan shops, and admire the works of local artists in the galleries. Warm up with a hot beverage from a charming café. 
Riley Park Farmers Market runs year-round on Saturdays, which means you can enjoy its offerings even in the fall months during the Winter market. Located near the Nat Bailey Stadium, this market features an assortment of local and organic produce, as well as unique artisanal products that capture the essence of the season. 
West End Farmers Market operates from June to the end of October. This market in Vancouver's West End offers a diverse selection of fresh produce, baked goods, artisanal products, and ready-to-eat meals. In the fall, you'll find an array of seasonal offerings and fall-inspired treats. 
Consider taking a short trip to the Fraser Valley for a cranberry harvest experience. Several farms host fall festivals where you can witness the cranberry harvest process, enjoy family-friendly activities, and taste cranberry-inspired treats. 
Seasonal Festivals: Autumn Celebrations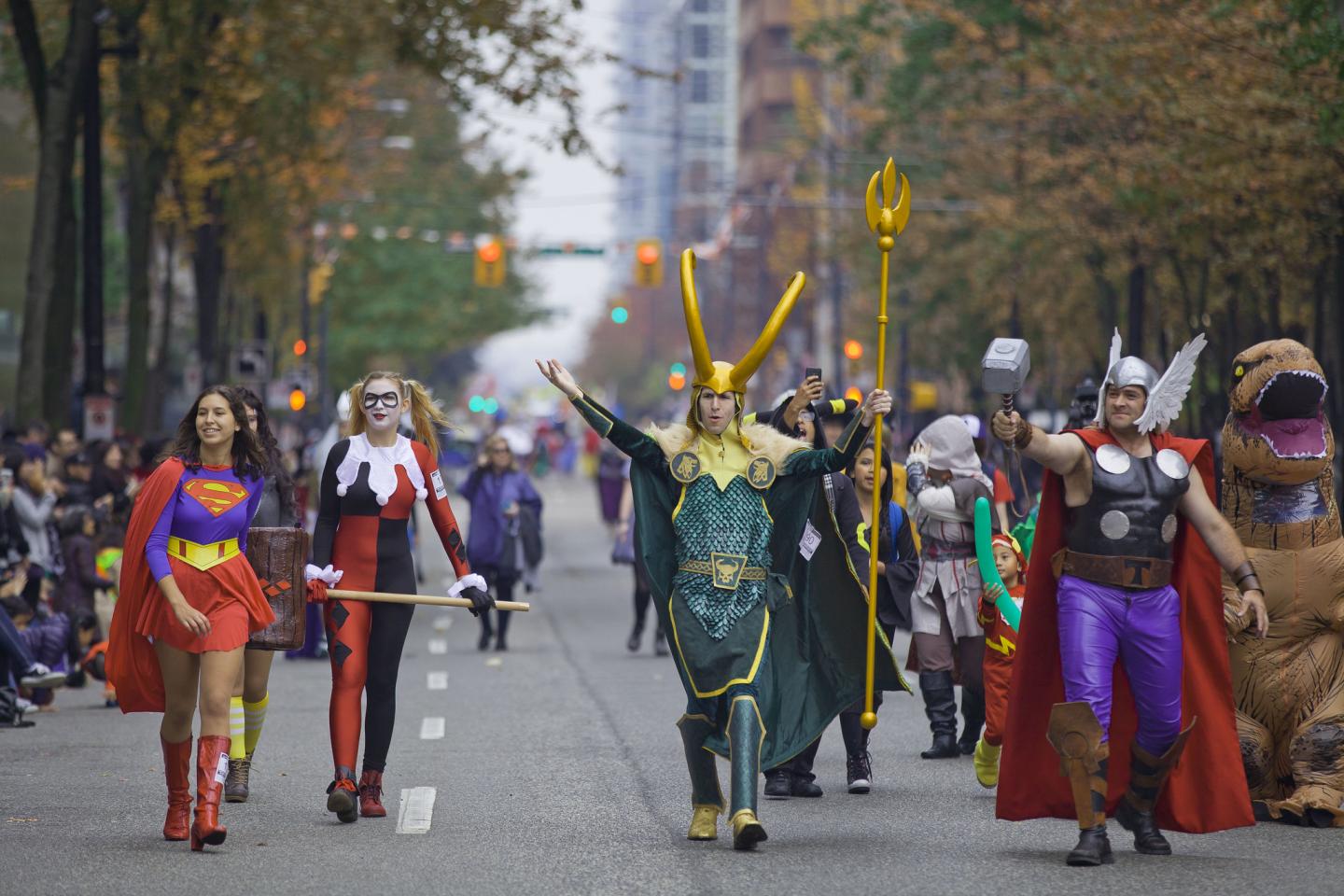 Photo credit: GoToVan 
Vancouver hosts a range of fall festivals and events. Enjoy the Vancouver International Film Festival, where you can catch compelling films from around the world, immerse yourself in the local culture at the Vancouver International Writers Festival, or enjoy one of the seasons' fall or Halloween celebrations! 
>> Check out the latest events in Vancouver here 
>> Read our recommendations for the Best Fall/ Winter markets, fairs and festivals in Vancouver 
Local Cuisine: Fall Flavors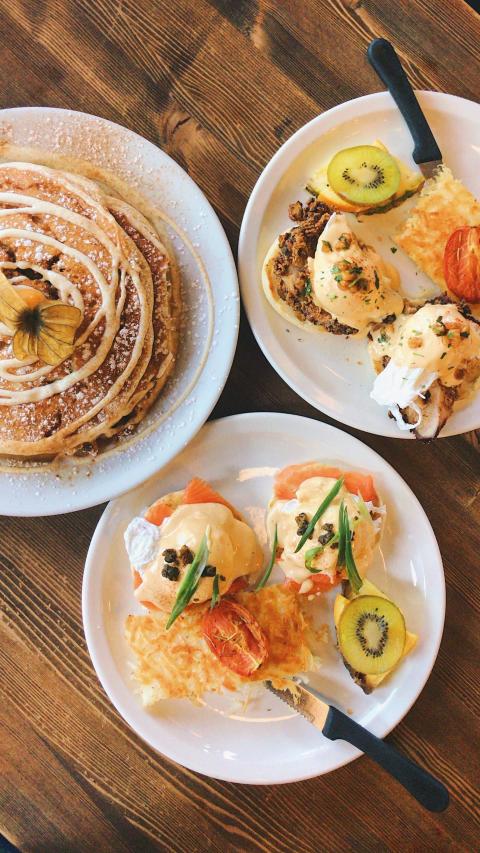 Photo of pancakes and benedicts from Jam Café 
Vancouver's local cuisine comes alive with the arrival of fall, offering a delightful journey through the season's flavours. From succulent wild Pacific salmon and earthy root vegetables to comforting bowls of hot soup and indulgent pumpkin-inspired treats, Vancouver's culinary scene offers a delicious range of fall-inspired dishes. Soak in the warmth of cozy bistros, embrace farm-to-table dining and explore the city's diverse eateries. Whether you're a seafood enthusiast, a lover of farm-fresh fare, or simply seeking comfort food, dining in Vancouver promises a mouthwatering experience. 
>> Not sure what to eat? Check out our recommendations here 
Explore the North Shore: Fall Hiking and More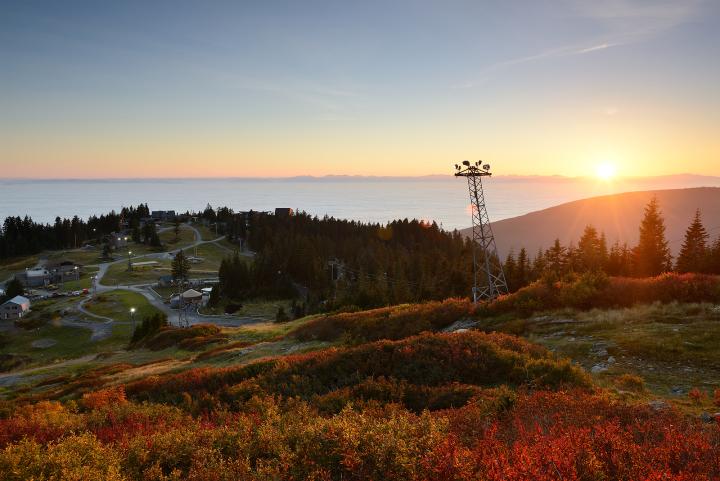 Photo taken at Grouse Mountain in the Fall 
The North Shore Mountains are a treasure trove of fall hiking trails. Consider exploring Lynn Canyon Park or taking a scenic drive up to Cypress Provincial Park for a different fall perspective.  
Head to Lighthouse Park in West Vancouver for a serene coastal experience. The rugged shoreline, old-growth forests, and iconic lighthouse make for a perfect fall hike. Changing colours of the trees add to the visual spectacle at the viewpoints. 
Capilano Suspension Bridge Park is also a must-visit in the fall. Walk amidst the towering trees and evergreens. The bridge offers breathtaking views of the Capilano River, creating a perfect photo backdrop. 
>> Not sure which area or hiking trail to explore? Check out our recommendations. 
Seasonal Craft Breweries: Toast to Fall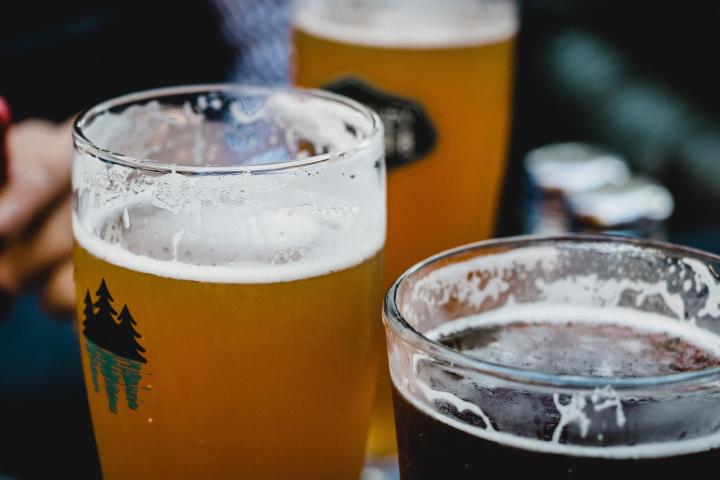 Vancouver's craft breweries offer a diverse selection of fall-inspired beers. During the fall, local breweries may surprise visitors with unique brews that incorporate seasonal ingredients, providing a fresh and exciting experience for beer enthusiasts. 
Here are some of the local favourites: 
Granville Island Brewing: Sample the essence of fall at Granville Island Brewing, where seasonal brews capture the spirit of the season 
Parallel 49 Brewing Company: Located in East Vancouver, Parallel 49 is a hub for innovative brews, including fall-inspired craft beers 
Steamworks Brewing Company: Located in Gastown, Steamworks Brewing offers a taste of autumn with rich and malty seasonal selections 
33 Acres Brewing Company: Known for its clean and crisp beer styles, including special fall brews in Mount Pleasant 
Brassneck Brewery: Brassneck Brewery surprises visitors with seasonal, experimental brews in the heart of Mount Pleasant, perfect for fall beer exploration 
Stanley Park Brewing: Stanley Park Brewing adds to the fall beer scene with a range of seasonal options 
Biking in the City: Crisp Rides 
Photo of person biking along the Vancouver Seawall in the Fall 
Rent a bike and explore Vancouver's bike-friendly paths and neighbourhoods. The cooler temperatures of fall make for comfortable rides, and you'll even find a wealth of scenic routes to explore. Pedal through Stanley Park's iconic seawall, where you'll be surrounded by lush forests and enjoy breathtaking waterfront views.  
For a more challenging ride, venture into the North Shore mountains and tackle the scenic trails. The city's neighbourhoods, like Kitsilano and Mount Pleasant, offer charming streets and cultural discoveries waiting to be explored on two wheels. With mild weather, vibrant foliage and fewer crowds, Vancouver's fall biking adventures are not to be missed. 
>> Check out some of the nice biking or walking routes near Downtown Vancouver 
Our Mountains: A Snowy Retreat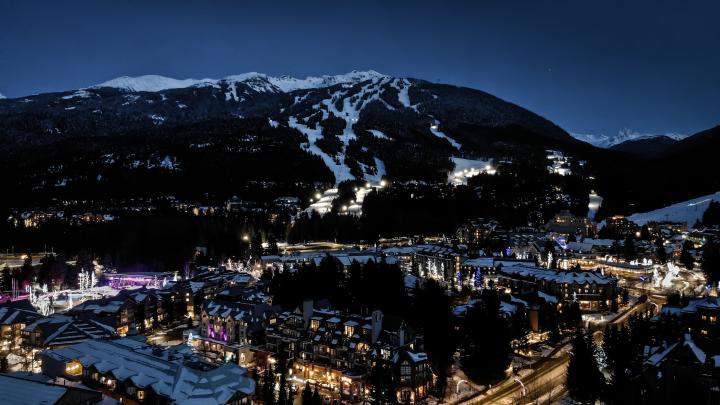 An aerial photo of Whistler Village 
Our local mountains offer an enchanting escape in the fall, where the crisp air and vibrant foliage create a serene backdrop for outdoor adventures. Whether you're seeking scenic hikes, cozy dining with panoramic views, or the thrill of early snow activities, our mountain retreats have it all. The changing seasons transform these natural wonders into picturesque landscapes, making them an ideal destination. 
In the fall, we'd recommend: 
Grouse Mountain, just a quick Skyride away, is a fun destination year-round. Embark on the Grouse Grind hike, indulge in cozy dining at the mountaintop restaurants, and enjoy thrilling activities like skiing and snowshoeing amid the early snowfall. 
Take a day trip to Whistler, where you can experience the breathtaking Sea-to-Sky Highway as it winds through forests ablaze with fall foliage. In Whistler, enjoy outdoor activities, vibrant village life, and the thrill of the first snowfall. 
>> Directions to our local mountains from downtown Vancouver 
Notable mentions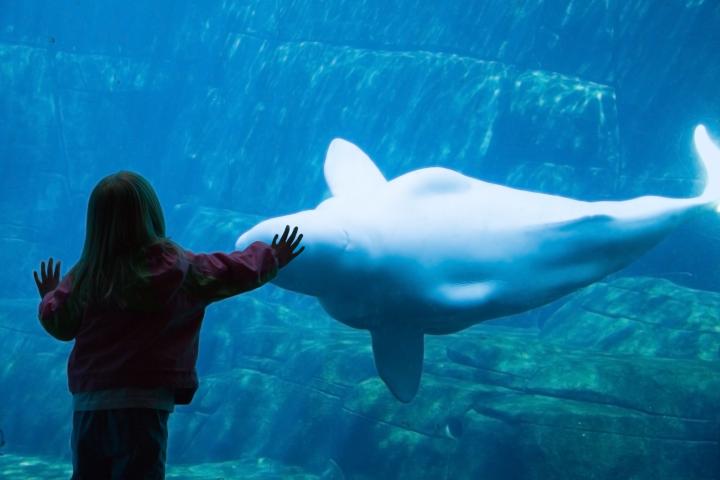 Photo of a child looking at a beluga whale at the Vancouver Aquarium 
Vancouver Aquarium: Aquatic Adventures 
While the Vancouver Aquarium remains a year-round attraction, visiting in the fall offers a quieter and more intimate experience. The autumn season brings fewer crowds, allowing you to take your time exploring the aquatic wonders. Don't miss the mesmerizing jellyfish exhibit. 
Museums and Galleries: Cultural Immersion 
Vancouver's cultural institutions offer enriching experiences in the fall. Visit the Museum of Anthropology at the University of British Columbia to explore indigenous art and history. Alternatively, spend an afternoon at the Vancouver Art Gallery to appreciate both classic and contemporary works. 
Vancouver Museums and exhibitions worth visiting includes: 
These museums offer a wide range of experiences, from art and culture to history and science, making Vancouver a rich and diverse cultural destination.