A trip's expenses can get add-up with activities, transportation and food to account for. Here are a few selections of inexpensive restaurants to visit and save on delicious meals when you're in Vancouver.
Hungry Guys Kitchen
Right on the corner of Granville Street and Nelson, Hungry Guys serves salads, burritos and bowls for a quick lunch or dinner downtown. Plus, they strive to serve local, free-run, and additive free ingredients to their customers. You can pick up a satisfying meal to-go or have a seat there to enjoy their casual and friendly atmosphere. For a good deal, order a custom burrito or bowl for $8.89 or build your own salad for $6.50.
La Taqueria Pinche Taco Shop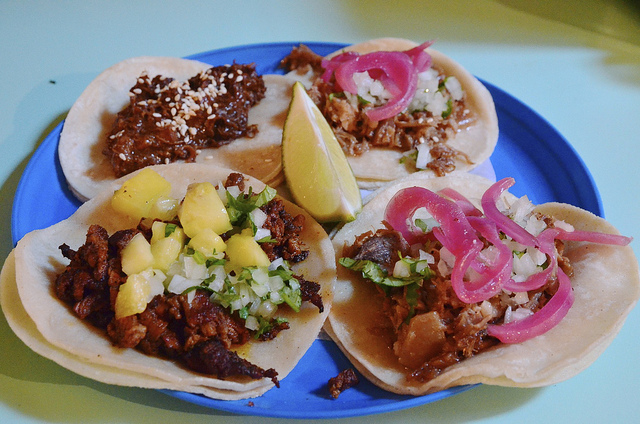 La Taqueria makes fabulous traditional mexican street tacos using local and responsibly sourced ingredients when possible. You can get four tasty meat tacos for $10.50 or four delicious veggie tacos for $8.50. La Taqueria can serve you at two locations in Vancouver: downtown at 322 West Hastings, and on Cambie Street right on the corner near Broadway. They also have a taco shop on the North Shore at 1305 Welch Street.
Basil Pasta Bar
Photo of spaghetti carbonara from Basil Pasta Bar by qasic on flickr creative commons https://flic.kr/p/kB1PUi
As you could have guessed, they specialize in pasta dishes. Classics like spaghetti carbonara are under $10. For the same price, you can customize your meal by choosing your own noodles, sauce, protein, veggies and garnish. They even have a couple combo options if you want to add garlic bread, salad, soup or a drink to your meal. The downtown location is on Davie, and they recently opened in Kitsilano on Yew.  Their motto is pretty accurate in our opinion: at Basil Pasta Bar tasty meets affordable!
Yolk's Breakfast
Photo of eggs benedict by Heather Joan on flickr creative commons https://flic.kr/p/kDDLav
The most aromatic breakfast you will ever eat! Those truffle lemon hash browns will bring you olfactory bliss. All of their options are reasonably priced, but they are famous for their customizable eggs benedict dishes starting at $7.50. You can find them in Strathcona on East Hastings, at Cambie and Broadway or order from their street truck parked monday to Friday from 8-2 on Burrard and West Pender.
Japadog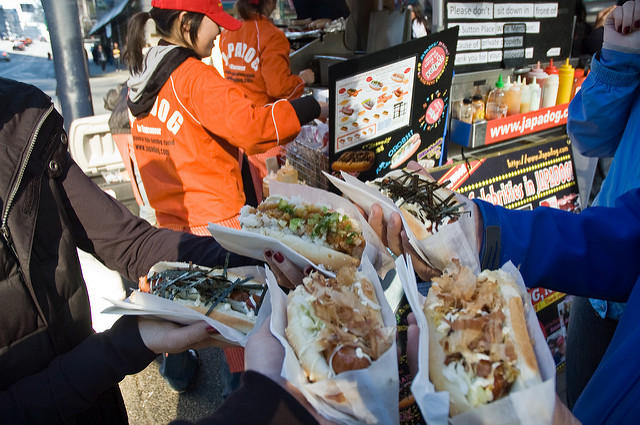 Photo of Japadogs by Jon Chiang on flickr creative commons https://flic.kr/p/7FbgYj
The popular hotdog was listed as "one of the must eat items in the world" and the Japadog Cart is still one of Vancouver's best known food carts around the downtown core. This famous little local foodcart serves up a terimayo, juicy kurobuta sausage fusion combo that can't be beat. The best part? Each dog costs only $5-$7! Japadog is located in several food carts and restaurants in different parts of Vancouver's downtown core and around greater Vancouver.
Yamato Sushi
Photo of Yamato Sushi by Raul Pachego-Vega on  flickr creative commons https://flic.kr/p/9rL2a7
We are lucky here in Vancouver to have access to sushi that is both really fresh and reasonably priced. At Yamato,  all box specials are under $9 and you can share a party tray with your friends with 34 pieces of sushi for $21.95. They are located downtown at 616 Davie Street and open daily from 10AM till 10:30 PM. The restaurant is rather small, but it makes an excellent takeout option.
Nuba
Voted the best Lebanese restaurant by Georgia Straight readers, Nuba offers fresh and healthy meals using local and organic ingredients whenever possible. They have many vegetarian options, and foster strong relationships with high quality suppliers that Vancouverites know and love. They have a lot of menu items for under $10, including the garden falafel and their vegan stew. You can find Nuba restaurants in Gastown, Kitsilano, Yaletown and Mount Pleasant.
Memphis Blues Barbecue House
Photo ofa platter at Memphis Blues Barbecue House by ALERT ALERT on flick rcreative commons   https://flic.kr/p/4i3ooG
We may be a ways from the American South, but you can still get authentic southern barbecue at Memphis Blues Barbecue House. You can get a bang for your buck there with enormous platters of delicious meats and sides to share. If you don't feel like sharing, order yourself a fall of the bone slab o'ribs or a tasty pulled pork sandwich. They have three locations: downtown on Robson, on West Broadway and on Commercial Drive.
The Flying Pig at 'Appy Hour
Photo of 'Aappy Hour Flying Pig by wyn lok on flickr creative commons https://flic.kr/p/rzDCyv
Everyday from 4 to 6, you can get amazing deals on fantastic appetizer dishes at all Flying Pig locations. All plates are $6 and awesome for sharing, including their truffled jumbo macaroni and beef short rib croquette. They have locations in Yaletown, Gastown and the Olympic Village, and items on  the 'Appy Hour menu may vary depending on where you go. They're all about serving fresh local food at a great value for brunch, lunch and dinner.
Gain Wah
Gain Wah restaurant, photo by Jeff Hitchcock  on flickr creative commons https://flic.kr/p/boqqRq
All items on their menu are offered at a low price, typically lunch will cost less than $10, and dinner about $15. Yet, they offer a large variety of delicious options. Their menu spans over pages of dishes ranging from barbecue specialties to noodles to congee. They are located in Chinatown at 218 Keefer Street and have fast and friendly service.
---
Cover photo by Lady Ducayne in Flickr Creative Commons: https://flic.kr/p/7Dew4t