Best Coffee Shops and Cafés in Vancouver
Everyone knows that Vancouverites love their yoga and their coffee. This is precisely why we have such amazing coffee roasters and cafes in town. It'd be a miss if you visit the city without checking out at least one of these coffee shops in Vancouver.
49th Parallel Coffee Roasters
Hands down one of our best coffee (and donut) places in town. Given that many cafes deliberately choose to brew and serve 49th Parallel's roast, the verdict is on the table. They also serve Lucky's donuts -- one of our city's finest apart from Cartem's Donuterie. There are different selections daily, so try your luck!
2902 Main Street | 604 420 4900
2198 West 4th Avenue | 604 420 4901
www.49thparallelroasters.com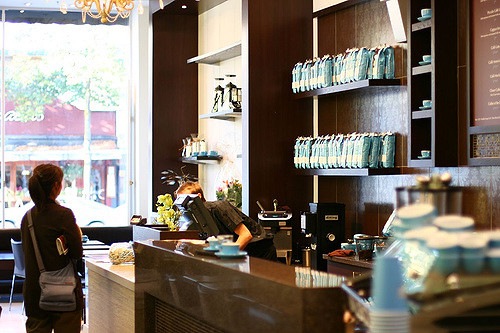 Looking inside 49th Parellel by Mark on Flickr Creative Commons https://flic.kr/p/39VY4a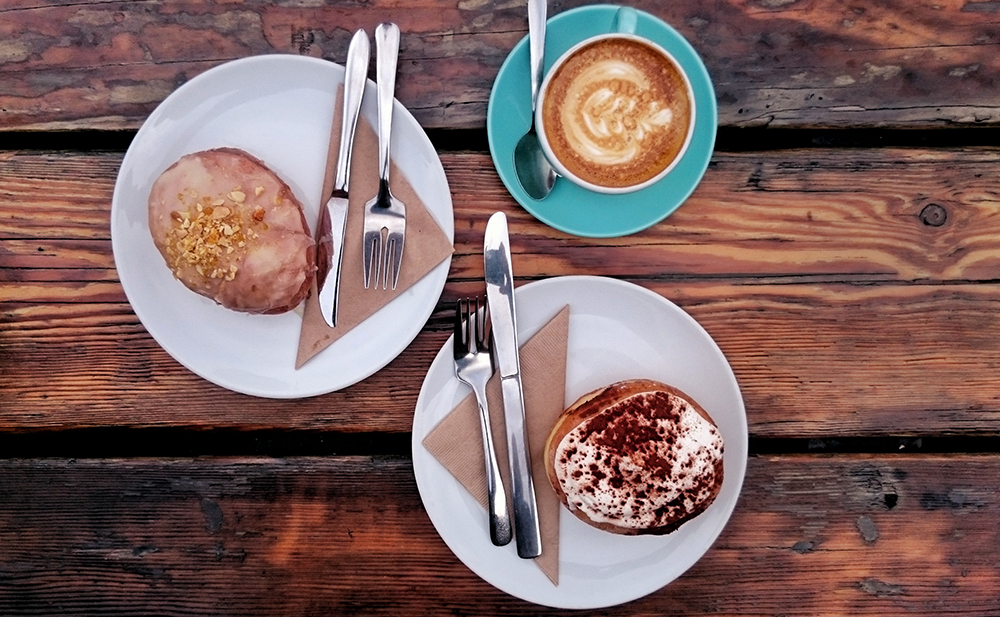 Lucky's donuts and a cappucino. Photo taken by Heiky Kwan.
 
Timbertrain Coffee Roasters
Located in the heart of Historic Gastown, Timbertrain serves espresso drinks, pastries & waffles in a minimalistic, train-themed space. Renowned for their locally roasted beans, passionate baristas and coupled with a pour over area, this is a must-visit for any java enthusiasts.
311 W Cordova St (Gastown) | 604 361 3223
http://timbertraincoffeeroasters.com/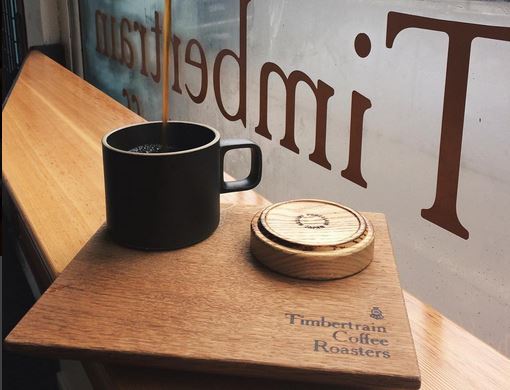 Revolver
One of the most beloved coffee shops in town, their name references the rotation of their coffee selections (a handy list of the current lineup of coffee they're serving in their café can be accessed on their website). Raising the bar to a new standard, they also have the biggest menu of brewing options in the city. Slow bar fans, you just can't complain: espresso, Clever dripper, Chemex pour over (with either Able Brewing Gold Kone or Chemex paper filter), Hario V60 pour over, French Press, siphon, AeroPress, Frieling brewer. They claim they're the best. We can't argue.
325 Cambie Street | 604 558 4444
www.revolvercoffee.ca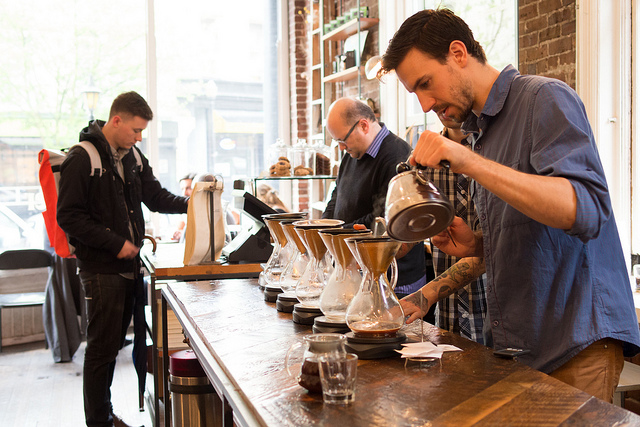 Working the pour over taken by Kenny Louie on Flickr Creative Commons https://flic.kr/p/ef1ekZ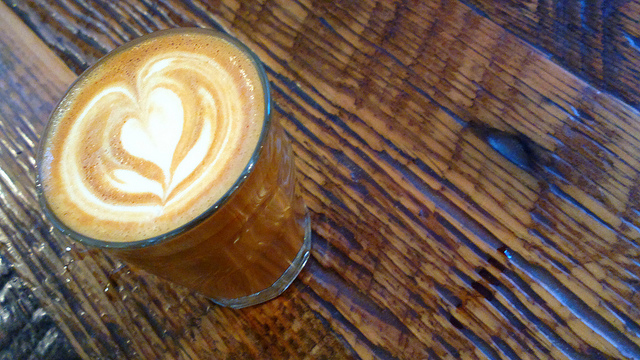 Shot of espresso taken by Roland Tanglao on Flickr Creative Commons https://flic.kr/p/dRnSb7
Matchstick
"Our cafés are community spaces where coffee and wholesome foods set the stage for people to come together." We couldn't agree more. Good coffee, even better cafe atmosphere. Wooden-style furniture, huge open space for ventilation, plant decor on the walls and wide arrangement of food menu, this cafe is one of our fan favourites.
213 East Georgia Street | 604 336 0213
639 East 15th Avenue | 604 558 0639
www.matchstickcoffee.com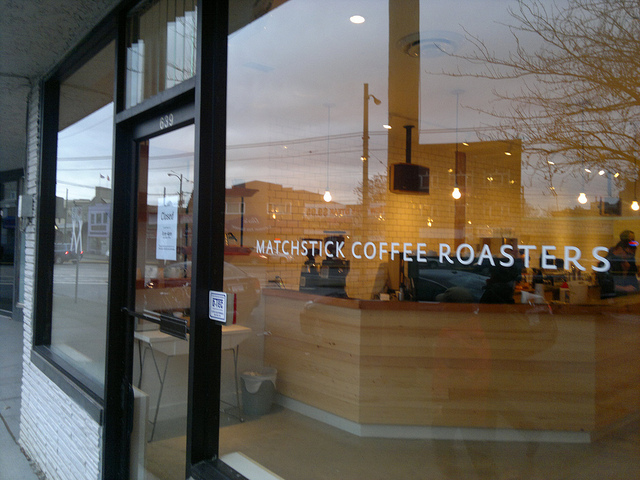 Matchstick Coffee Roasters by Roland Tanglao on Flickr Creative Commons https://flic.kr/p/bk3T5z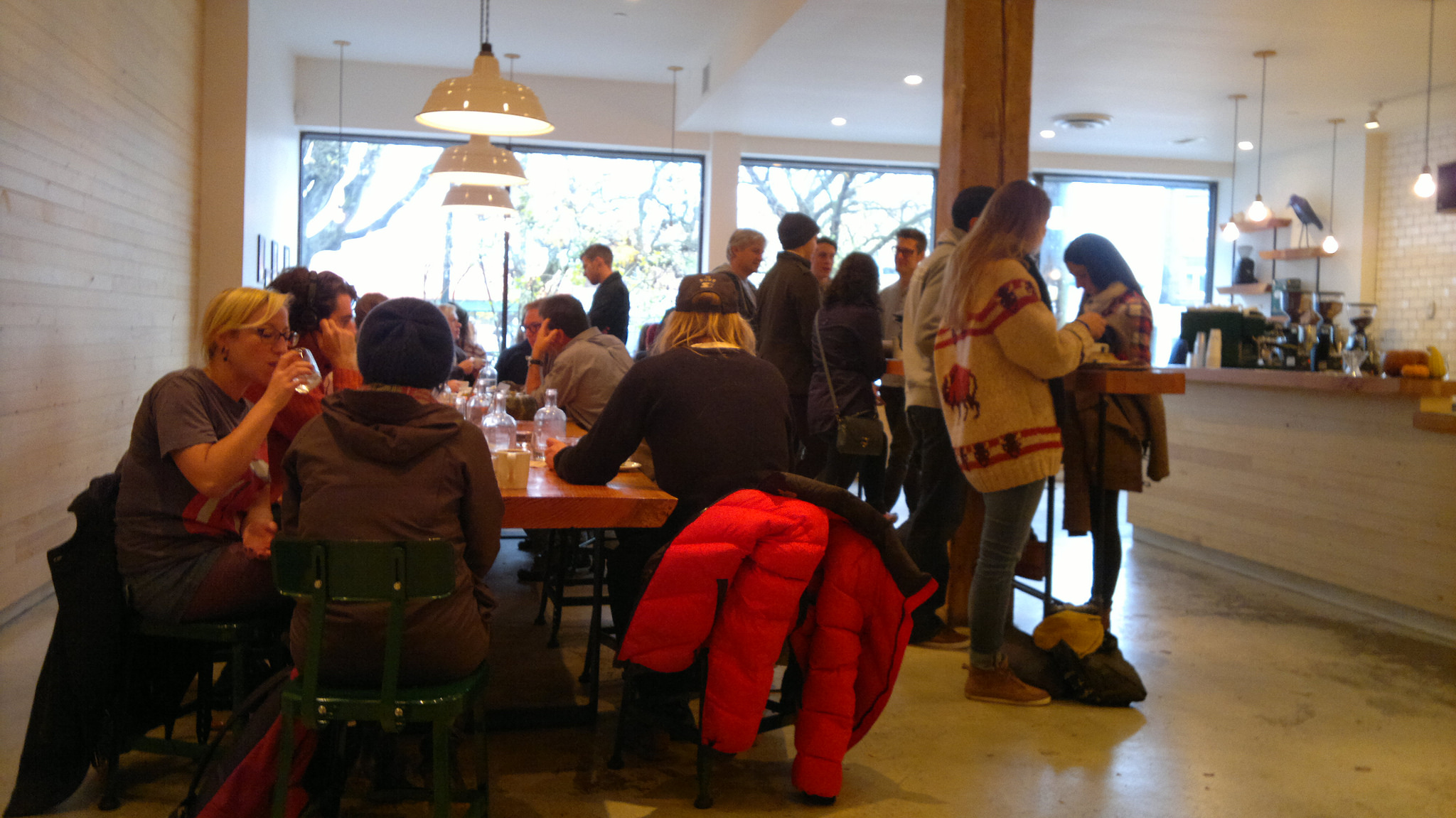 Matchstick Coffee Roasters by Roland Tanglao on Flickr Creative Commons  https://flic.kr/p/dsAHk1
Prado Cafe
Prado's definitely a 'hipster' kind of place, and a great place to just sit around, with all it's big windows, to people-watch along Commercial Drive. It's a wooden looking place, from the apparent showing beams holding the structure up, to the floors, to the big communal table -- it fits perfectly along the stretch of Commercial Drive. Everybody in the shop are usually in their own mindset on their phones and laptops. They feature a constant rotation of specialty locally roasted 49th Parallel beans and quality baked goods, sandwiches, light snacks and sweets.
1938 Commercial Drive | 604 255 5537
100 West Hastings Street | 778 379 4315
www.pradocafevancouver.com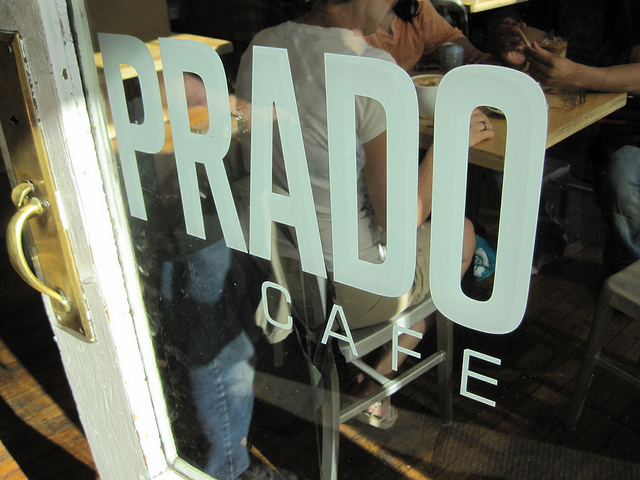 Photo taken by Michael Allen Smith on Flickr Creative Commons https://flic.kr/p/c7PAMQ
Buro
This unique cafe is in a triangular shape with bright and airy interior and lots of tables. The big, bright windows provides a prime view of three streets, perfect for people-watching. Buro offers a dedicated espresso bar that is committed to making the sweetest, cleanest, and freshest coffee possible. Brewing 49th Parallel coffee, Buro offers the familiar blend of espresso drinks. Buro fits right in its Gastown location as the cafe both reflects and complements the makeup of the neighbourhood as it offers a nice caffeinated setting for coffee drinkers and passersby alike.
356 Water Street (Gastown)
http://www.burocoffee.com/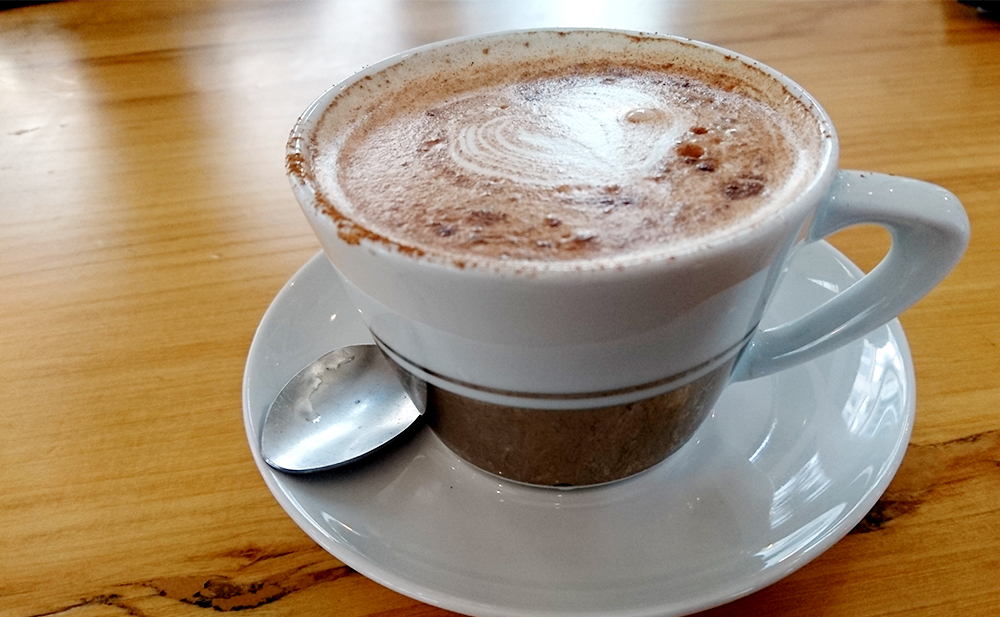 Photo of Chai Latte taken by Heiky Kwan.
East Van Roasters
This little coffee shop has great taste and a big heart. East Van Roasters serves up bean-to-bar coffee and chocolates (both liquid and solid), as well as locally made pastries baked using their Madagascar cacao. Not only do they purchase direct-trade, organic, or fairly traded coffee and cacao (which you can watch them prep through glass walls), they are also a social enterprise with a concept that reinvests all profits back into the neighbourhood while at the same time hiring and training women who are recovering from addiction and who are staying at the Rainier Hotel.
319 Carrall St | 604 629 7562
http://eastvanroasters.com/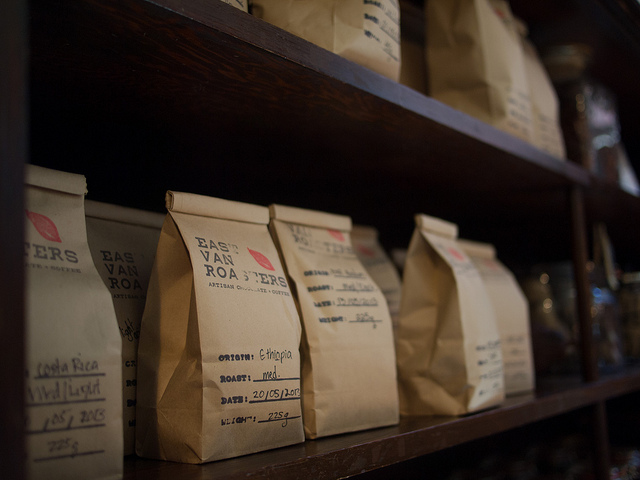 Photo taken by Roland Tanglao on Flickr Creative Commons https://flic.kr/p/eEYhsB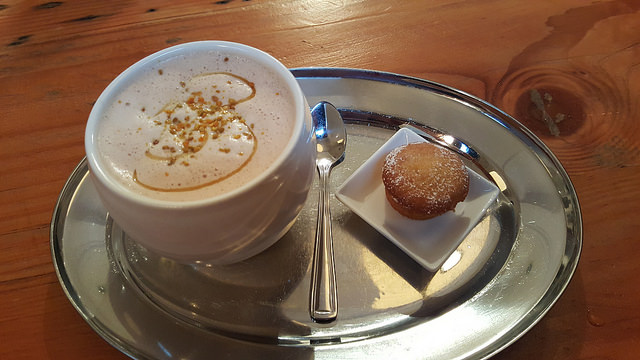 Photo taken by wyn ♥ lok on Flickr Creative Commons https://flic.kr/p/CpZHeY
 
Caffè Cittadella
This little heritage building turned homey coffee shop is a true gem. They make a mean Spanish latte and have a huge selection of baked goods including a large number of gluten-free items. The building is split over two levels, with a cozy area upstairs and a nice seat by a window if you're lucky to snag it. In the summertime, they have a beautiful patio so it really does feel like you're at someone's house and stepped out onto the porch.
2310 Ash St | 604 568 5909
http://www.caffecittadella.com/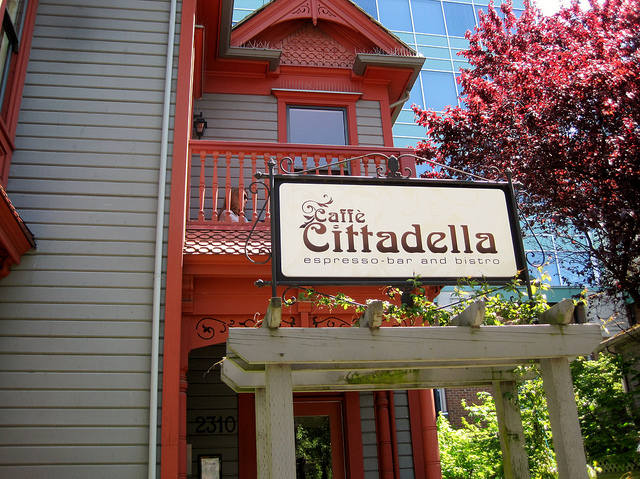 Photo taken by Michael Allen Smith on Flickr Creative Commons https://flic.kr/p/c7Pq2S
Milano
you're serious about coffee, you're going to love Milano Coffee Roasters. The Vancouver-based company, which is a fervent supporter of small farm estate, fair trade and certified organic coffees, serves top quality brews and blends, in all three of its locations. Milano's drinks menu features espresso, pourover, drip and French press.
156 West 8th Avenue | 604 879 4468
36 Powell Street | 604 558 0999
849 Denman Street | 604 681 1500
www.milanocoffee.ca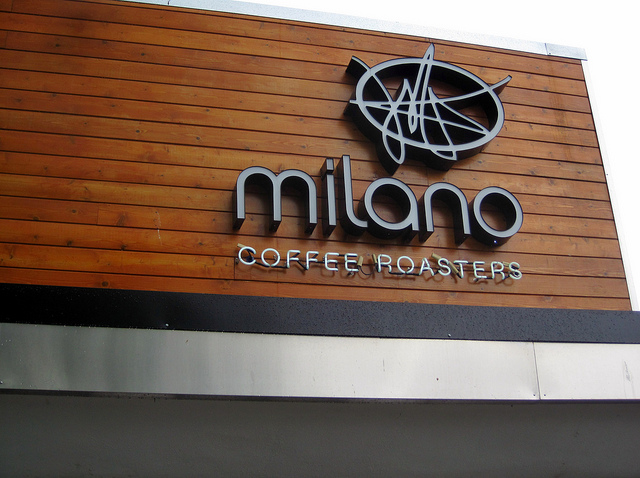 Photo taken by Michael Allen Smith on Flickr Creative Commons https://flic.kr/p/c7PQwL
Java Express at YWCA Hotel Vancouver
Don't have much time before your excursions and need a quick coffee for a pick-me-up in the morning? Whether it's a chai latte, an espresso, or a hot chocolate, our coffee bar serves a quality cup of java to your liking. We serve scones, bagels, croissants and other pastries too!
733 Beatty Street | 604 895 5842
facebook.com/javaexpressbeatty/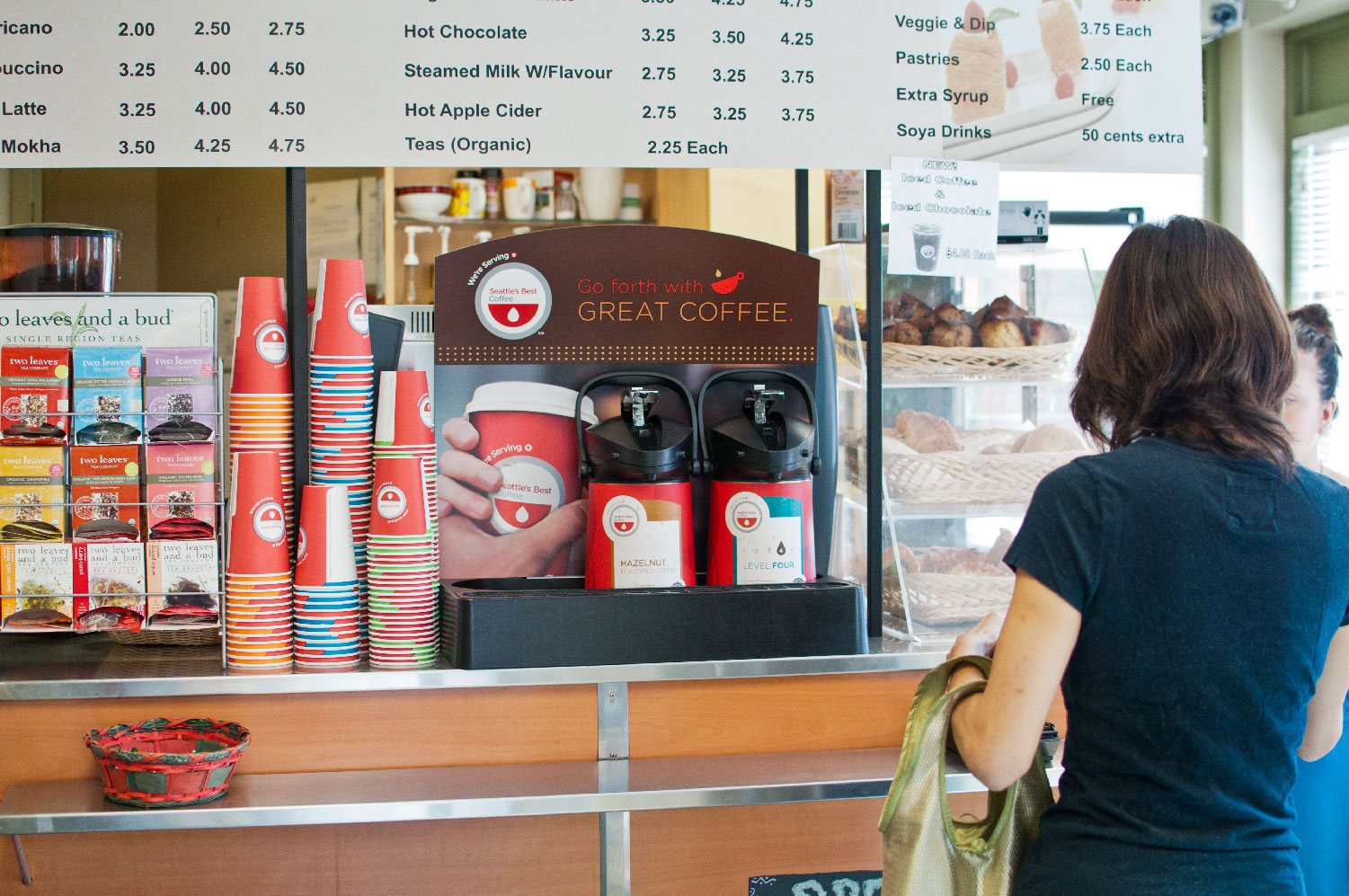 And of course, there are our JJ Beans and Elysian and Blenz. These chains serve pure quality and it'd be a shame if they're not mentioned. However, having quite a few shops around town and visible in many places, we have only featured independent coffee shops in this article.