My Heart and Me Challenge
February is Heart Month, a time to bring attention to the importance of cardiovascular health, and what we can to reduce our risk of cardiovascular disease. Heart disease affects approximately 2.4 million Canadian adults, and is the second leading cause of death in Canada. Participate in the My Heart and Me member challenge between February 1st - 28th and you could win this wellness package: 2 InBody Composition Assessments ($80 value) and 1 Personal Training Session ($80+ value)
Click here to learn how to participate and enter!
Heart Health Nutrition Workshop | Wed, Feb 15
As a part of healthy aging, disease prevention and keeping our hearts healthy are important. Attend our Heart Health Nutrition Workshop on Wednesday, February 15th at 5:30PM at Health + Fitness to learn more about this topic. Attendees will also have the opportunity to enter a draw for a complementary 60 minute nutrition session with the presenter Helen! Look at our flyer to learn how to register.
For the month of February, we are offering InBody composition assessments at $20 for members, that's half off!
Body composition is important for understanding a patient's cardiovascular health. Studies have proven InBody DSM-BIA body composition analyzers are an effective tool for treating patients with cardiovascular disease and improving surgical outcomes.
Book your 15-minute body composition assessment via our mobile app or member portal! This offer is valid for members only during February 1st - 28th.
February is Heart Month, a time to bring attention to the importance of cardiovascular health, and what we can to reduce our risk of cardiovascular disease. We are offering multiple heart health offers, events, and activities this month! Learn more in our February E-Newsletter.
WINTER PROGRAMMING IS NOW OPEN
Our winter programming is NOW OPEN for registration! Fill your winter with fun activities such as swimming lessons or the Pilates Reformer. Click each program to learn more:
Please note that non-members may register by phone (604 895 5777) or in person. Members may register through our mobile app or member portal. 
YWCA Health + Fitness Mobile App and Member Portal
Our new member portal, including court bookings, is now launched!
Here is the link to our new member portal: https://ywcafitness.clubautomation.com/. This link is also posted on the home page of our website, beside member alerts.
Please log into the member portal with the same credentials you use for our mobile app. The member portal is an alternative platform for desktop users. You'll find mostly the same information and capabilities between the two platforms, however, personal training sessions can only be purchased on the app, not on the portal at this time.
Court users, please note that SportyHQ is now replaced with our new member software effective Monday, Oct 17th. Current bookings have been transferred over to the new software and all new court bookings can be easily made through the app or portal. Members without court access can also book a court, fees will be charged at time of booking.
If you haven't downloaded our new app yet, it is available for both Apple and Android mobile devices. Just search for YWCA Health + Fitness Centre in the app or play store and download. After downloading the app, simply click "Register Now" to create your account.
It has been a big learning curve for all of us. If you need assistance or have any questions, please contact comments@ywcavan.org. We hope this will make your YWCA experience all the better!
Finally, we're still waiting for the configuration of our turnstiles at Health + Fitness. If you're a new member or updated your member card, please continue to be patient. Member Services will manually give you access to the facility.
The men's steam room at FRC is currently operating inconsistently. Additionally, due to necessary electrical repairs by Hudson Pacific Properties, the women's steam room is temporarily closed. Please note the steam room is open at the Health + Fitness Centre for your use.​​​
Group Fitness Classes
Booking for land group fitness classes will continue with a maximum of 30 participants per class in Studio 1 and 20 participants in Studio 2
Drop-ins will be permitted if space is available
Guests and staff can book 24 hours in advance, while members can book 7 days in advance via our mobile app! Our app is available for both Apple and Android mobile devices. Just search for YWCA Health + Fitness Centre in the app or play store and download. After downloading the app, simply click "Register Now" to create your account.
Please email bookings@ywcavan.org for any class booking issues
There is a 5 person waitlist for any full classes
No limit to the number of class bookings 
Best Practices at Health + Fitness Centre/Fitness + Racquet Club 
Stay home when you are feeling unwell or if you should be isolating
Wash hands frequently 
Return and sanitize equipment after use
Respect personal space - 2m physical distancing is encouraged
Consider other people's situation - be kind, be calm 
Let us take care of conflicts. Things won't always be perfect and conflicts can arise, the rule of thumb is to walk away from the situation and let us know through Member Services or comments@ywcavan.org
We hope to see you soon!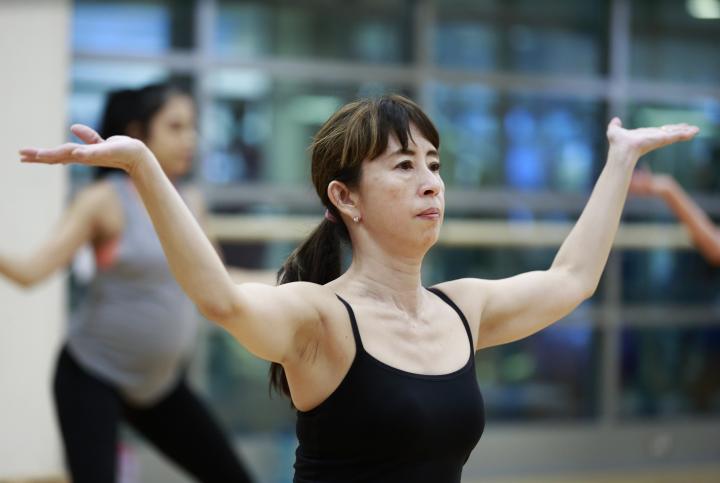 Class/Instructor Changes
For temporary changes e.g. substitute instructor or class for the day please check the specific date on the schedule.  Changes will be posted as soon as possible.  We recommend checking before your visit.