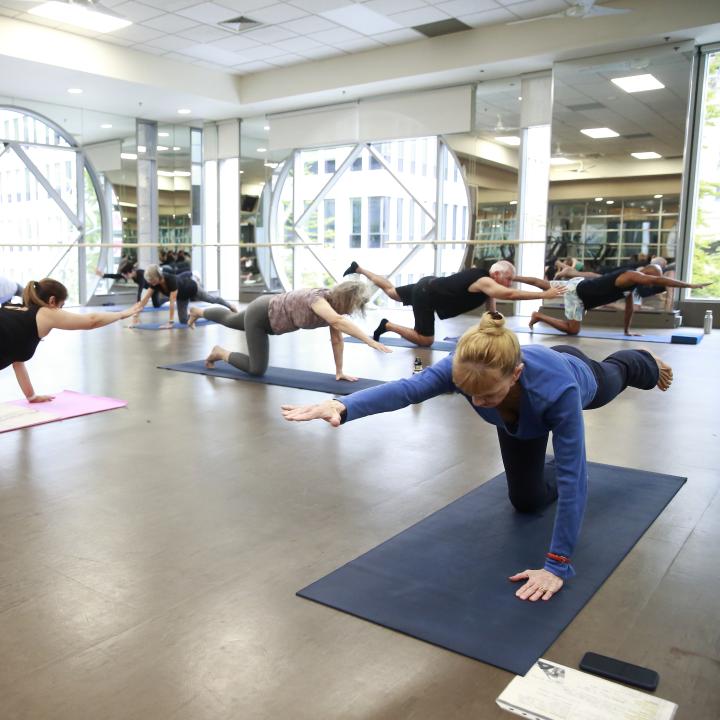 FALL CLASS SCHEDULES
The Fall class schedules are effective Sept 5 - Dec 17, 2023. Lengthen and strengthen with a mix of our Pilates, barre and yoga classes. Alternatively, improve your cardio fitness and strength conditioning with classes such as Sport HIIT or Total Body. No matter what class you join in, fun will be had!
Members can book on our YWCA Health + Fitness Centre mobile app under "Classes". Non-members please call Member Services at 604-895-5777. Please email bookings@ywcavan.org for any registration issues.
| Times | Classes | Instructor | Location |
| --- | --- | --- | --- |
| 7:30am - 8:00am | | Sandy Reimer | Studio 1 |
| 10:15am - 11:00am | | Meaghan Kennedy | Pool |
| 12:15pm - 1:00pm | | Jennie | Cycling Studio |
| 12:15pm - 1:00pm | | Meaghan Kennedy | Pool |
| 12:15pm - 1:00pm | | Hector Loh | Studio 1 |
| 12:15pm - 1:00pm | | Johanna Ward | Studio 2 |
| 1:15pm - 2:00pm | | Annie | Studio 1 |
| 4:15pm - 5:00pm | | Johanna Ward | Studio 2 |
| 5:15pm - 6:15pm | | Jillian Maguire | Studio 2 |
| 5:15pm - 6:15pm | | Maybelin Munoz | Studio 1 |
| 6:30pm - 8:00pm | | Hamid Asnaashari | Studio 1 |
| Times | Classes | Instructor | Location |
| --- | --- | --- | --- |
| 9:00am - 10:00am | | Fran Hinton | Studio 1 |
| 10:15am - 11:00am | | Meaghan Kennedy | Pool |
| 10:30am - 11:30am | | Todd Randall | Studio 1 |
| 3:00pm - 4:00pm | | Judy | Studio 2 |
| Times | Classes | Instructor | Location |
| --- | --- | --- | --- |
| 9:00am - 10:00am | | Geet Sharma | Studio 1 |
| 10:00am - 11:00am | | Nicole Legault | Pool |
| 10:30am - 11:30am | | Jillian Maguire (substitute) | Studio 1 |
| 12:00pm - 1:00pm | | Alice Lui | Studio 1 |