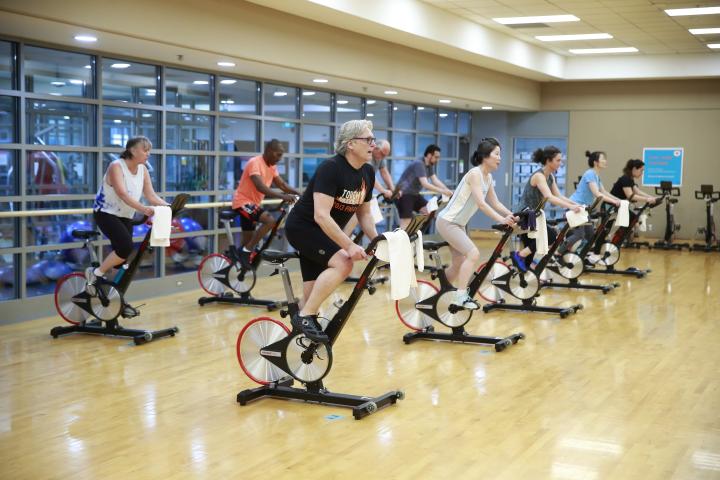 WINTER CLASS SCHEDULES
The Winter class schedules are effective Jan 3 - April 30, 2023. Be gently introduced to yoga with our new Beginner Yoga class! Alternatively, improve your cardio fitness and your riding ability with our Ride like a Cyclist class. No matter what class you join in, fun will be had!
Non-members may register by phone or in person. Members may register through our mobile app or member portal. Our app is available for both Apple and Android mobile devices. Just search for YWCA Health + Fitness Centre in the app or play store and download. After downloading the app, simply click "Register Now" to create your account. Please email bookings@ywcavan.org for any class booking issues. Drop-ins will be accepted based on availability.
| Times | Classes | Instructor | Location |
| --- | --- | --- | --- |
| 8:30am - 9:30am | | Leila Mazhari | Cycling Studio |
| 9:00am - 10:00am | | Astrid (substitute) | Studio 1 |
| 9:00am - 10:00am | | Fran Hinton | Studio 2 |
| 10:15am - 11:00am | | Meaghan Kennedy | Pool |
| 10:30am - 11:30am | | Todd Randall | Studio 1 |
| 3:00pm - 4:00pm | | Judy | Studio 2 |
| Times | Classes | Instructor | Location |
| --- | --- | --- | --- |
| 9:00am - 10:00am | | Megan (substitute) | Studio 1 |
| 10:00am - 11:00am | | Nicole Legault | Pool |
| 10:30am - 11:30am | | Jenna Sbrocca | Studio 1 |
| 12:15pm - 1:00pm | | Montse | Studio 1 |
| 3:00pm - 4:00pm | | Polina | Studio 2 |
| Times | Classes | Instructor | Location |
| --- | --- | --- | --- |
| 10:15am - 11:00am | | Cathie McGuire | Pool |
| 12:15pm - 1:00pm | | Jennica (substitute) | Studio 1 |
| 12:15pm - 1:00pm | | Jill Metheral | Studio 2 |
| 1:15pm - 2:00pm | | Megha | Studio 2 |
| 1:15pm - 2:00pm | | Kane | Studio 1 |
| 5:15pm - 6:15pm | | Sandy Reimer | Studio 1 |
| 5:15pm - 6:15pm | | Christine | Studio 2 |
| 6:30pm - 7:30pm | | Maybelin Munoz | Studio 1 |