We Gave Sexist Music Videos Warning Labels to Alert Young People
They don't want you to stop and think…we do
If you've spent any time watching music videos on-line recently, you likely know that sexualization is everywhere. From naked girls swinging on wrecking balls, to male singers convincing young women "you know you want it," the music industry repeatedly paints girls and women as sexualized objects and boys and men as macho playboys, with little room in between.
So what happens when viewers of these videos internalize these representations, or strive to replicate those relationships in their real lives? 
Research tells us that sexualization and hypermasculinization not only impacts individuals' mental health and relationships, but also contributes to a society that is permissive towards violence against women. For these reasons, a key focus of the YWCA is addressing and combatting the sexualization of women in media.
Recently, we partnered with creative agency Rethink to create an innovative and engaging response to sexualization in music videos – Ambush Advisories. With the goals of addressing the sexualization of women and hypermasculinization of men in popular media and to bring awareness to the YWCA Culture Shift project, we devised a way to label music videos that label women and men by running highly-targeted ads before them.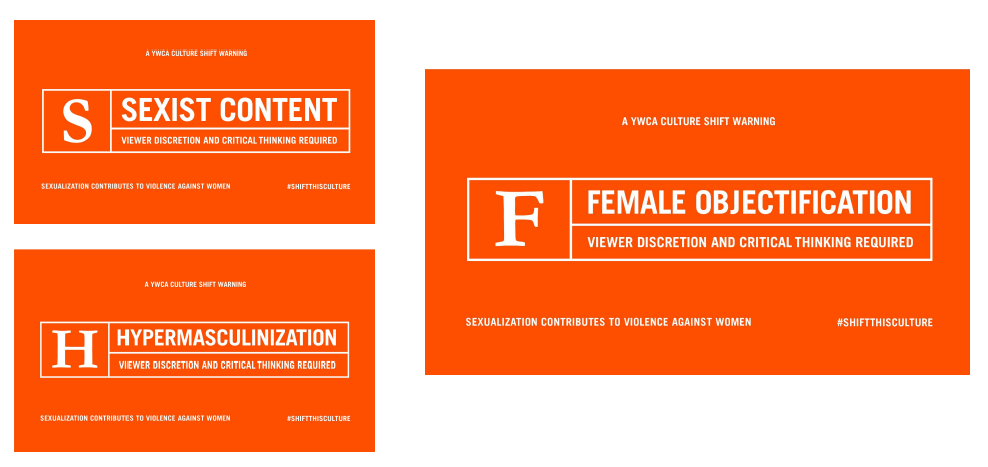 We purchased 6-second ads on YouTube and snuck these warnings in front of music videos that perpetuate negative stereotypes. These short ads "ambush' the viewer – they don't have a choice but to watch them and cannot skip forward. They are clever because they look just like the warnings you see before watching an R-rated movie. We hope that because the imagery is familiar enough – tweaked to bright orange instead of government blue – that it will encourage the viewer to stop and think about what they're watching. We ran this campaign in support of Women's Equality Day (Saturday August 26), an American recognition of the day women won the legal right to vote in 1920.
It's a commonly held belief that sexualization in music videos is limited to genres like hip-hop or rap, but we found that country, pop, indie and dance all played a role in sexualization. And when talking about this issue, we often hear a counter argument about artists' personal choice. Some artists do in fact have choice and many come out saying it is empowering to use their sexuality in this way.
The problem is, when women and girls' main source of value comes from their sexuality, at the cost of other characteristics like talent or intellect, they are reduced to objects and treated much poorer than their male counterparts. We see the repercussions of this via sexual harassment, the gender pay gap and violence and abuse.
Witnessing high profile stars like Taylor Swift and Kesha stand up publically and legally against these forms of gendered violence gives us hope that a shift in culture is coming. But, until that happens, warnings like our ambush advisories will encourage people to stop and think critically about what they are watching, despite whether the pop music industry wants you to.
---
The YWCA Culture Shift Project, a three-year initiative supported by the Government of Canada through Status of Women Canada