Each year during the third week of October, people in more than 90 countries around the world mark YWCA Week Without Violence, a week-long series of community action promoting diverse approaches to addressing gender-based violence.
This year, we're lifting up the findings from the National Inquiry into Missing and Murdered Indigenous Women and Girls. From September 2016 to December 2018, the National Inquiry conducted an in-depth investigation and analysis that included information from community and institutional hearings; past and current research; collaboration with Elders and Knowledge Keepers and forensic analysis of police records. It also gathered evidence from more than 1,400 witnesses, including survivors of violence, the families of victims and subject-matter experts.
The Inquiry released a 1,200-page final report in June 2019. "Reclaiming Power and Place" includes two volumes, a supplementary report on genocide and 231 "Calls for Justice" directed at government, institutions and individuals.
A report that big can create a sense of not knowing where to start. Understanding how complex the issue of violence against Indigenous women and girls is, requires us to take a wide-angled look and to comprehend several different issues at once. We will try to pull back the lens and provide an overview of the different elements that cause this unacceptable situation and allow it to persist.
Violence against Indigenous women and girls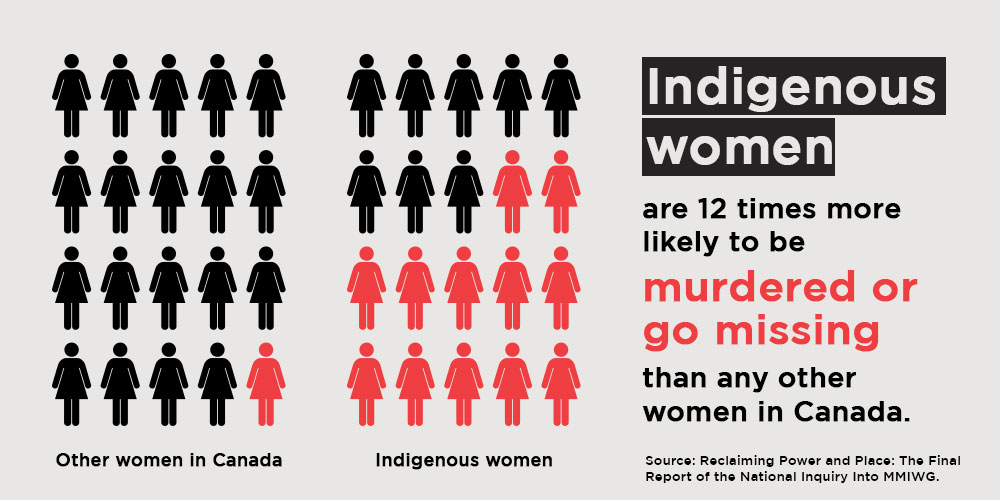 Indigenous women and girls and 2SLGBTQQIA people face staggering and disproportionate rates of gender-based violence. According to the National Inquiry, Indigenous women are 12 times more likely to be murdered or go missing than any other women in Canada, and 16 times more likely than Caucasian women.
This violence is rooted in colonialism and the racism, marginalization and poverty that results from a colonized society. It is systemic in that it pervades the systems by which we live.
What do we mean by systemic violence?
When we see violence as "an unjust or unwarranted exertion of power," we can see beyond the concept of violence occurring between individual parties. Violence can also be embedded in institutions and systems through policies, laws and practices. It's often easier to understand individual acts of violence, but these acts don't occur in a vacuum. They emerge from our society's deep-rooted beliefs, which are then carried out through institutions and systems.
Our colonial past is still reflected today in the education, health care, child welfare, legal, social services and criminal justice systems that continue to discriminate against all Indigenous people, but especially women, girls and 2SLGBTQQIA people.
Some examples of systemic violence in Canada include:
Decades of government policies that have broken apart Indigenous families and communities;
Educational policies that have devalued and attempted to eradicate Indigenous culture;
Inequality and poverty that pushes many Indigenous women and girls into precarious situations - like homelessness or sex work - where they are at increased risk of violence;
Embedded racism in the health care system that perpetuates illness and prevents physical, emotional and mental well-being;
Discrimination in the legal system that denies Indigenous women access to the culturally appropriate supports they need to leave violent situations.
The systemic nature of this violence makes advocating for change on any single front extremely challenging. That's why the National Inquiry was tasked with examining the causes of this systemic violence, and making recommendations for addressing it.

Our three key takeaways from the final report
1. Abuses are deliberate and persistent
The final report revealed that persistent and deliberate human and Indigenous rights violations and abuses are the root causes of Canada's staggering rates of violence against Indigenous women, girls and 2SLGBTQQIA people. The Report highlighted four key human rights that have been purposely targeted:
The right to culture: cultural rights are defined as the right of access to, participation in, and enjoyment of culture. Colonization has altered Indigenous peoples' relationships to their culture and identity through targeted policies designed to sever their cultural connections. This includes residential schools, the Sixties Scoop and other assimilatory policies, and are the starting points for other forms of violence Indigenous women and girls experience today.
The right to health: colonial violence directed toward cultural practice, family and community increases the likelihood of other forms of violence, including interpersonal violence, through its distinct impacts on the physical, mental, emotional and spiritual health of Indigenous people. In sharing stories about the health issues they or their missing or murdered loved ones faced and the experiences they had in seeking health services, family members and survivors illustrated how addressing violence must also address their right to health.
The right to security: Indigenous women and girls live with an almost constant threat to their physical, emotional, economic, social and cultural security. The majority of Indigenous women and girls, living in all settings and regions, were denied any sense of safety from childhood onwards. An unwillingness on the part of institutions to address these issues maintains a status quo that ensures that the violence continues. Security is a key area where violence can and should be addressed.
The right to justice: people have the right to be protected from violent crime, as well as a right to justice when they are victims. Failure of our systems to ensure justice and protection for Indigenous women and girls through adequate and bias-free policing services, effective oversight and adjudicative mechanisms and meaningful and accessible remedies for violence contributes to violence.
2. The human and Indigenous rights abuses committed and condoned by Canada constitute genocide.
The final report found that: "The violence the National Inquiry heard about amounts to a race-based genocide of Indigenous Peoples, including First Nations, Inuit and Métis, which especially targets women, girls and 2SLGBTQQIA people. This genocide has been empowered by colonial structures, evidenced notably by the Indian Act, the Sixties Scoop, residential schools and breaches of human and Indigenous rights, leading directly to the current increased rates of violence, death, and suicide in Indigenous populations."
3. A National Action Plan is the only way to end this genocide.
The final report includes 231 "Calls for Justice" that address governments, institutions and individuals. One of the most important is the call for a National Action Plan - a comprehensive and coordinated approach to make fundamental changes to Canada's laws, policies and practices.
This plan must be:
Informed by Indigenous women and girls;
Pursued urgently, and with the support and involvement of federal, provincial, municipal and Indigenous governments; and
Implemented within a human rights framework to ensure that the rights of Indigenous women and girls are upheld and respected.
According to the final report, a permanent commitment to ending the genocide also requires that it address historical, multigenerational, and intergenerational trauma and social and economic marginalization. And that it must not maintain the status quo and institutional lack of will nor ignore the agency and expertise of Indigenous women, girls and 2SLGBTQQIA people.
On a national level, the final report recommends full compliance with all human and Indigenous rights instruments, and a commitment to transforming the institutions, systems and structures that compromise security.

What can we do?
Vote: in the lead up to the October 21 federal election, each of us has an opportunity to consider what matters most to us, and which parties will take real action to address the issues we care about. We hope you'll consider the final report's findings and Calls for Justice among the top issues you want to see addressed at the federal level. This Week Without Violence, we encourage you to learn more about where each party stands on gender equality and Indigenous and 2SLGBTQQIA rights.
Speak to your elected official. Contact your Member of Parliament (MP) – the person who represents your electoral riding. As your elected official, this is the person who represents you and your interests. MPs maintain both an Ottawa office and a local office in their riding. Find your MP online and ask them what they are doing to move this issue forward.
Be an ally. Not sure where to start? Our blog post, reconciliation – how and where to start – includes helpful tips and resources.
Learn from others. Later this week, we'll be publishing personal narratives from leaders, community members, advocates and activists. They'll share their thoughts on the final report and how they're taking action in their everyday lives. Stay tuned!
---
Glossary of terms
The final report (and this blog post) includes a number of terms you may not be familiar with. We've used the final report's own definitions to provide explanations and support your understanding.
2SLGBTQQIA - Refers to people who are Two-Spirit, lesbian, gay, bisexual, transgender, queer, questioning, intersex, asexual.
Colonization - The processes by which Indigenous Peoples were dispossessed of their lands and resources, subjected to external control, and targeted for assimilation and, in some cases, extermination.
Health - The World Health Organization defines "health" as a holistic state of well-being that includes physical, mental and social safety and does not simply mean an absence of illness.
Historical, multigenerational and intergenerational trauma - The collective emotional, spiritual and psychological pain people endure as a result of traumatic events stemming from historic and current policies, such as surviving residential school or the violent loss of a loved one.
Intersectionality - Recognizes that a person's experience will be different than another's based on their particular interplay of race, ethnicity, Indigeneity, gender, class, sexuality, geography, age and ability, as well as how these intersections encourage systems of oppression.
Security - The final report uses the concept of human security, which places human beings at its centre and focuses on social and economic interactions. This is not a traditional or orthodox conception of security, as focused on state apparatus, but rather, on security, as lived by communities who are actively marginalized.
Self determination - Women and 2SLGBTQQIA people themselves should be able to actively construct solutions that work for them, according to their own experiences.
Social and economic marginalization - Ensures that the structures of the past are carried forward into contemporary systems of oppression. These conditions are a direct result of colonial governments, institutions, systems and policies, and make it difficult to meet one's basic needs.
Substantive equality - A legal principle that refers to the achievement of true equality in outcomes. It is required in order to address the historical disadvantages, intergenerational trauma and discrimination experienced by a person to narrow the gap of inequality that they are experiencing in order to improve their overall well-being.
---
YWCA Metro Vancouver operates on the traditional, ancestral and unceded territory of the Coast Salish peoples – Sḵwx̱wú7mesh (Squamish), Stó:lō and Səl̓ílwətaʔ/Selilwitulh (Tsleil-Waututh) and xʷməθkʷəy̓əm (Musqueam) Nations – as well as the Semiahmoo, Kwantlen, Katzie, Kwikwetlem and Tsawwassen First Nations.