YWCA Metro Vancouver's employment programs have demonstrated incredible adaptability over the last few months. In a matter of days, programs moved their workshops and group activities online, shifted their recruiting strategies and learned how to navigate the challenges of online service delivery - all while striving to maintain the same level of excellence the community has come to expect. We spoke to program managers and facilitators to learn about how they transitioned, as well as their challenges and accomplishments. Here is what they shared.*  
YWCA Aspire (for refugee women): "The women we serve were under extreme financial hardships. Some lost their jobs; some struggled to put food on the table; others didn't have access to the internet or a computer. It has been amazing to see the YWCA coordinate to support our participants with groceries, technology and their many other needs. The curriculum was adjusted so online workshops would be easy to understand. Because many of our participants are single moms, schedules have been revised to allow them time to make lunch and support their children with learning at home. The transition was not easy at first - those of us who have young children at home found it even more challenging to keep a work-life balance and fulfill our duties, but we rose to the challenge." 
YWCA Elevate Skills (for newcomer women): "The online program created a sense of community and belonging. The women appreciated the chance to improve their digital literacy skills such as virtual interviews, online presentations and distance learning. Some women had to drop out because it was too difficult for them to participate with young children at home. On the other hand, women from all parts of Metro Vancouver, including those who lost their jobs because of COVID-19, were able to join the program. We've also talked a lot about self-care and ways to make this experience less exhausting for our team (especially for those with young children at home)."  
YWCA Focus @ Work (for professional women): "We have successfully created a safe space where women can share their stories and learn together. Learning how to 'read the room' in an online environment is a significant growth edge for us, but we've been up for the challenge. Many women have commented that the online offering was a perfect option for them because they are currently at home with kids and trying to juggle their own career search and family commitments. Others have joined us from communities further afield than our usual Vancouver/Tri-Cities participants."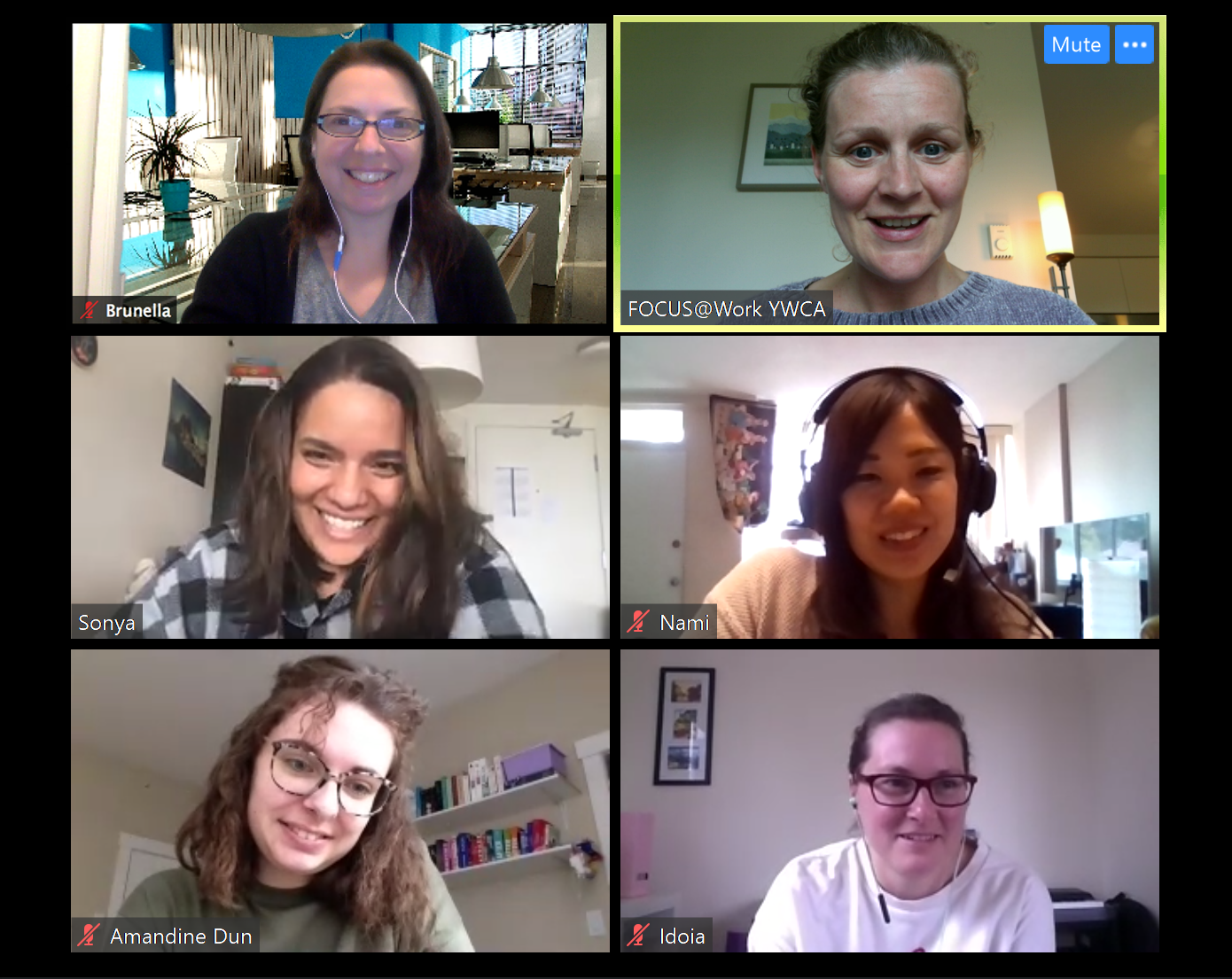 Focus@Work participants and facilitator connect during an online meeting.
YWCA Job Futures 55+ (for job seekers 55+): "Like the staff, our participants (who are 55+) rose to the challenge of learning new technologies and have embraced the opportunity to meet as a virtual cohort. Sitting the whole day in a virtual online environment can be exhausting, so we are sure to include many breaks in our programming and provide opportunities for fun activities." 
YWCA Survive to Thrive (for survivors of violence or abuse): "Participants feel that online interaction has allowed them to find some sense of connection during this time of isolation while working with us on their personal, educational and employment goals. Physical distancing measures have impacted mental health as well as caused emotional and physical safety concerns for survivors of violence who already experienced isolation. Other mental health impacts were due to a pause or interruption of in-person community services. So far, the current participants are actively participating and engaged in the program." 
YWCA Strive (for youth transitioning out of foster care): "Our youth were grappling with new obstacles: where to buy groceries, where to get reputable information about the pandemic and creating a budget for an unknown period with small amounts of money. They also had to cope with stress caused by the pandemic such as anxiety, depression, increased substance use, difficulty sleeping, etc. We offered resource referrals, a safe space to talk and tailored our online workshops to be relevant for our current situation. Most of our youth have kept engaged and have used us as a support network." 
YWCA Tech Connect (for newcomer women in tech): "The in-person engagements with our participants used to be one of the best parts of our days. However, with some creativity and adding more activities, we ended up having excellent feedback from the participants. We revised our workshops and included updates about the pandemic and how the participants should adjust their job search approaches, sharpen their online interview skills and connect with employers."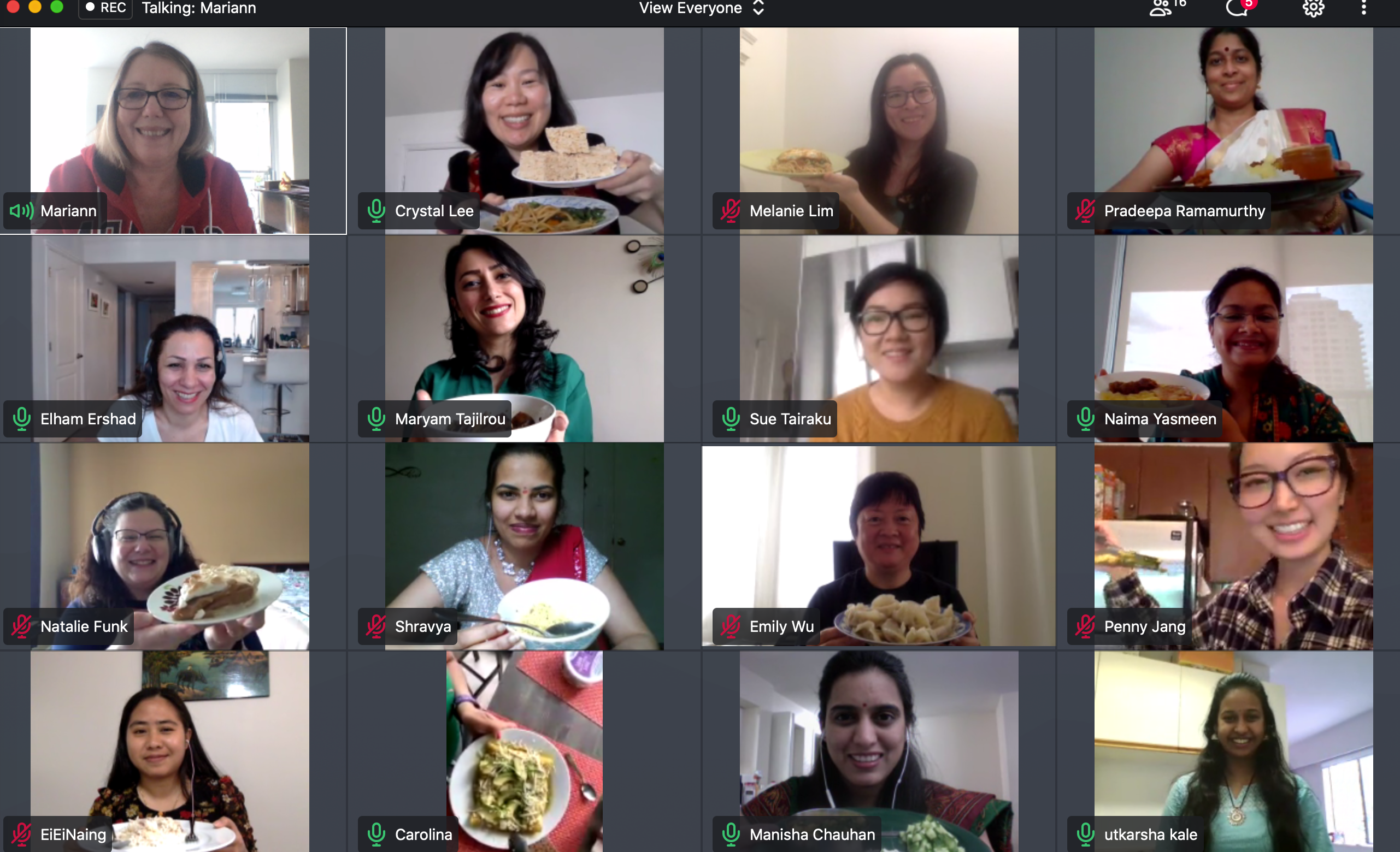 Tech Connect participants and facilitators enjoy a "potluck" to celebrate their graduation.
YWCA Tourism Essentials (for women 15-29 years old): "To adapt to changes in the job market, we've rebranded Tourism Essentials as Online Essentials and are offering a broader range of training options. In addition to tourism and hospitality, we've added training for administration, customer service and telecommunication roles; all of which will be helpful in building skills and better prepare our participants for the demands of today's job market." 
WorkBC Programs: From May 25th, YWCA-operated WorkBC Centres resumed in-person service for job seekers who cannot access virtual services, with physical distancing and sanitation measures in place, through appointment-based access only. The centres have been hosting online workshops and events, such as "How to Prepare for Virtual Job Fairs" and "Navigating your Job Search Through COVID-19," as well as employer-specific hiring info sessions. 
---
*The interviews with program staff have been condensed. 
This article was originally published on YWCA's Contact Newsletter | Spring/Summer 2020 - COVID-19 Response Issue.