Newlyweds Pick YWCA as Beneficiary of Their Legacies
Friday, December 18, 2020
Lenore Rosen said her YWCA legacy gift felt like "a gift to herself" when YWCA Fund Development Manager, JoAnne Fahr, thanked her for her future donation. Within a year, Lenore's wife, Joan Robillard, was planning to make the very same gesture: a bequest to YWCA Metro Vancouver.  
Joan was a family physician for 30 years and helped start a unique program called The South Community Birth Program. The first of its kind in Canada, the program brought midwives, physicians and nurses side by side to provide group prenatal care and intrapartum care with doula support at BC Women's Hospital, followed by post-partum care for both the nursing mother and her newborn. Joan also often worked with refugees at BC Women's Hospital and was well aware of YWCA Crabtree Corner. She also attended the YWCA Women of Distinction Awards several times. 
Lenore Rosen claims to have come out of the womb a feminist. She says the YWCA has always taken care of women from an empowerment and safety perspective, thus making the YWCA a natural choice for where to donate funds. 
Lenore spent her career as a social worker in the field of child welfare. She was Executive Director of a treatment centre for families overcoming abuse and neglect; worked in residential treatment with children and teens; was a therapist with teens with mental health concerns; and served as a child protection worker. In 1999, Lenore even found time to volunteer in a YWCA mentorship role.  
Now both women are retired, newly married and passionate pickleball players.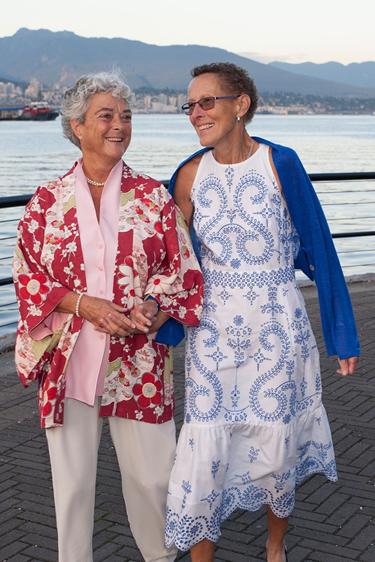 Both feel the YWCA is a spectacular organization, fulfilling their instinct to help make the world a better place, especially for women and their children. They are thrilled to give monthly, as well as at the end of their lives. 
Lenore and Joan want to encourage more YWCA Legacy Gifts by reiterating how good it felt to put in writing what they knew would have far-reaching and long-lasting impacts beyond their lifetimes. Their decisions – though made independently of each other – show how well-matched they are as newlyweds. And as for pickleball, Joan encourages everyone who hasn't yet tried it to discover just how fun it is. 
---
For further information on Legacy Giving please contact JoAnne Fahr at jfahr@ywcavan.org | 604 895 5829.