Indigenous Mentorship Circles Foster Connection to Culture and Community
With reverence to the Sḵwx̱wú7mesh (Squamish), səl̓ílwətaʔɬ/Selilwitulh (Tsleil-Waututh) and xʷməθkʷəy̓əm (Musqueam) Nations. 
This year marks the 12-year anniversary of the YWCA Circle of Sisters Indigenous Mentorship program, which provides opportunities for Indigenous girls and Two-spirit, non-binary and trans youth to connect to Indigenous community and culture with the help of Indigenous mentors and skilled facilitators. In response to the pandemic, program staff, volunteers and participants had to adapt quickly and creatively to the virtual format. With these changes, came new challenges and unexpected opportunities for connection. 
We were able to capture an intimate dialogue between two returning mentors as they shared about their experiences in the program over the last few years. Both mentors first got involved in the program as undergraduate students, and since then have found a caring community that fosters both peer mentorship and intergenerational support. The mentors opened up about how the program cultivates a sense of belonging and a non-judgmental environment to learn and share about Indigenous cultures and teachings.   
Caitlin Geary (she/her) is Red River Métis and is in her first year of medical school at McMaster University. Tasha Jollymour (she/her) is Red River Métis and is currently a student at the UBC West Kootenay Teacher Education Program.  
Can you tell me about how the practice of group mentorship is important for Indigenous community and healing?  
Caitlin: The way I grew, there was a big emphasis on family and community... I know that for those moving away to university, they are often occupying spaces alone without other Indigenous people. When I am in spaces where I may feel like I am the only Indigenous person present, I can think back to the other mentors and mentees in the group and know that I have that support system. As well, it is one of the few opportunities I get to be in a safe, non-judgmental space that I can talk about my experiences that may have not been so good and to have other people to lean on that really understand. 
Tasha: To add to what Caitlin said, the group mentorship really allows us to build on each other's experiences and support each other when you're able to give support and also when you need support others are always there to reciprocate that. I don't think an individual mentorship would allow for that mutual support... 
Caitlin: Yes, I think reciprocity is a big part of it. I also feel there is an element of celebrating diversity and individuality because for a lot of Indigenous peoples we don't live on our homelands anymore. So, it is that shared experience of recognizing each other's differences and coming together to share about your different backgrounds. There are so many unique experiences and practices depending on your ancestry, so in a group environment, we all pull different connections from each other.  
Tasha: And because of colonization we don't know too many teachings from our own cultures, but together we can learn from everyone's teachings, which wouldn't really be possible if we didn't have the circle.  
Reflecting on your experience in the program pre-pandemic and at present, what impact has this had on you and the youth? 
Tasha: The biggest thing for the youth is that pre-pandemic they had a lot more opportunities for connecting with other youth that had similar interests. With the pandemic, it has been harder for youth to connect... 
Caitlin: In some ways, I don't feel that I have lost any part of the program by going online. I feel that the youth adapted really well to going online, probably better than we did.  
Tasha: It did take longer for both circles to feel connected with each other. For me, the mentor circle is similar to before, but if I just joined it would have been harder to feel connected at first. We saw this in the youth circle... this could be because they were not in the same school and they were actual strangers.  
Caitlin: One of the things that I really enjoyed doing in-person, and I think the youth did as well, was different arts and crafts and other activities. We really tried to brainstorm ways to integrate this virtually and so one of the activities we did was we made bannock. The youth were so keen to do that and they had all of their things prepared beforehand, all of their ingredients were ready and we all made it together. Activities like that made everyone feel connected and I felt the energy shift during that circle. As Tasha said, it did take longer for them to open up, but it also gave more opportunity to dive deeper into the conversation and give that space to share their experience. By the end, they all shared that they felt comfortable doing so and it felt safe, and they liked hearing things about other people in the group. 
Tasha: I think even more than the years before, the youth were interested and invested in being in the circle because they chose to more on their own will than they usually do because it is often easier to come during school... But the fact that they made time after school to come and really make the commitment on their own accord, made it an even richer circle because they are more invested to be there.  
How does this program make a difference in Indigenous youths' lives?  
Tasha: One of the things I really get out of the circle is the excitement, curiosity and confidence that youth get from learning about Indigenous cultures and teachings. I don't think I had a sense of the importance of that, but the youth's excitement to learn showed me the importance of that impact. It was really empowering to see how much the youth care about learning about their own cultures.  
Caitlin: There is a big element of empowerment to it. They feel that sense of community between mentors and the other youth and sharing that experience that they might not know as much about their ancestry as they would like to and the shame associated with that in many contexts. You can see their confidence growing and feeling more empowered about their own identity and where they are at in their journey. Personally, I have shared with them that it is okay to not know about your identity, that is the goal of colonization, it is not your fault and you are not behind in any way. I also think I would have really benefitted from seeing other Indigenous people pursuing medical school. Having those role models makes a big difference because there are certain things that you are more likely to experience as an Indigenous person, as opposed to a non-Indigenous person. 
Tasha: I agree Caitlin. That is the benefit of having more than one mentor – you can see a wide variety of things that Indigenous people are doing. Also, being able to learn and understand the systems of oppression and have the youth understand why they feel shame associated with their identity; I think that is really important in allowing youth to overcome it. Understanding this at a young age, allows them to grow and develop a lot faster than they would otherwise. Trying to figure out what to do with the shame would take a lot longer as it did for me so I think it's really helpful to have a place to learn about it.  
Caitlin: We talked a lot about Indigenous identity, but I also think that the youth can walk away with a lot of other skills and tools that they can use in other aspects of their lives. We have had conversations about assertiveness, and boundaries... 
Tasha: And a lot of the youth come to circle really interested in gender and sexuality. It is often a good place to explore that with other youth that are really open and inclusive and also curious about it.  
As a mentor, what have your learnt from the youth that you will carry with you?  
Tasha: One of the biggest things with the youth is their hesitancy to trust at first just based on the history they have experienced with adults. Once they get more comfortable, they trust people; once the mentors show it is safe to do so... It really showed me what a safe space looks like when I'm a teacher and involved in other youth programs.  
Caitlin: The program really embraces all of the youth that decide to be there; not just welcoming but fully embraces them and allows them to show their true authentic selves. What I learn from them is they actually are very sure of themselves, surer of themselves than how I felt at that age. They are incredibly smart and have a lot of experiences that they can talk about and share. It is not one particular thing, but the depth of experiences that they have already had and I am learning from them and I can connect to those stories. Going back to the power dynamics, forget about how old they are, forget that they are youth, they are another human being and I need to remember that when I am sharing my experiences. They are incredible listeners and always understand and can relate or empathize in some way to what I am saying. I always get that visual feedback from them that they are hearing what I am saying, which is really powerful too.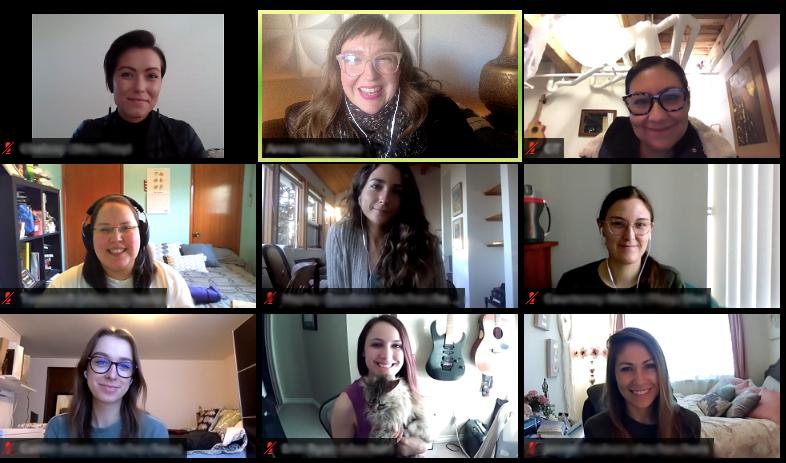 YWCA Indigenous Mentorship - 2020 mentors
---
We are deeply grateful for the Mischa Weisz Foundation's sustained support and for making youth programs like the Indigenous Mentorship Program possible. The Mischa Weisz Foundation has been a generous and committed supporter of YWCA Metro Vancouver since 2014.  A thoughtful philanthropist, Mischa, who sadly passed away from pancreatic cancer in 2009, possessed a keen desire to improve the lives of others and leave a legacy to make the world a better place.  He founded the Mischa Weisz Foundation which reflects his values to invest in youth and empower those who experience barriers. Mischa's legacy continues to create a lasting, meaningful impact.