Throughout history, women's contributions to society have often been overlooked, minimized, forgotten or denied. Our research shows that just over 10% of permanent statues in Canada depict real women and almost no statues depict Black, Indigenous or racialized women.  
On March 8, International Women's Day, we made public a statue-less statue base and invited all self-identifying women to step up onto the platform and claim their spot. Reserved for Her championed by Scotiabank, was installed at the Vancouver Convention Centre and remained in place for all of March, drawing in self-identifying women to stand atop the base and feel empowered.  
We also invited a group of local women – inventors, activists, artists and creators – to join in, have their photos taken and spread the word on social media. 

Nataizya Mukwavi, Founder of Black Women Connect Vancouver; Marina Melanidis, Founder of Youth4Nature; Joleen Mitton, Model and Producer; Kaayla Whachell, Cinematographer; Paige Whitehead, Inventor
"We hope this serves as a conversation starter around representation and the importance of celebrating women in our communities," says Amy Juschka, Director of Communications and Advocacy. "We also hope this can be inspiring and aspirational for our next generation of trailblazers, because they are the future of gender equity." 
The Reserved for Her  statue base was made possible thanks to the championing and support of Scotiabank. The campaign was created in partnership with Rethink Communications and images were photographed by Lauren D Zbarsky, a local Vancouver photographer.  
WHY AN EMPTY STATUE BASE AND NOT A STATUE OF A WOMAN?
Representation is more than seeing a statue and thinking I could be her - it's about seeing this empty statue base and thinking this could be ME. We wanted to take it one step further so that Reserved For Her championed  by Scotiabank is more than a conversation starter, it's an inspirational and aspirational piece. 
DID YOU KNOW?
Only approximately 12% of statues in Canada depict women. How did we come to that conclusion? With Rethink Communications, we conducted independent research of current statues across Canada, on Parliament Hill, and in select Metropolitan cities across the country, averaging the findings in each. Although there is no perfect list of all Canadian statues, the percentages we found were similar throughout. 
UPLIFTING ALL WOMEN
The International Transgender Day of Visibility is acknowledged each year on March 31 and recognizes the resilience and accomplishments of the transgender community, as well as raises awareness of the discrimination faced by the transgender community worldwide. YWCA Metro Vancouver stands in solidarity with the trans community and continues to advocate for trans rights. 
QMUNITY's #YouBelongHere campaign asked the trans community and its allies to capture and share photos with messages of solidarity: 
Support, Uplift, Protect Trans Voices  
Trans Rights Are Human Rights 
Protect Trans Kids 
Trans Women Are Women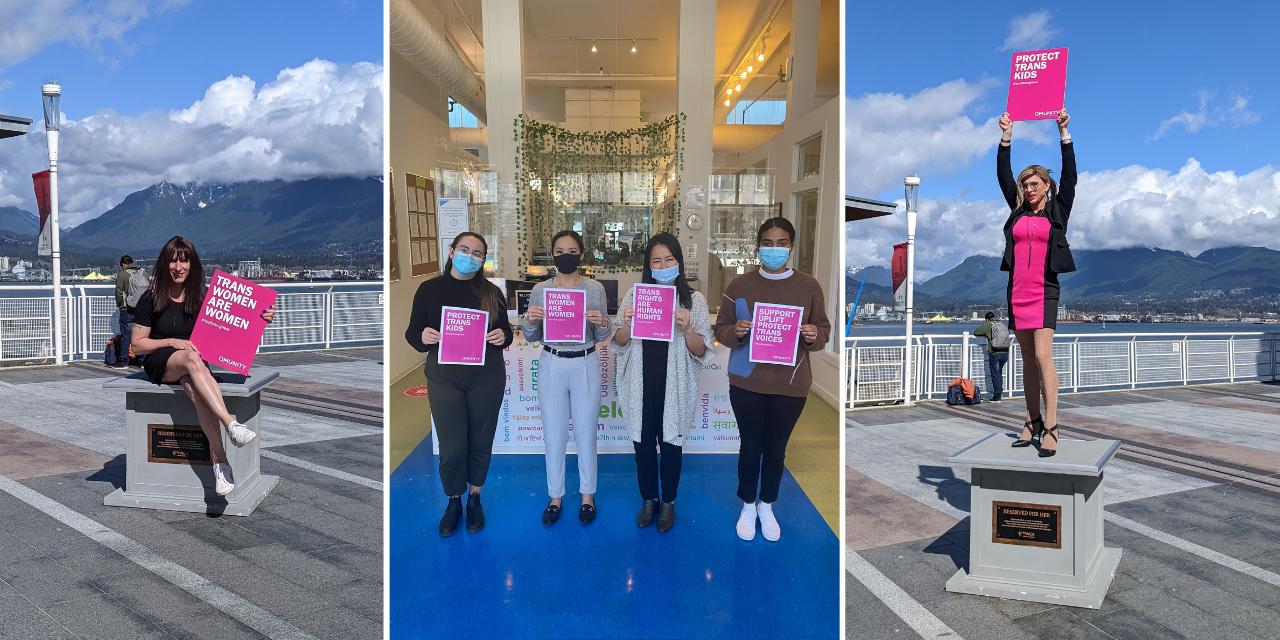 In support of #YouBelongHere, we invited members of the trans community to stand on our statue-less statue base, designed to honour and lift up ALL women and girls with their messages of solidarity. 
---

We are seeking a supporter to make our statue base permanent. For more information about the YWCA's advocacy work, contact Amy Juschka at ajuschka@ywcavan.org | 604 895 5810. 
This article is part of the 2022 Spring/Summer edition of our Contact Newsletter.