YWCA Women of Distinction Awards Marks its 40th Anniversary with a Brand-New Look 
Tuesday, March 7, 2023
This year marks the 40th edition of the Women of Distinction Awards presented by Scotiabank, a significant milestone which provides an opportunity to reflect on where we have come from and how we can move toward an inclusive future.   
40 years 
The Women of Distinction Awards began in 1984. Until that time, even though many women had made significant advancements in the workplace, few were publicly celebrated by the community. To date, we have celebrated more than 350 award recipients and more than 2,050 award nominees. 
Despite the progress that has been made over the last 40 years, women continue to face barriers in the workplace in all industries. It is our collective responsibility to address these challenges head-on. The YWCA is committed to this work, and through our programs and services, we continue to advance gender equity alongside women, families, Two-Spirit and gender diverse people through advocacy and integrated services that help support personal, collective and economic wellbeing. These awards are part of that work.  
The YWCA believes those who are driving positive change deserve to be recognized and wants to encourage these women to continue the important work they do. Through these awards, we hope to inspire others to engage with their community and the next generation of change-makers to strive for a more equitable world.   
Our new look 
Our rebrand is more than a new logo – it reflects our evolution into who we are today and symbolizes our dedication to the next 40 years of advocating for a safe and inclusive world. 
We worked closely with local creative agency, Rethink, to ensure that this new look reflects our commitment to celebrating our differences, making our spaces more equitable and becoming stronger together.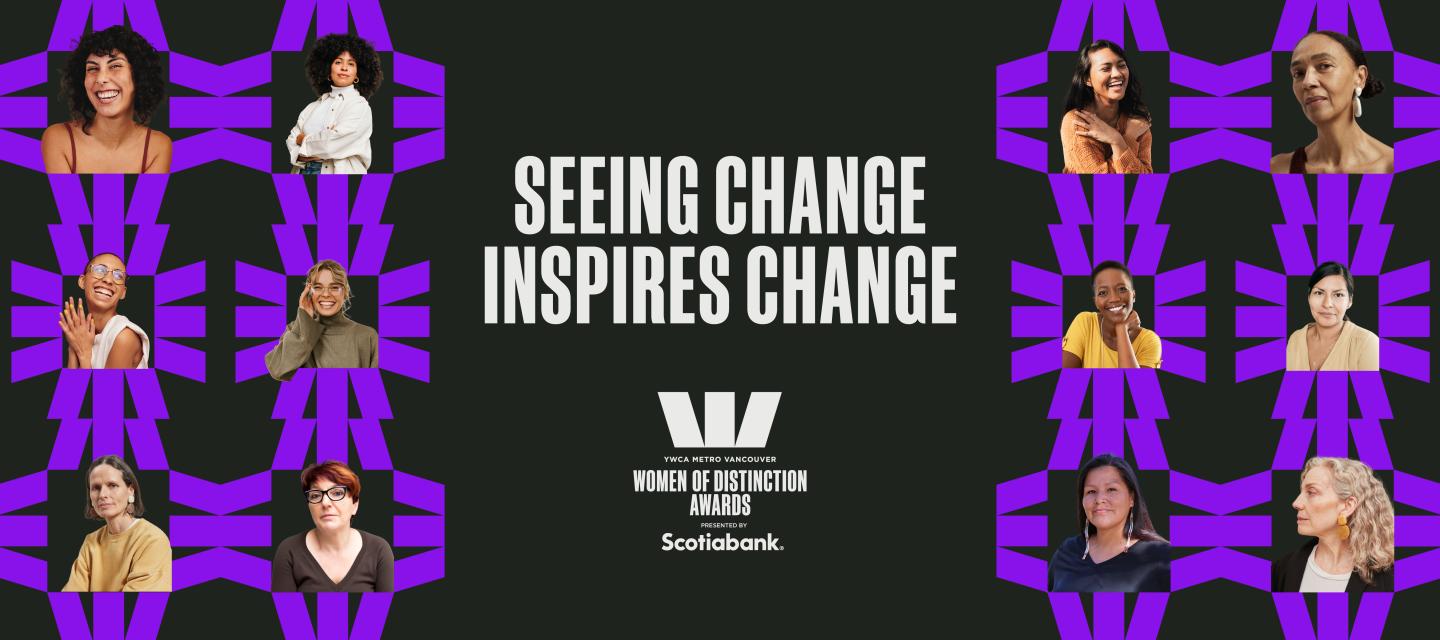 We chose to modernize our look with a logo that captures our mission to make this space inclusive, accessible and reflective of everyone.  
The new logo evokes strong feelings of energy and celebration. The chosen shape, 'W', to represent women, can be interpreted as a powerful crown, or a triumphant force to be reckoned with. The purple is brave and bold and is the colour used to celebrate International Womens Day, signifying justice and dignity. 
Our new manifesto:
The YWCA Women of Distinction Awards is more than just a trophy.  

It's a symbol of progress, and togetherness.  

It's about bringing our diverse community side-by-side to empower one another.  

To stay true to our mission of advancing gender equity.    

It's a celebration of over forty years of rallying behind people who are beacons of change. 

People who have raised their voices to raise the standards for everyone.    

It's a platform where we can all feel seen and heard.  

Where we recognize women making a difference every single day.    

The YWCA Women of Distinction Awards is a celebration of all of us.    
Learn more about the outstanding women and workplaces that inspire the community. After all, seeing change inspires change.