Not everyone has had an equal voice in how we build and grow our cities.  
YWCA City Shift is aims to make our region more equitable, prosperous and just by supporting Metro Vancouver cities to challenge assumptions, incorporate diverse perspectives and support actions that serve the entire community.
I am an elected official
or policy maker
The YWCA City Shift team can support your city to go beyond general commitments to equity and inclusion and move to tangible action
Our project team and Advisory Council members are available to meet with Councillors and city staff to talk about options that meet your community's needs
Read our Municipal Equity Kickstart Guide that includes sample motions and policies from other jurisdictions, helpful examples, and other tools to support the process. All we need from you is leadership and commitment
Sign up to hear from us
I am a member of the general public
Tell your local city councillors about YWCA City Shift (cityshift.ca)
Ask your local city councillors if they will commit to working with the YWCA City Shift team to support equity in decision making
Read and share our Municipal Equity Kickstart Guide
We've created some template messages for you to reach out to your local city councillors supporting City Shift.
Watch the recordings from our Reimagining our Cities series of events
Our Equity
Kickstart guide for cities
We are so excited to announce the launch of our Equity Kickstart Guide for Cities. 
We encourage you to read the guide and share it with your municipality's mayor, council and leadership team to ensure equitable city building is a priority in your community.   

Women from all backgrounds and identities have not had an equal voice in how we build and grow our cities. YWCA City Shift is committed to changing that – building cities where all women and gender diverse people are seen, heard and cared for. To create cities that are safe, innovative and prosperous, we must support and empower everyone to thrive.   
When we look at things from a variety of perspectives, we begin to understand that our identities impact how we experience city life. Because some people might just see a crack in the sidewalk as a crack. But for someone with a stroller, or limited mobility, a crack can be a major obstacle. Dark streets feel a whole lot different depending on your gender.   
Placemaking through the lens of different perspectives means taking into account the full scope of identities, realities, challenges and experiences of the people who make a city a city.   
We have the tools to make our cities fairer and more equitable, we just need to use them. It's about positive representation. It's about belonging. It's about making cities work for all. It's about creating a place where everyone feels at home.  
City councils don't always reflect the communities they serve. For policies that serve everyone, diverse input is needed.
YWCA City Shift will be hosting events, workshops and candidate meetings. Stay tuned to learn more and have your voice heard!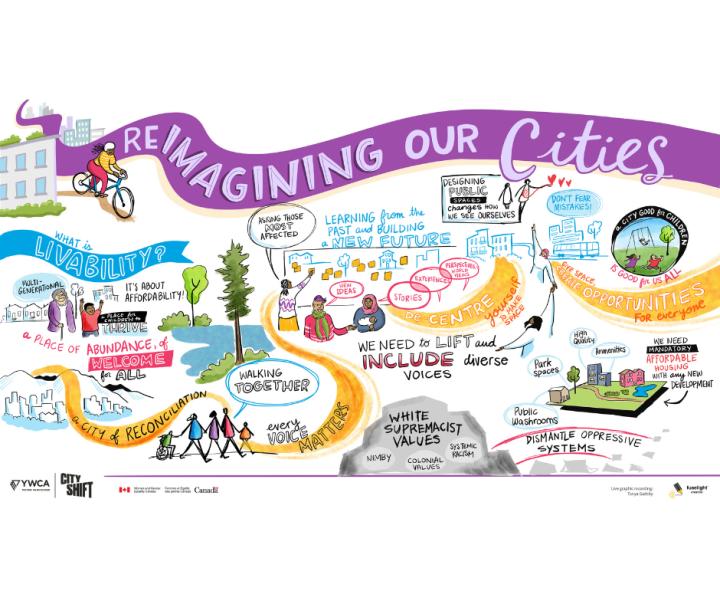 Reimagining Our Cities
To create cities that are safe, innovative and prosperous, we must support and empower everyone to thrive.  

This fall, YWCA City Shift will host a series of events and workshops. Join community, business and political leaders to imagine what our cities could be if equity and inclusion were at the heart of decision-making.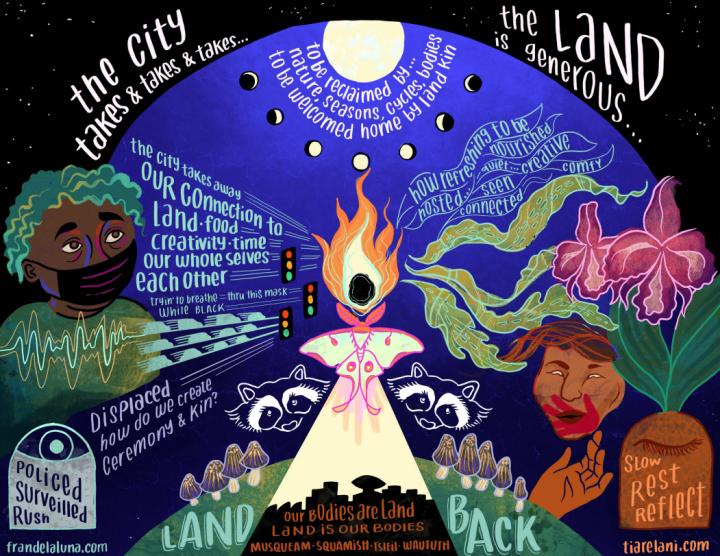 Collective Zine
On October 26, 2022, artist and facilitator Luna Axin led 18 participants through a creative and heartfelt zine making workshop to boldly imagine new futures and possibilities for our cities.  
To learn more about the zine, as well as inclusive community engagement, tune into this recording by facilitator Luna Axin and graphic recorder Tiaré Lani.
We invite you to explore the ideas shared in the collective zine and use them as inspiration for creating kind, equitable and inclusive cities. 
Learn more about City Shift
City Shift
Advisory Councils
Our Community Advisory Council
Aida Mwanzia

Alice Leon

Amy Hu

Kimberley Wong

Beatriz Salinas

Burcu Unal

Joan Wandolo

Kaiya Jacob

Mayra Escobar

Rebecca Turcott

Suki Xiao

Prabha Khosla

Tesicca Truong

Thivya Shanmuganathan

Sara Sagaii
Our Strategic Advisory Council
Alana Lawrence

Amina Yasin

Ash Peplow Ball 

Fancy C. Poitras, BA, PBD, MPP PHC

Farrah Solly

Katie Fitzmaurice

Mandy Bhullar

Miley Leong

Mira Oreck

Rachael Segal

Rebekah Mahaffey

Renee de St. Croix

Dr. Saida Rasul 

Sharon G. K. Singh  

Sussanne Skidmore 
City Shift is funded by Women and Gender Equality Canada