That's Just Me: On volunteer training and overcoming butterflies
My name is Nathalie and I'm a practicum student here at the YWCA in Vancouver as a part of my social work studies programme in Sweden. 
During my time here, I will take part in the YWCA's after-school programs for Grade 7 girls and boys in Vancouver and Surrey. This is my first post in the 8-week reflection series as a facilitator in the That's Just Me program. 
Preparing for what's to come 
Throughout October, all the new volunteers and Youth Team staff met for training days which gave us an opportunity to meet and mingle with everyone working with this fall's programs. I enjoyed developing my facilitation and communication skills in a relaxed, but still challenging environment. I was impressed by the enthusiasm among the volunteers, and although the days were long, I think they went by fast. Having that effect on my perception of time, I cannot draw any other conclusion than that the days were a lot of fun.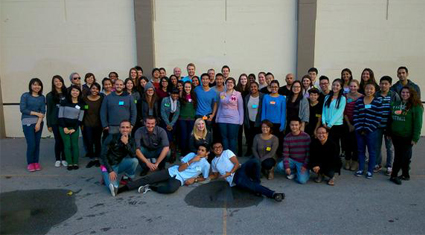 First Day of the Program
Sitting in the car on the way to the school, I felt a mix of excitement and nervousness; would all the kids have a good time? Would they listen to me and the other volunteers?  Would we remember all of the steps in the activities that we had been instructed to guide the grade 7 students through? Me and another Youth Team staff are co-mentoring this particular program, so that helped a lot trying to keep my nerves in check. Also, the other volunteers involved in this school are really cool and competent, trying their best to make Thursday afternoons the highlight of every student's week. 
Finally meeting the grade 7 girls and boys was so much fun. Except for a few bumps in the road, I think the first session went well. I hope that the kids felt the same way, as one of my biggest hopes for these programs is that everyone will feel comfortable and included throughout these 8 weeks.
Hot Topic: Internet Safety
The theme of the following week was Internet Safety. We did activities and discussed topics that related to using the internet safely and responsibly. One thing I really like about the programs is that they are not "preachy"; the activities are meant to create a reaction and reflection within the group where the girls are handed tools to make smart choices for themselves, rather than us telling them what to do. I was really impressed with the level of maturity among the girls when it came to these issues. For example, they seem much more aware of things like privacy settings on social media platforms than I was when I first started using them. 
I am already looking forward to see what next week of the program has in store!
YWCA Metro Vancouver offers 8-week long after school programs for Grade 7 girls and boys throughout Vancouver and Surrey, run entirely by volunteers like Nathalie. To find out more, click here.