How youth can make a difference in the community
Youth can often have the lower hand when it comes to translating social issues they are passionate about into actionable change. We feel we are too young to be taken seriously, have little experience, or don't know how to take the first step.
The matter of the fact is, you are never too young or inexperienced to start making a difference in the community. Below are some small but powerful activities you can easily integrate into your student life:
Volunteering
Volunteering allows you to work on an issue you care deeply about. Some students see volunteering as a chore: something you have to do to pave way for job opportunities. However, volunteering for a cause you are passionate about can become truly rewarding and educating.
Seek out opportunities through your school, online listings, and personal connections. Don't see any 'vacancies'? Actively reach out to organizations and express interest in learning from them and helping out. Most would be happy to benefit from a passionate volunteer, and some may have opportunities specifically for youth, such as a Youth Advisory Committee.
Here at the YWCA, we have volunteer opportunities year round, even for students. Mentor a Grade 7 girl or boy, or assist with another Program or Service.  
Integrate Social Change into Your School Projects
Should you have the freedom to decide how to structure a school project, choose to design something that benefits your community. Plan and launch a PSA campaign on anti-bullying, make a poster that educates others about homelessness, or organize an event with motivational speakers.
Don't hesitate to contact like-minded organizations that may be willing to help promote your project, or even partner with you to provide resources.
Host a Fundraiser to benefit a local charity
Have a birthday party or holiday celebration coming up? Ask guests to bring items to donate to your charity of choice instead of presents, or set up a donation box for small change. It can make a difference! Check out tips on how to How to Throw a Benefit Party and pay it forward here.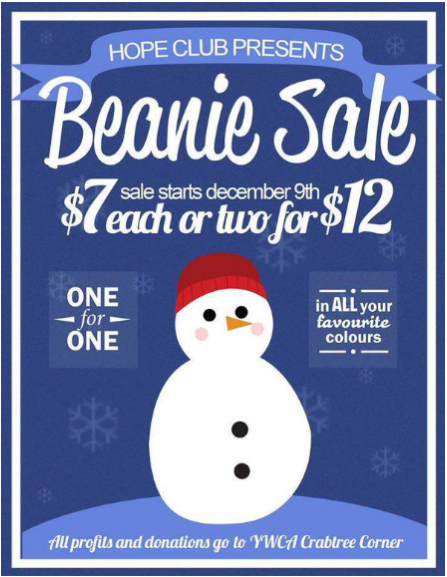 These students at a local school sold hand-made beanies to benefit the YWCA Crabtree Corner. Amazing!
Seek out Experienced Adult Mentors
A mature adult with experience whose work evolves around the issue you care about can act as a mentor to help you grow as a young activist. They act as a role model who can often inform you about opportunities, introduce you to others, and support your aspirations.
A mentor could be a teacher, professor or a family friend; anyone, really! Establish that relationship, ask for monthly meetings where you can attend events together or meet for a chat, and grow together. Your school could also have mentorship programs you can apply for, as do community organizations like the YWCA.
We have several mentorship programs for High School Students, Aboriginal girls, and new graduates.
Show up to show you care; strive to be an active citizen
It can be intimating to show up at an event surrounded by experienced professionals, and you may not feel you mean much since you have little work experience or expertise.
The good news is that at community events, "young people have [a] distinct advantage...they stand out in the usual crowd of adults;" politicians, policy-makers, and local business leaders often like to hear from the younger generation, so your presence and voice will certainly be valued. It is in you to take that step to write to a local newspaper, testify at a city council meeting, or show up at public dialogue events. It acts as a learning experience for you as well to become more educated on the social issue. Ask friends or a mentor to attend with you if you are uncomfortable with showing up alone.
Have little time for the above activities? Donations to a charity always help to sustain operations that support a cause. If you want to help the YWCA support low-income women and their families, click here.