Women in Media: Empowering the next generation
How can a young woman navigate through the challenges of a male-dominated workplace?
This was one of the questions answered last week at Women in Media: a YWCA event for self-identified girls and young women interested in pursuing careers in media.
In an interactive evening of engaging discussions and networking, speakers shared their experiences with a full room of young women, on how to conquer career obstacles and excel in their professional lives.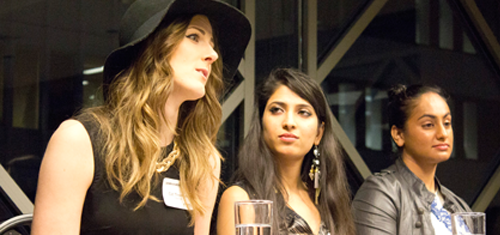 Here are some key takeaways from our speakers on resilience, taking chances, and knowing your worth:

•    Jessica Gares is the Communications Officer of Media and Issues Management at BCLC. She spoke about her transition from media to communications and reflected on past experiences. From an internship at a major television network, to being senior producer of the Bill Good Show on CKNW, Jessica stressed on the value of building relationships as you build your career, and utilizing those networks to get your foot in the door when seeking your first career opportunity.

•    Keanan Kipp, an Associate Producer at Global BC, did not always know that she wanted a career in news and broadcasting (she originally planned to become a kindergarten teacher!). Keanan encouraged young women to look into their personal interests and passions when considering their career paths, and to try out new opportunities to see where the best fit might be.  Her pearl of wisdom? Don't be afraid to step away from a job if it doesn't make you happy.

•    Simran Kapoor is the VFX and Digital Production Manager at Method Studios and one of the youngest production managers in the animation and visual effects industry in Canada. She encouraged young women to actively seek out opportunities for themselves, rather than wait for favourable circumstances, "reach out to your dream companies even if they don't have a job posting, ask someone who works there out for a coffee so they know what you can offer" she said.

•    Baldeep Dhillon is a communications student at Simon Fraser University and media literacy blogger, offering critiques on traditional and emerging forms of media on her blog mediacorruptsthemessage.tumblr.com. While she is still in the early stages of her career, she encouraged young professionals to use online platforms to communicate ideas they are passionate about, "this sets you apart as someone who is action-oriented, and also helps build your personal brand" said Baldeep.

•    Singer and Songwriter Cat Thomson recognizes that the music industry is tough, where women are often criticized not just for their work, but also their appearance and image. Cat overcame many challenges as a young female musician, and encourages young women to know their worth and values as professionals, and to speak up for themselves when these values are challenged.
A big thanks to all the speakers and volunteers for making this event possible!
Women in Media was part of the Girls Action Foundation's National Career Day initiative, an annual project featuring local Career Days hosted by partner organizations across Canada.