Meet four extraordinary YWCA volunteers
April 10-16, 2016, is National Volunteer Week. 
Volunteers are a vital part of the YWCA movement to create social and economic change. This diverse, passionate and dedicated group gives back in many ways. They teach music and dance, they keep our Health + Fitness facility running smoothly, they share knowledge and advice with youth or work in our gardens to grow healthy, sustainable food. If you've volunteered for the YWCA, we thank you! 
This week, we celebrate four (of many!) incredible YWCA volunteers. They shared their stories and why they love to volunteer.
Johanna's story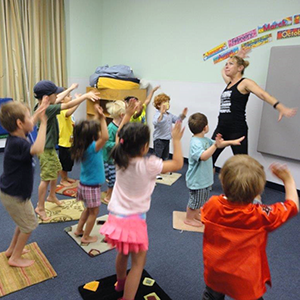 Johanna Ward has been a YWCA Metro Vancouver volunteer for over nine years. At the YWCA, she's a movement educator and DanceFit instructor. Says Johanna, "Volunteering with the YWCA is part of who I am and how I see myself, or rather how I want to see myself. It gives me a greater sense of purpose."
For the past year, Johanna has expanded her volunteer work to teaching dance to preschoolers at YWCA Citygate Early Learning and Care Centre, and it's the highlight of her week. Johanna gets to share her love of movement and to see how much the children love to dance, move and play. Their favorite song to dance to is a song where they pretend to be robots. As soon as Johanna arrives, the children will start asking for the robot song, and when they dance, they are so funny and awesome!
She definitely encourages others to volunteer for the YWCA: "Finding a way to share what you love and help others at the same time is really rewarding. It makes you feel a part of something special. I feel honored to belong to the organization and to be able to share what I love.
"The work the Y does for women and children and families in the community is so important – providing education, financial assistance, emotional and material support. In my opinion, it is special to be able to share your talents, whatever they may be."
---
BuildDirect's story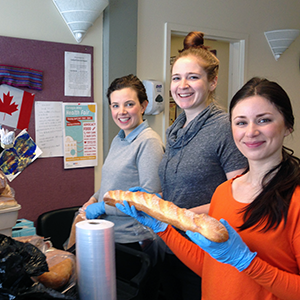 At first glance, it wouldn't seem like a home improvement goods company and the YWCA would have much in common. Over the years, however, BuildDirect, a Vancouver-based company, and the YWCA have worked together to make change and have fun!
From food and clothing donations to organizing fundraisers, BuildDirect's efforts have made a big impact. At Crabtree Corner Community, they can immediately see how they've helped. Says Jill Canty, a copywriter for BuildDirect: 
"Whether it's making and handing out smoothies, or gathering and sorting clothing, when you're in the facilities and seeing families benefiting from your efforts right away, it's like philanthropy in real time."
Employees, including the CEO Jeff Booth, have given back. They find that their teamwork and collaboration muscles are stronger after volunteering; it makes them better at their day jobs. For Jill, group volunteering is all about "Getting a group of focused, well-intentioned people together and channeling that well-meaning energy into a positive, impactful movement, and making change… It's an opportunity for everyone to do the good they've always wanted to do, but never quite knew where to put that energy."
Volunteering with the YWCA started as a small effort and now has grown into a movement, says Jill. She says it was like the dance floor at the wedding: it only takes one person to unlock a wave of energy and good times. For that reason, she encourages others to pick up the phone or send an email, and start a group of volunteers: "Just do it! Be that person in your company that gets everyone up on the proverbial dance floor!"
---
Rachael's story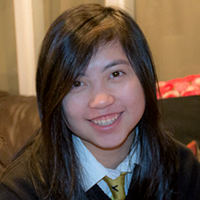 Rachel Chow is a Vancouver high school student who has already developed a passion for volunteering. "I chose to volunteer at the YWCA because of the focus they give to women and the importance they raise on the wellbeing of women," Rachael says. "The YWCA definitely opens one's eyes into a whole new perspective about how one person can easily make a difference in another's life."
Rachael is making a difference by sharing her musical talents. Each week, Rachael teaches piano to the children at Munroe House, one of our second-stage transition houses. The best part, she says, is "Seeing the bright faces of the children and the curiosity they bring to the piano keys…Regardless of whether they have practiced or not, just knowing they appreciate you there warms my heart."
"The YWCA has impacted me in many ways, and has allowed me to grow and spread my love for music." 
Although she's a relatively young volunteer, Rachael knows that it's never too early to get involved with the community and give back. "The experiences you gather volunteering are irreplaceable, especially how emotionally impactful they can be. There are no regrets with wanting to help and to meet different walks of life." 
---
Emily's story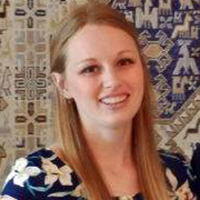 YWCA Youth Education Programs are made possible by dedicated and passionate volunteers like Emily Averill. Emily is a Wisdom Champion for That's Just Me, which means she is an adult mentor to Grade 7 girls soon to make the transition to high school.
During her first term as a Wisdom Champion, she felt unsure about how to connect with the girls. She "felt pressure to make an impact in their lives." However, "it came more naturally than I had expected."  Emily says, people "simply need to be heard…I think that this ability to really listen and respond accordingly is essential."
In her second term volunteering, Emily took more initiative to bring out students' inner confidence. She was working with a group of students to make bullying awareness posters for their community service project, and there was some conflict. Emily noticed that some of the shyer students were nervous about sharing their ideas. "A quieter student was put into a group with two of the most outgoing students that were in the program and she would sit off to the side and seemed too nervous to say what she wanted to do as she drew her own poster in the corner," remembers Emily.
"I noticed she had a really good idea for the poster but she didn't share it with her group." Emily shared the idea with the other students, who immediately praised her idea and decided that was the theme they were going to use. "I will never forget the look on her face when she realized that she had actually thought of a great idea that the other students liked," says Emily.
Being able to support girls to gain self-confidence is why Emily loves volunteering with the YWCA.
---
Whether you want to share your time, your skills or your voice, you can make an impact on the lives of women and their families across Metro Vancouver. Contact Clare Marriott or Mariko Ikeda for more information about volunteering for YWCA Metro Vancouver.