Welcome to My Life: Why I stayed as a volunteer
This is part two of a three-part series about Welcome to My Life, a YWCA Youth Education program designed to help Grade 7 girls make smart choices as they transition to high school. This series is written from the perspective of volunteer facilitator Chapo. Read her first post here on finding time to volunteer here. 
It was a cold and rainy December evening and we had just finished off clearing the mess we had made in a classroom at one of Welcome to My Life's schools. The noisy screams of the girls and their laughter from just a couple minutes earlier had slowly faded away. The girls had just completed their community service project and were really excited about it. They had decided to make snowflakes with random messages of kindness for their peers as part of their project. In addition, the program's Wisdom Champion had brought some treats for the final day and the girls creatively suggested we use crackers and other snacks to make mini gingerbread houses. This was fun as it brought up all our holiday spirits.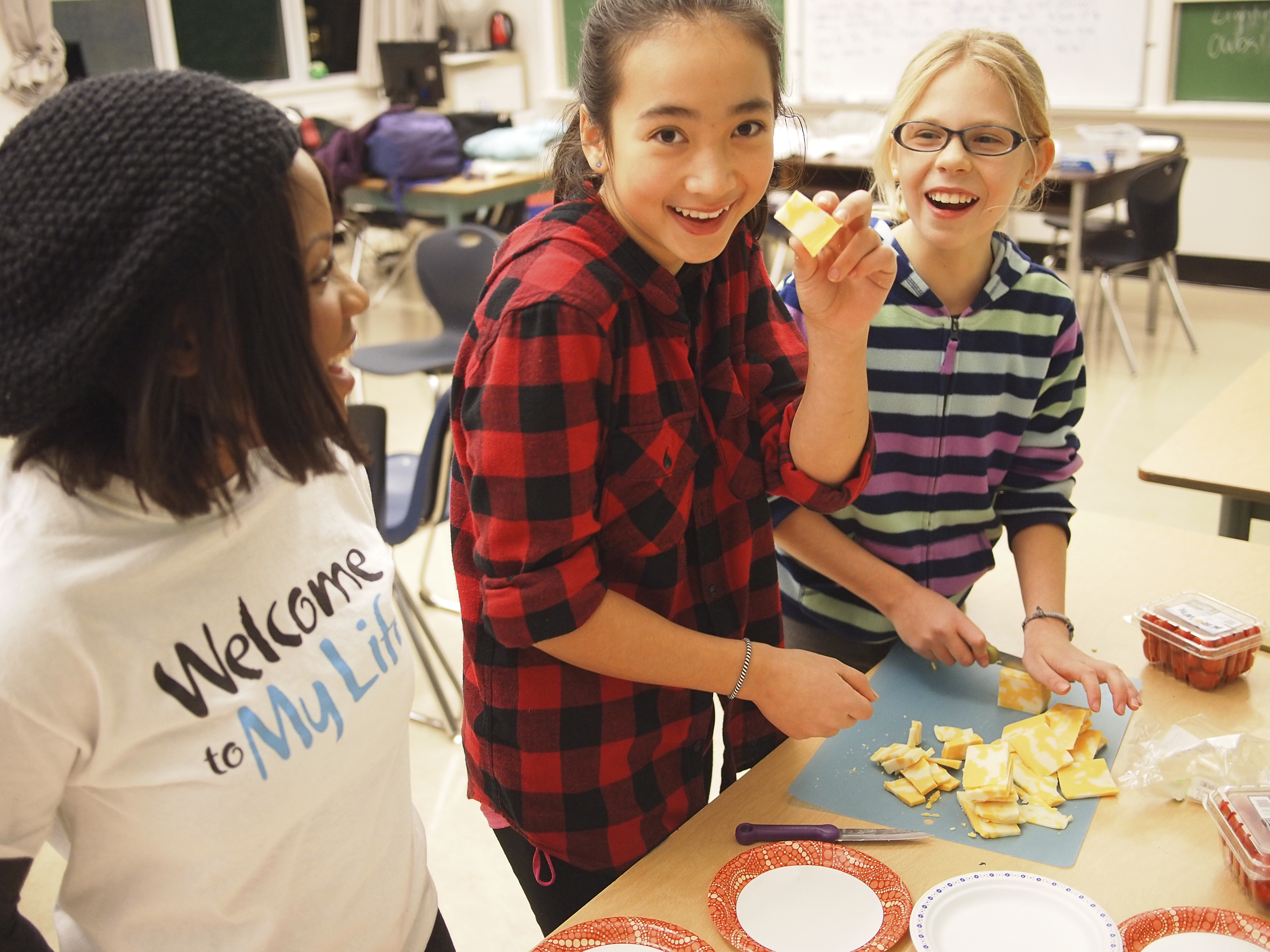 This was the third time I had volunteered as a facilitator for Welcome to My Life. As I looked around the classroom, I was amazed to see how much the girls had grown over the past few weeks. On the first day of the program, it had been extremely challenging to get the girls to speak up and engage even though I had close to one year experience volunteering as a facilitator. It is not unusual for the girls to be quiet or shy. Usually by the second week of the programs, many of the participants are more comfortable with the program leaders. However, this was not the case with this group of girls. Their silence carried on longer and we had to think of new ways we would engage with them. Fortunately, our new methods of engagement worked out well and the girls became more confident and started to speak up more.  
After saying my final goodbyes to my teammates that evening, I asked myself, Why have I stayed with the YWCA for so long?
The answer came to me when I remembered a question one of the girls had asked me at the end of our final session about whether it was possible for us volunteers to run the program again. I asked the girl why she wanted to do the program again, and she cheerfully replied because the program had been really fun. Therefore, I thought to myself, the reason I stayed at the YWCA for so long was because of the impact I had on girls through the program and how much I realized that young girls needed it. Programming for young women and girls is so important, and I am glad that I was able to be a part of a team which believed in the development of young girls.
---
Chapo Chisuzi is a recent gradaute from Simon Fraser University. She has been a dedicated facilitator in our Welcome to My Life program since 2014. Come back next week and read about why you should volunteer, too!