Strong Girls, Strong World summit unites young leaders
Young women from YWCA's and YMCA's in 10 cities across Canada gathered over a warm September weekend at YMCA Geneva Park in Ontario for the national Strong Girls, Strong World Summit.
Strong Girls, Strong World (SGSW) is a two-year project empowering girls and young women to become leaders and agents of change in their communities. SGSW's uniqueness is in each project's diversity! From Vancouver, BC to Moncton, NB, each SGSW group captures the daily realities faced by young women in their community, acting to break down barriers and promote opportunities for young women's development. 
At YWCA Metro Vancouver, our project is guided by a Youth Advisory Committee of high-school and university students who educate their peers and communities on gender equality using media literacy. This involves teaching others how to critically consume media and to understand the effects of sexualization and hyper-masculinization on our daily lives. 
Two young women from Vancouver sit on the SGSW National Advisory Committee and were able to attend last month's summit. Here is what they had to say about their experiences:
Nicole's experience
"The summit allowed young women of the SGSW National Advisory Committee to finally meet each other, and amplify our ambitions for our associations. The agenda included a plethora of speakers, workshops and team bonding. My personal highlight was meeting Katie Zeppieri, who spoke of her Girl Talk Empowerment Day event that inspired over 1,000 attendees, and shared skills she acquired from the planning process. She joined us for lunch after her workshop, where I was able to ask her questions that she answered without hesitation. I was provided with insight that will surely increase the impact of my future initiatives."
Cecilia's experience
"I thought that the SGSW Conference was a great culmination of all the efforts of young leaders across Canada throughout the past year. For me, it was a great experience to see others working on the same theme: empowering women and girls across Canada with many different interpretations, as seen by the various initiatives we undertook or are still undertaking. I loved meeting new friends and building connections that I think will last! I learned about positivity and staying motivated to make a difference."
The summit was also an opportunity for the young women attendees to think local and plan for their community action projects. Nicole and Cecilia created a plan for the media-literacy youth conference we're organizing: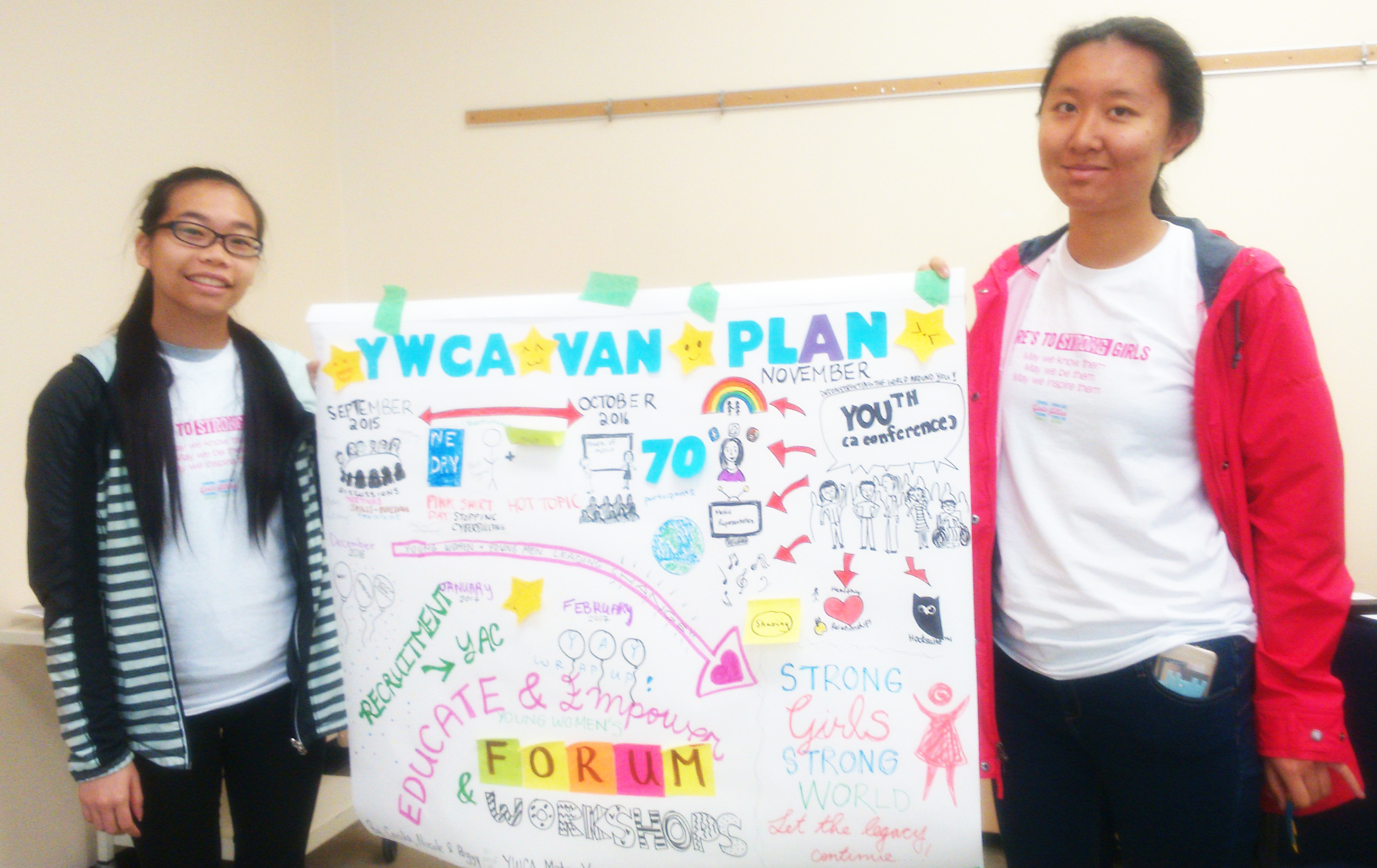 As the project nears the end of its two-year term, the young women were motivated to make the most of the last few months with SGSW, and plan to continue creating positive change in their communities. You can follow all the projects' accomplishments online, using the hashtag #StrongGirlsStrongWorld.
---
Want to connect with the Strong Girls, Strong World project in Vancouver? Our media-literacy youth conference is coming up on November 19 - we hope you can join us! Details and registration info at ywcayouthconference.eventbrite.ca.