YWCA and the City of Vancouver breaks ground on Fire Hall No. 5 and YWCA Pacific Spirit Terrace
City breaks ground on Fire Hall No. 5 and YWCA Pacific Spirit Terrace, adding 31 units of affordable family housing to Vancouver.
VANCOUVER, B.C. – This morning the City broke ground on the innovative Fire Hall No. 5 and YWCA Pacific Spirit Terrace, which will provide 31 new homes for single mothers and their children. In attendance to celebrate the remarkable new project was Mayor Gregor Robertson, Minister Suzanne Anton, Fire Chief John McKearney, Janet Austin, CEO of YWCA Metro Vancouver, Streetohome Foundation and the Pacific Spirit Foundation.
Fire Hall No. 5 has served the Champlain Heights and East Fraser Lands communities since 1952. When it became clear that it required replacement, the City partnered with Vancouver Fire and Rescue Services and YWCA Metro Vancouver for a forward-thinking collaboration to create new affordable homes with below market rate rents for women and their families.  
The six-floor development project will host a state-of-the-art fire hall on the first two levels, housing for low-income, single mothers and their children on the top four floors and a rooftop patio, creating housing for about 96 people in a family-oriented residential area, close to services, bus routes and schools. It will be designed to meet the needs of the growing community–as well as seismic codes–and accommodate larger trucks and other fire and rescue requirements., It will be built at the same location as the original Fire Hall No. 5, 3090 East 54th Avenue at Kerr Street. The City of Vancouver owns the land the YWCA will be the operator of the rental housing for 60 years.
This initiative is a key part of the City of Vancouver's Housing and Homelessness strategy, aimed at revitalizing existing social housing units and creating new affordable, community-focused housing.
The City has invested $10.908 million for the replacement of Fire Hall No. 5 and $6.126 million for building the housing. The affordable housing portion of the project costs a total of $10.830 million. Major contributing partners for the housing are YWCA Metro Vancouver, the Government of Canada's Homelessness Partnering Strategy program, Government of B.C., Streetohome Foundation and Pacific Spirit Foundation. The Government of BC has invested $1.3 million to the housing component.  
Fire Hall No. 5 and YWCA Pacific Spirit Terrace demonstrate the success in creating affordable family housing through community partnerships and with the involvement of the Provincial and Federal Governments support.
The City would like to encourage additional projects of this kind and has contributed 20 sites–worth a total of $250 million– to the provincial and federal governments to build affordable housing.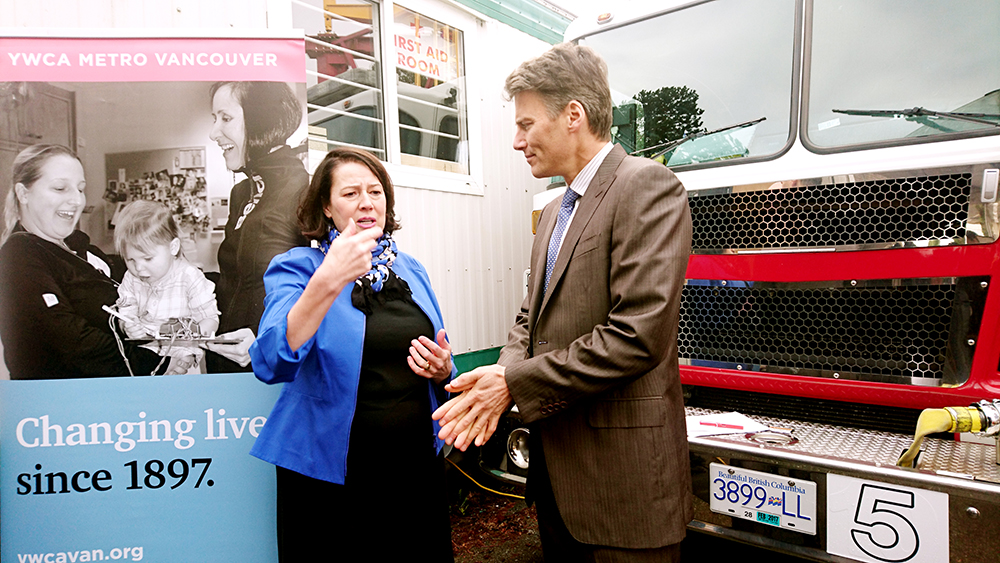 YWCA CEO Janet Austin and Mayor Gregor Robertson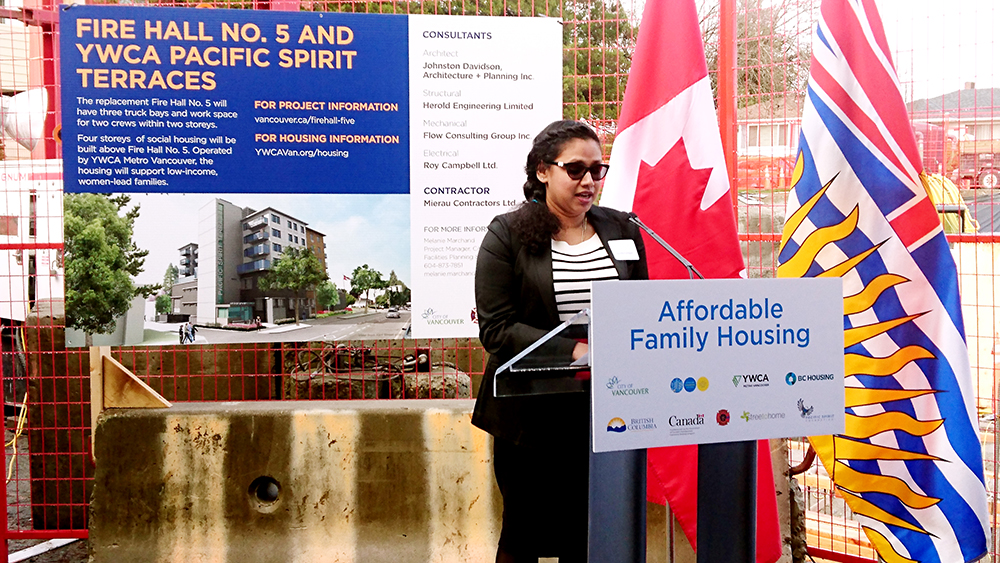 Former YWCA Housing client Kavitha Cariappa speaking about her experiences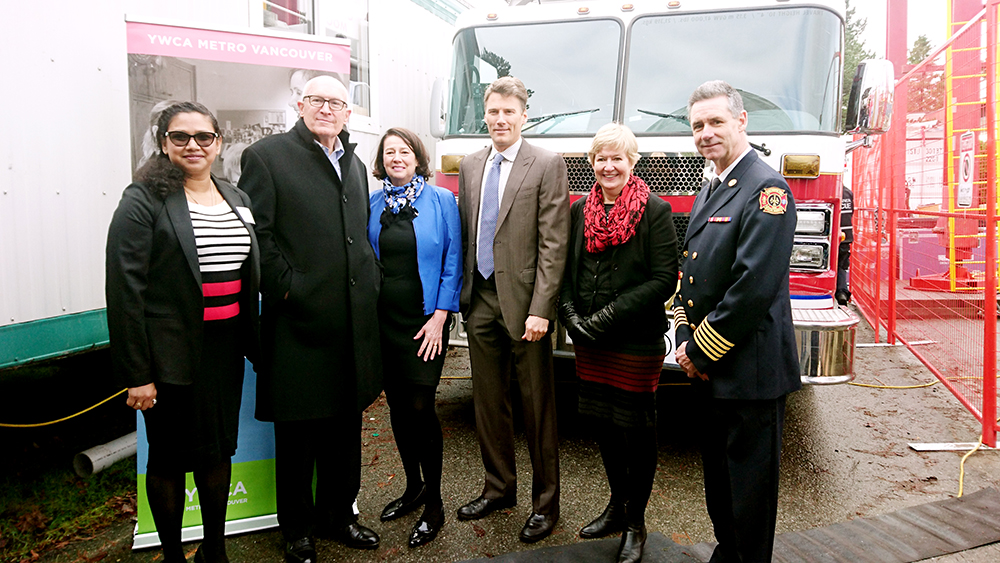 City of Vancouver Firehall No.5 and YWCA Pacific Spirit Terrace groundbreaking ceremony
Quotes:
Honourable Harjit Singh Sajjan, Minister of National Defence and MP for Vancouver South, on behalf of The Honourable Jean-Yves Duclos, Minister of Families, Children and Social Development
"The Government of Canada is proud to support the YWCA Metro Vancouver's Pacific Spirit Terrace project that will help prevent and reduce homelessness in Vancouver. Every segment of our society must be treated with dignity and respect and be given the opportunity to make a meaningful contribution. Our government is committed to addressing the needs of Canada's homeless population and to helping Canadians lift themselves out of poverty."
---
Mayor Gregor Robertson
"The City of Vancouver is thrilled to support this dynamic community partnership with the YWCA to provide safe and affordable homes for women and their families in South Vancouver. At the same time, investing in a new fire hall builds a community hub to meet the needs of this growing community. I want to thank all partners for collaborating on this fantastic neighbourhood initiative."
---
Minister Susanne Anton, Minister of Justice and MLA for Vancouver-Fraserview
"The B.C. government strongly supports innovative affordable housing options across British Columbia. This project highlights a unique mixed-use building option as it combines affordable housing with a new fire hall which will benefit the greater community."
---
Janet Austin, CEO, YWCA Metro Vancouver
"The YWCA is delighted to break ground today for YWCA Pacific Spirit Terrace. We are grateful to the City of Vancouver, a longstanding partner of the YWCA, for their willingness to explore an innovative mixed-use housing project on top of a fire hall. In addition to housing, residents can access the range of holistic, integrated YWCA services, enabling many single mothers to work towards personal and economic independence. The YWCA is committed to fundraising 3.83 million dollars towards this project and through the generous support of the Government of Canada, BC Housing, Pacific Spirit Foundation and Streetohome Foundation, we have been able to take a significant step towards this goal."
---
Guff Muench, Director, Pacific Spirit Foundation
"Our family is pleased to be the lead donor in partnership with the YWCA Metro Vancouver, the City of Vancouver, the Government of Canada, BC Housing and Streetohome to help make this great project a reality. It fits with our vision of helping families build a better life for themselves in Vancouver."
---
Rob Turnbull, President and CEO, Streetohome Foundation
"Streetohome is the first organization in Vancouver to take a systematic approach to addressing both homelessness and its root causes. We work closely with leaders from private, public and non-profit sectors to leverage new funding, broker opportunities for collaboration and introduce innovative and promising practices that lead to sustainable solutions to homelessness in Vancouver." 
---
For more information on the Fire Hall No. 5 and YWCA Pacific Spirit Terrace, visit 
vancouver.ca/your-government/replacing-fire-hall-5.aspx 
- 30 -
Media contact:
Chantelle Krish
Associate Director, Communications and Advocacy 
604 895 5767
ckrish@ywcavan.org