The YWCA Metro Vancouver Women of Distinction Awards is thrilled to announce the addition of an exciting new initiative, the Icon Award. Selected internally by the YWCA and Women of Distinction Awards Event Chair Dana Montalbano, the Icon Award recognizes an extraordinary woman for her achievements throughout her lifetime.
Recognized as a leader, role-model and mentor, the Icon Award recipient has made a significant and sustained difference over the span of her lifetime in the community on a local, provincial and/or national level. She demonstrates a track record of excellence and is an inspiration to others in her field. She enriches our community through the positive impact of her contributions, as demonstrated by her work in one or more Women of Distinction Awards categories. She encapsulates the spirit of women's equality and her actions exemplify resilience, passion, determination, honour, loyalty, kindness, grace and generosity of spirit.
The Women of Distinction Awards is happy to announce May Brown as the recipient of our inaugural Icon Award!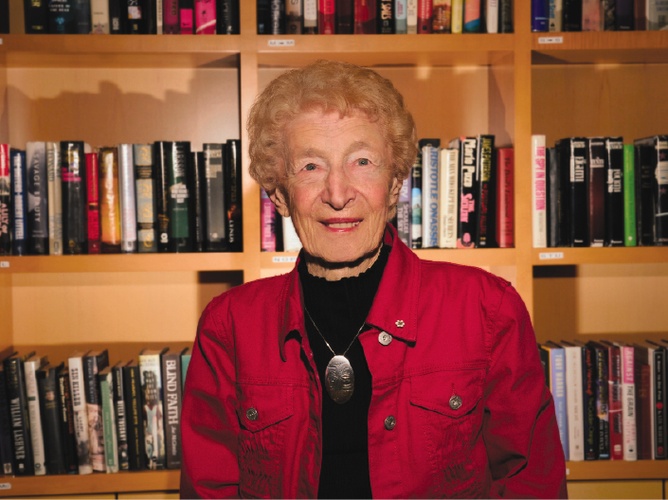 Leader, educator, mentor and philanthropist, May Brown is a role model for community involvement. May's contributions to our city have been as diverse and extensive as her impressive career. Starting in the field of parks and recreation, May worked as a coach, teacher and supporter of athletics, while raising a young family. She then served as a Commissioner and eventually Chair of the Vancouver Board of Parks and Recreation before moving on to become a Vancouver City Councillor. Many organizations have benefited from May's involvement: she served on the Minister's Sport and Recreation Advisory Council, UBC's Athletic Council, the National Advisory Council on Fitness and Amateur Sport and the Boards of the Vancouver Symphony and of St. Paul's Hospital. May was recognized as a Member of the Order of Canada in 1986 and a Member of the Order of British Columbia in 1993. A strong believer in the voice and experience of women in government, she remains actively involved in supporting women who seek public office.
May began her involvement with the YWCA in 1937, when she joined the Hi-Y Club at Surrey High School in Cloverdale. Her involvement continued and led to her serving on the YWCA Metro Vancouver Board of Directors and receiving a YWCA Women of Distinction Award in 1985. May continues to be a passionate advocate for women, and her contributions to developing a stronger, healthier community will last for many years to come.