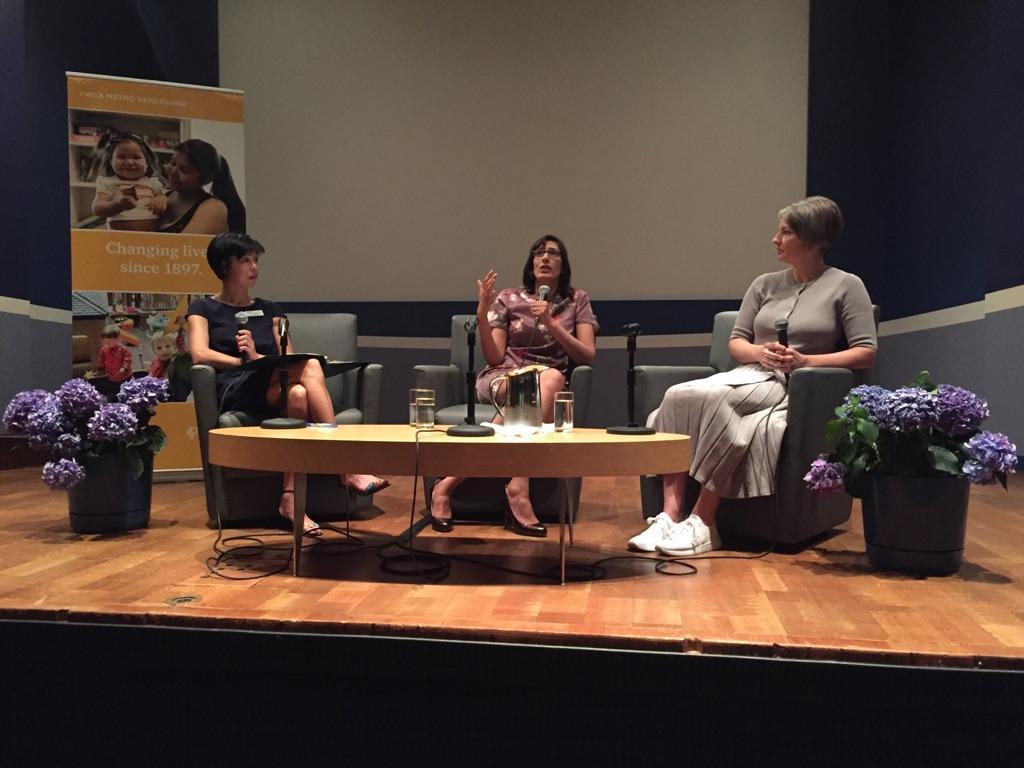 Tuning In: Examining Trends on Millennials, Masculinity and Gender
This year, our Annual General Meeting (AGM) explored millennial attitudes towards sexual harassment and gender equality. We welcomed award-winning journalist and Executive Director of the Angus Reid Institute, Shachi Kurl, to deliver a keynote on the issue. Shachi enlightened a packed room with Angus Reid's polling trends around the #MeToo movement, and shared her personal perspectives on gender inequality in the workplace and beyond.
Shachi was then joined on stage by Interim CEO Michelle Sing and Lori Boland, YWCA Culture Shift Project Lead, for a Q&A. Lori shared her expert insights on the issues of sexualization and hypermasculinization, their connection to the #MeToo movement and the steps we can take to combat them.
Here are a few takeaways from the event:
The Angus Reid Institute's public opinion study on workplace sexual harassment (#MeToo: Moment or Movement) revealed one-in-two women have experienced sexual harassment in the workplace.
When Angus Reid asked Canadians for their opinions on a number of potential workplace interactions (from scenarios like hugging a co-worker to commenting on their body), young men (aged 18-34) were in many cases twice as likely as the rest of the population to say a behaviour is acceptable, while men 55 and over were among the least likely to say a behaviour is acceptable.
Younger women tend to be among the strongest voices for change, while men in the same age group are more permissive in their views about what is and isn't acceptable in the workplace.
How can we heal this divide? Shachi says that we can't afford to talk past each other, and emphasized the need to understand what's driving attitudes and perceptions, especially from younger men. "We can't correct anything until we have frank, open conversations," said Shachi.
Both Shachi and Lori point to sexualization and hypermasculinization as contributing factors to workplace sexual harassment, and the attitudes and perceptions that drive it.
The sexualization of girls allows for boys and men to hold a dominant position in society. Hypermasculinization of boys locks that dominant position in place. Both factors feed into violence against women, including sexual harassment.
Recommendations for combating sexualization and hypermasculinization include building awareness about the impacts of sexualization and hypermasculinization, promoting media literacy in sexual health education and advocating for a gender equity policy in public institutions and private businesses. Read the Culture Shift Report to learn more about these recommendations.
What can you do to help?
Donate to the YWCA's Youth Education Programs - these after-school programs help girls and boys gain the tools, experience and self-confidence they need to take on the world.
Take action: Has a sexist ad has caught your eye? Report it using the YWCA's Media Complaints Toolkit. This interactive, online tool raises awareness on the connection between sexualization and gender inequality, and helps people take immediate action on these issues.
To learn more about our advocacy on sexualization and hypermasculinazation please contact Amy Juschka, Acting Director of Marketing Communications at ajuschka@ywcavan.org | 604 895 5810