2019 Summer Events in Metro Vancouver
Summer is upon us - the sun's shining and events are popping up all over Metro Vancouver! From cultural fairs to community events, we thought we'd give you a little rundown of what's happening.
Side note - if you're interested in learning about free career services, WorkBC Centres from across Vancouver will be at all of the below events, and would love to chat to you about how they can help you get job ready and make your career dreams come true! Drop by our booth and say hello.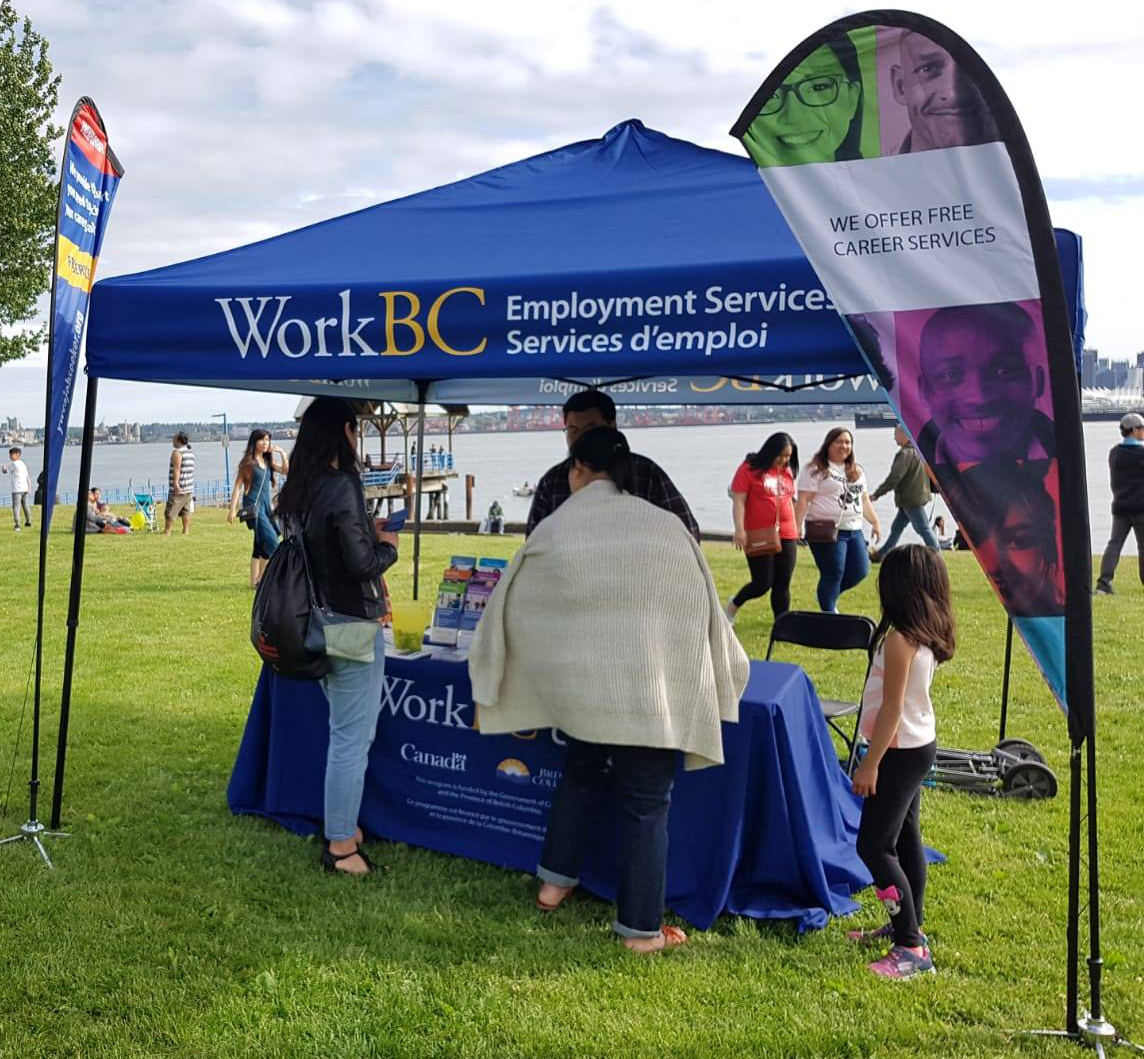 June 2019
11am - 3pm
100 Newport Drive, Port Moody, B.C. V3H 5C3
Celebrate community while connecting with local people, services, and organizations. The fair features free and fun activities for all ages, including an inflatable slide, mini train ride, toddler zone, and Science World demos.
12pm-7pm
On Denman from Davie to Robson
Vancouver's West End is a densely populated area surrounded by beautiful parks and beaches. It welcomes residents of all ages, incomes, ethnicities and sexual orientations. The highly walkable area offers restaurants, cafes and places to get ice cream before walking the seawall.
12pm-7pm
Broadway to 30th on Main Street
The biggest of Vancouver's Car Free Day festivals spanning 21 blocks, Main Street has 15 stages and mini festivals along the entire street. This is a fun, family-friendly event with kid-zones, skateboarders, funky artisan shops and popular food vendors. You can really taste the flavour of Main Street with extended patios from many restaurants.
9am-4pm
Lynn Valley Park, 3590 Mountain Highway
Lynn Valley Days is a community festival in North Vancouver that includes a parade, bouncy castles and family-friendly activities on June 22 in 2019.
The WorkBC Centre team will be at Lynn Valley Days only on June 21.
11am-9pm
Greek Day on Broadway is the finale event of the annual Greek Heritage Month festival in Vancouver. Presented by the Hellenic Canadian Congress of BC, the festival aims to share the rich Greek culture which spans 2500 years of history, including over 100 years of social and cultural contributions to the City of Vancouver. The Hellenic Canadian Congress of BC is an association of Greek organizations and communities representing Canadians of Hellenic heritage in the province of BC to various levels of government. It fosters education, communication, and cooperation between Hellenic Canadians and other ethnic groups, and promotes the development of just and equitable policies and legislation concerning all citizens. The Congress encourages and promotes the retention and development of Hellenism in BC within the multicultural context of Canada.
June 28th - 6:00pm-11:00pm
June 29th - 11:00am-11:00pm
June 30th - 11:00am-11:00pm
July 1st - 11:00am -6:00pm
Rocky Point Park
2800 Murray St, Port Moody, BC V3H 1X2
The Golden Spike Days Festival is one of the oldest and longest running family events in BC and are proud to have been named to The Tri-City News' A-List as 'Favorite Community Event,' multiple years running. The festival is held at Rocky Point Park around Canada Day, attracting upwards of 40,000 people of all walks of life with live entertainment, special events and activities for all ages. Our event commemorates the construction of the Canadian Pacific Railway line and its arrival at the original western terminus in Port Moody where the LAST SPIKE was driven.
July 2019
12pm-10:30pm
Coquitlam's Canada Day celebration has grown to the largest event in the Tri-City area. With a wide range of diverse live entertainment, fireworks, delicious food and fun activities, this free community festival has been named one of the top-20 festivals in Metro Vancouver by Business in Vancouver. ​​
12pm-4pm
Waterfront Park, Block, 200 Esplanade W, North Vancouver, BC
The North Vancouver Canada Day Celebration will take place at Waterfront Park from 12:00 to 4:00pm. This year's event will feature a diverse lineup of local performers, multicultural food, family-oriented games, and displays from North Shore Community organizations. Enjoy free cupcakes, a climbing wall, bouncy castles, balloon artists, and much more!
8am-10pm
Castle Park, 2252 Castle Crescent, Port Coquitlam, BC V3C 5Y1
This coming Canada Day July 1st, 2019, join Canadians from coast-to-coast to celebrate and honour our great country with entertainment headlined by The Darby Mills Project, Canada's iconic female rock band as well the sounds of electro and house music by DESTINEAK.
There will be a shuttle service provided from West Coast Express to Castle Park!
11am-9pm
West 4th Avenue from Burrard to McDonald
The West 4th Avenue Khatsahlano Street Party is Vancouver's largest free Music + Arts Festival!
Created with love in 2011 by the members of the Kitsilano West 4th Avenue Business Association, Khatsahlano, features multiple stages showcasing more than 50 of Vancouver's top musical performers as well as the eclectic work of local artisans and street performers. This 10-block street fair, spanning from Burrard to MacDonald Street also features a wide variety of food options, bustling patios, giveaways, special activities, and licensed beer gardens!
12pm-7pm
Venables to N. Grandview on Commercial Drive
Commercial Drive is a creative and eclectic neighbourhood east of downtown. There are many unique shopping, food and entertainment destinations, and the community has a love for its heritage history.
Our festival stretches across 15 blocks featuring amazing local artisans, musicians, community activities, delicious food, tons of entertainment and activities for all ages. As the place that Car Free Day began, Commercial Drive stays true to its grassroots beginnings and the story behind the festival. There is a strong message of advocacy and activism for providing car free spaces and green culture for the community.
7pm-9pm
TD Community Plaza, 1299 Pinetree Way, Coquitlam, BC V3B 4S1
Voted "Outdoor Concert of the Year" by Tri-Cities residents, Coquitlam's Summer Concert Series is back again for 2019! Drop by the TD Community Plaza in Town Centre Park to enjoy free concerts under the evening sky this summer.
Choose to either sit on the grassed seating levels or bring your own chair or blanket while enjoying a homemade picnic or meal purchased from an on-site food truck.
5pm-10pm
The Shipyards are located just east of the Seabus and the Lonsdale Quay at the foot of Lonsdale Avenue in North Vancouver.
Stop by Shipbuilders' Square for the Shipyards Night Market, where you will find fresh food, locally made products, musicians, art and entertainment. The  festivities in the Square kick off at 5pm on Friday nights. On the Shipbuilders' Stage there is live music until 10pm, showcasing talent from all over BC.
The Shipyards Night Market in Stop by Shipbuilders' Square has grown to be a very successful and busy event. You will find 100+ vendors selling fresh food, locally made products. The Friday Night Market also includes a beer garden serving local craft beer and cider as well as Betty's Vodka Iced Tea. You must be 19+ to enter the beer garden.
The Shipyards Night Market is on Friday Nights 5-10pm – May 3 to September 27, 2019, the WorkBC Centre Team will be there on July 19.
August 2019
12pm onwards
A celebration. A protest. A party. A place to take up space. An opportunity to don our finest and shiniest. A chance to recognize how far we have come and reflect on where we need to go from here. Ask ten different people and you will receive ten different answers on what the Pride Parade means to them.
12pm-7pm
St. Johns Street from Douglas Street to Moody Street
This year, the third annual Car-Free Day will take place on Sunday, August 18, 2019 from 12pm to 7pm. The City of Port Moody will close a section of St. Johns Street from Douglas Street to Moody Street (from 6am to 10pm) for the event.
Car-free days take place across the country and aim to inspire people to get out of their cars, interact with each other, and explore alternative modes of transportation.