What Can Meaningful Youth Civic Engagement Look Like?
Abacus Data's recent Youthquake survey found that 58% of young people believe in the democratic process, specifically voting to influence change, yet just 37% of eligible youth voted in the 2017 provincial election. Because the youth vote trails behind, we get the idea that youth are apathetic about civic engagement. When we uphold this idea, we divest ourselves of the responsibility to find opportunities for young people to meaningfully participate in civic spaces.
What are some of the barriers to youth civic engagement, and how do we reduce them? Can we imagine what just, equitable and accessible civic engagement can look like for all youth? These are some of the questions we unpacked on June 3 as part of the Women Deliver Mobilization in partnership with The Office of the Lieutenant Governor.
Four brilliant leaders, Tanvi Bhatia of LOVE BC, Astra Lund-Phillips of the BC Youth Parliament, poet and public speaker Noor Fadel and Tesicca Truong of CityHive, sat on a panel moderated by The Honourable Janet Austin, Lieutenant Governor of British Columbia and Miley Leong, Youth Engagement Coordinator at YWCA Metro Vancouver.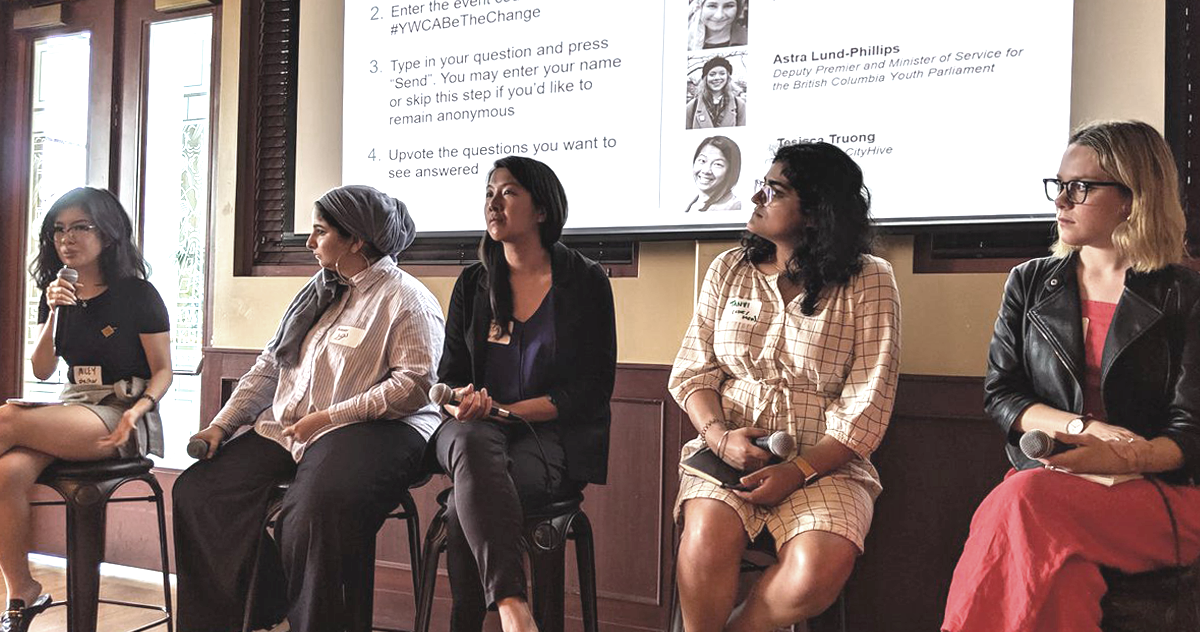 The conversation centered the perspectives of our panellists on the common barriers to youth civic engagement and potential solutions, including:
The importance of naming intersecting forms of oppression and finding ways to mitigate them. Tesicca highlighted that, in order to create intergenerational spaces where power is shared and youth are leaders, there needs to be an acknowledgement of the ways that youth are kept out of spaces because of their age. This means creating "bridging systems" between young people and those in power who are willing to share. Tanvi spoke to their experience working with immigrant and refugee youth, emphasizing how when you invite people to join your work, you need to address multiple barriers that they could be facing, this includes providing compensation, food, and bus tickets as some examples.
 
We need to rethink what leadership can look like. Astra Lund-Phillips said that being "small and quiet" might not make her look like a leader, but she uses her voice, platform and personal power to amplify the voices of others. If we reimagine who we think can be a leader, we can develop meaningful opportunities for youth leadership. 
 
Youth engagement should not be beneficial just for the people or organization engaging youth. All of the panellists touched on the idea that meaningful engagement means proper compensation and relationship-building, letting youth take up spaceuse their voices and reflecting on the reasons why you invite marginalized people to your spaces. These are some ways we can address tokenism and shift towards building collectives.
 
Youth need safe spaces to practice both self and community care. Noor mentioned having a clear separation between work and personal life, while Tesicca highlighted that holding and making safe space was one of the main reasons for founding CityHive–if you don't see a safe space where you belong, you might have to make spaces for yourself. This means creating safe spaces for community care, but also spaces to strategize and mobilize.
 
Representation matters. Tanvi mentioned that she would like to see a day where "it's not just one youth or one woman or person of colour in a space...it doesn't have to be a tokenizing thing". The push for representation doesn't start and end when one woman or person of a marginalized background has power, this can also extend to age and all areas of difference (ability, sexual orientation, gender identity). Tesicca mentioned that her personal practice is to study boards and leadership teams of organizations for diversity when it comes to relationship-building and looking for where to get involved.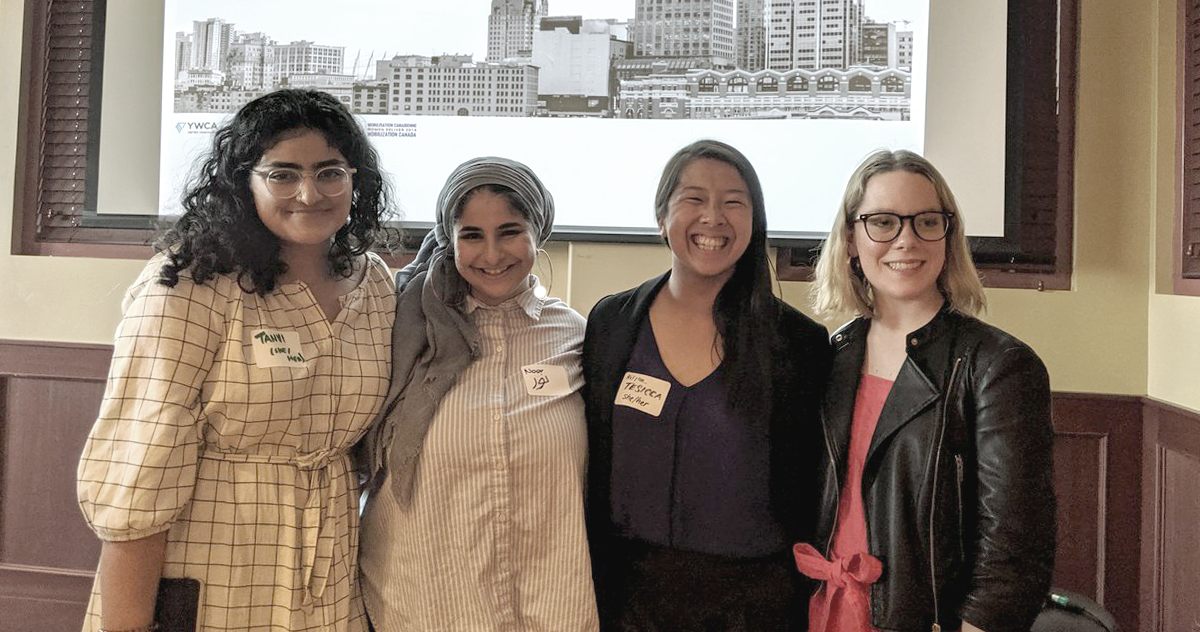 Many thanks to all who attended our event, our wonderful panellists, the youth-led organizations who came to support, The Office of the Lieutenant Governor, and CanWaCH and Women Deliver 2019 Mobilization Canada for co-hosting our event! 
The YWCA Youth Advisory Council meets once a month to take up issues of representation and youth civic engagement. Learn more.