Youth Pedal to Success with YWCA Gear Up
Building skills and confidence is an essential part of any successful job training program. YWCA Metro Vancouver is excited to re-launch an exciting new program for youth that supports their personal and professional development in a booming industry.  
Introducing YWCA Gear Up 
Supported by the RBC Foundation and in partnership with the Pedal Society, this innovative program equips youth aged 16-30 with skills, certification and employer connections to work as Level I bike mechanics.  
Gear Up was initially launched in January 2020, with the first graduates finishing the program in early March. Due to the COVID-19 pandemic and concerns about the health and safety of staff and participants, on March 17 we made the difficult decision to put the program on hold.  
As we move towards Phase 3 of BC's Restart plan, we are excited to resume our second Gear Up cohort on July 6, 2020 and to announce the start dates for our third and fourth intakes: July 27 and August 17. The bike mechanic workshops will take place in a bike shop provided by the Pedal Society with all protective measures in place; the employment and skills development workshops will be offered online until it's safe to resume in-class instruction. 
We are thrilled to see participants like Gina thriving and look forward to more success stories!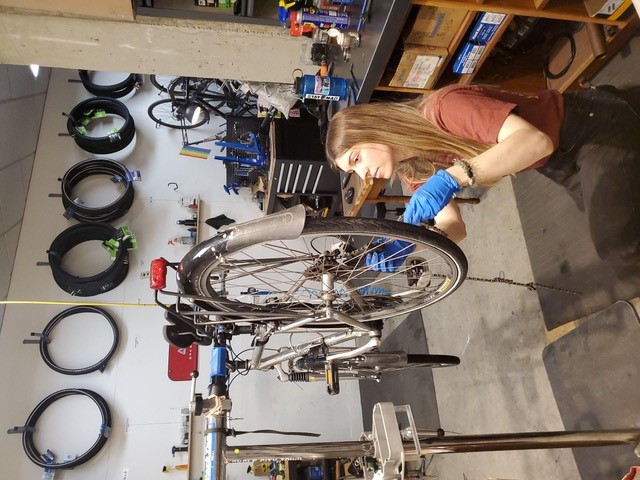 "The biggest challenge in my job search has been finding work that pays well enough to support myself in such an expensive city; I lacked the skills to be eligible for a position that paid any higher than minimum wage. I've worked at two different bike shops in the past and I was always envious of those who were working back in the service centre. My confidence has sky-rocketed after starting the program, and I've started down a career path that I'm really excited about! I couldn't be prouder of my own progress and thankful for all of the extra efforts everyone has put in to help me succeed in this industry and in reaching my career goals."  – Gina, YWCA Gear Up graduate 
---
For more information about YWCA Gear Up contact Asal Ahadi at 604 250 9342 | gearup@ywcavan.org.