International Women's Day 2021 – Our Yearly "State of the Union"
As an organization focused on achieving the full realization of equality for women, girls, Two-Spirit and gender-diverse people, International Women's Day is an opportunity to reflect on how we are faring in terms of gender equality in Canada and around the world.   
Nearly a year ago, Helen Lewis, staff writer at The Atlantic and the author of Difficult Women: A History of Feminism in 11 Fights, predicted that the pandemic would be a disaster for feminism. She wrote that the coronavirus could send many women back to the 1950s and that across the world, women's independence would be a silent victim of the pandemic. As we all know by now, her predictions are not far off.  
Below, we explore some of the pandemic's negative impacts on gender equality and highlight the positive and powerful role women leaders play in creating solutions. 
Looking Back on Gender Equality Goals Set 25 Years Ago 
It was supposed to be a landmark year for gender equality. 2020 marked 25 years since the Beijing Declaration and Platform for Action, a groundbreaking conference that called for bold action in 12 areas for women and girls. It included combating poverty and gender-based violence, ensuring all girls get an education and making space for women at top levels of business and government, as well as at peacemaking tables. It also called for women's right to control and decide on their reproductive health.  
Twenty-five years later, not a single country has reached that goal - and many warned that instead of progress there is now push back, exacerbated by the COVID-19 pandemic. 
The Impacts of the COVID-19 Pandemic on Women 
The pandemic has disproportionately impacted those who were already marginalized and has rolled back hard-fought gains for gender equality. Across the world, women are facing increased unemployment, domestic violence and unpaid care duties. Despite women making up a majority of front-line workers, there is disproportionate and inadequate representation of women in national and global COVID-19 policy spaces. Let's explore each of these issues. 
Unemployment and Economic Losses 
Here in Canada, the pandemic has pushed women's participation in the labour force down to its lowest level in three decades, with 1.5 million women losing their jobs in the first two months of the recession, according to a study conducted by RBC Economics in July 2020. In April, women's participation in the Canadian workforce fell to 55%, a level that was last seen in 1986.  
Tourism, hospitality and retail, sectors that are dominated by women, continue to struggle. School closures and lack of child care caused employment among women with toddlers or school-aged children to fall 7% between February and May. The situation was even worse for single moms. A report released in September by the Canadian Centre for Policy Alternatives showed that 37.5% of single moms with kids under 12 lost their jobs or had their hours drastically cut when the economy shut down in the spring. By the end of the summer, one in three single moms were still either unemployed or underemployed. 
Although Canada has recovered more than 80% of the jobs lost during the first wave of the pandemic, many women of colour have not returned to work. According to Statistics Canada data provided to Reuters, the unemployment rate for minority women was 10.5% in November, compared with 6.2% for white women.  
The pandemic has intensified challenges that mothers already faced. Working mothers have always worked a double shift - a full day of work, followed by hours caring for children and doing household chores. A recent McKinsey study shows that one in three mothers have considered leaving the workforce or downshifting their careers because of COVID-19.  
Ensuring that women return to the labour market is critical to Canada's recovery and ongoing success. As pointed out by RBC Economics, women participating in the labour market equally with men would provide a lift to economic output of about $100 billion per year. 
Increase in Domestic Violence 
The United Nations has called violence against women and girls a "shadow pandemic". Countries around the world are seeing reports of gender-based violence increase by 25 to 33%. With the unprecedented scale of the stay-at-home orders, many women found themselves trapped with abusive partners and isolated from friends, family and support networks.  
The Frontline "Sheroes" 
According to Statistics Canada, 81% of the Canadian health care and social assistance workforce is made up of women. Fifty-six percent of women workers in Canada are concentrated in essential occupations known as the 5Cs: caring, cashiering, catering, cleaning and clerical functions. Many of these women didn't have the choice of working from home when many Canadians switched to home offices - instead, they became our frontline "sheroes".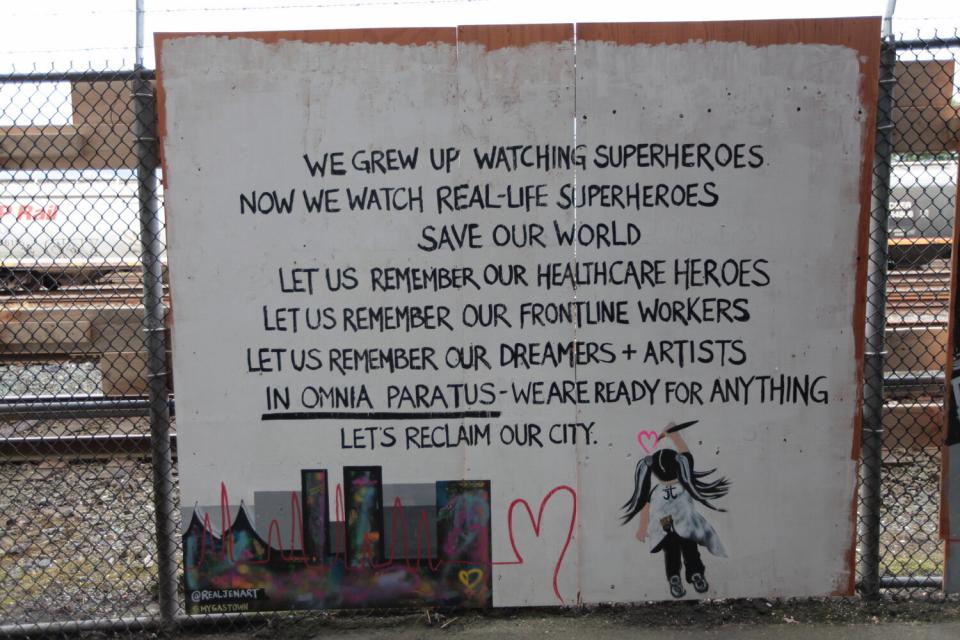 Mural at Gastown Murals of Gratitude, Vancouver
What about the good news? 
While we can't deny that Helen Lewis was right and that 2020 was a disaster for feminism, last year also showed us that when women are in positions of power and leadership, great things happen. As the United Nations highlighted, "women bring different experiences, perspectives and skills to the table, and make irreplaceable contributions to decisions, policies and laws that work better for all." 
Exemplary Leadership During the Worst Crisis of the Century 
Currently worldwide, women serve as Heads of State or Government in just 21 countries - while 119 countries have never had a woman leader. Yet, some of the most exemplary and effective national leaders in combating the pandemic are women. Heads of Government in Bangladesh, Denmark, Ethiopia, Finland, Germany, Iceland, New Zealand and Slovakia have been recognized for the decisiveness and effectiveness of their national response to COVID-19, as well as the compassionate communication of fact-based public health information. In May 2020, the peak of the first wave of the pandemic, countries with women in positions of leadership had death rates that were six times lower than countries led by men. Women-led countries had higher rates of testing and lower absolute COVID-19 cases than peer countries led by men. 
Black Lives Matter, a Movement Started by Three Women, Became a Global Movement 
We can't talk about 2020 without talking about the rise of the Black Lives Matter (BLM) movement around the world. BLM was founded by Alicia Garza, Patrisse Cullors and Opal Tometi in the US in 2013 after George Zimmerman, who shot dead unarmed Black teenager Trayvon Martin, was declared not guilty. Protests erupted again last year after the killing of George Floyd, who was killed in May by a police officer who knelt on his neck during his arrest in Minneapolis. The BLM protests spread all around the world, shedding light on racial injustice, adding allies and supporters and generating momentum. "We fought to change history and we won", said Alicia Garza, BLM co-founder.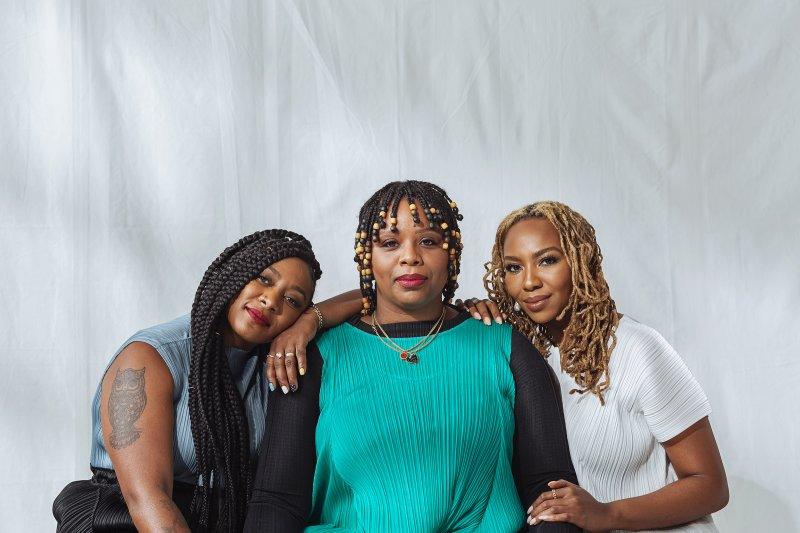 Black Lives Matter Founders Alicia Garza, Patrisse Cullors and Opal Tometi were included in TIME's 100 Most Influential People in 2020 list.
Photo by Kayla Reefer for TIME
Kamala Harris Became the First Woman of Colour to Be Elected Vice President in the US 
Kamala Harris made history as the first Black person, South Asian person and woman to be elected vice president of the United States. During her first speech after the election results were confirmed, Harris spoke of the women who have paved the way for that victory, sparing particular attention for the Black women who are too often overlooked, but so often prove they are the backbone of democracy. "While I may be the first woman in this office, I will not be the last, because every little girl watching tonight sees that this is a country of possibilities," she said. 
Looking Ahead: A Feminist Economic Recovery 
As stated by our director of communications and advocacy, Amy Juschka, "our recovery will not come easy, but it does present an opportunity to dismantle the status quo and make life better for those most impacted by the pandemic. To recover, people need to safely access health care, they need to be housed, they need opportunities for good jobs and fair pay, they need child care, and they need to live free from the threat of violence and discrimination. It will require courage, commitment and a vision of an economy that lifts everyone up."  
YWCA Metro Vancouver, YWCA Canada and many other gender equality organizations have been working tirelessly to provide critical recommendations to all levels of government on a feminist economic recovery. Now is the time to invest in communities hardest hit by COVID-19. Looking ahead to next year's International Women's Day, we hope to share all the positive steps taken by government, business and communities to advance gender equality in the face of the pandemic. 
Banner photo by Chelsi Peter from Pexels.
---
We project a $2.46 million deficit in 2021 as a result of ongoing pandemic-related impacts on the YWCA Hotel and Health + Fitness Centre, which help fund our programs. Without these revenues, our capacity to deliver services in future years could be at risk.
Your donation will help us continue to serve women and families during this critical time.