At the YWCA, we have a unique role in advocating on behalf of mothers who are parenting alone.  
The YWCA Employment Navigator program supports single mothers across all YWCA programs and housing communities to create a strategic plan toward meaningful employment. The employment navigators provide participants with information, resources and referrals to services such as the YWCA's employment programs or bursaries for single mothers while providing ongoing individualized support and empowering them with the tools and skills necessary to overcome barriers and achieve economic independence.  
The program plays a crucial role in assisting mothers who are parenting alone to navigate the many services the YWCA offers and access resources to help them reach their goals. This program is funded in part by RBC and is part of YWCA Canada's In Good Company project. 
Annaliza is one of the moms who have recently received support from the Employment Navigator program. Here's her story.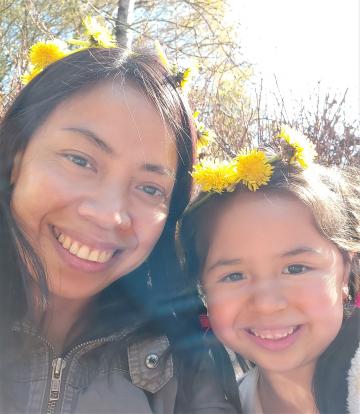 "As a single mother, all that I aim for is to be able to provide for my five-year-old daughter. After my separation, we moved to my friend's place temporarily. We ended up staying more than six months - having a limited income is challenging to find a place as rents are very expensive these days. 

Even though it broke my heart to leave my daughter under my friend's care at night so I could work graveyard shifts at A&W, I needed to be strong for her. My income was just enough for my daughter and me, but we survived each day with the help of my friends. I managed to find a place for us in February 2020, but it was a challenge for me to take my daughter by transit to my friend's place so I could work at night and watch her by myself at daytime. But I managed to do it all.  

When the pandemic hit, my friend could no longer watch my daughter because of the restrictions. I had to stop working and was worried about how I was going to provide for us. Thankfully, I got approved for CERB, which supported us for many months, and we could survive through it.  

In the meantime, I got accepted to a Health Care Assistant training from WorkBC to help me upgrade and enhance my skills.  

The training was online due to the pandemic, which was another challenge for me because I didn't have a computer at home. My WorkBC case manager referred me to the YWCA Employment Navigator program to ask for extra support. They helped me get approved by the Kitty Heller Fund to purchase a new laptop that I can use for my online training.  

There were times that I almost gave up because of the stress and challenges that I've encountered, especially with child care, ongoing arguments with my daughter's dad and my custody court trials. But I thought of why I was doing this. My daughter is my inspiration, my strength, and she gave me all the reasons to go on.  

I am glad that I never gave up and I am still here continuously pursuing and persevering to succeed with the great help from all the people that want me to succeed in life. I am grateful to WorkBC, the YWCA Employment navigator, all my family and friends that believe me and are there to support me. I know they will be waiting for me at the end of the finish line. 

Every day is a new day, a new beginning, a new hope. Challenges in life are not reasons to give up, but it helps us to come out strong and a better person at the end. 

To the donors, funders, and the YWCA Employment Navigator staff: please continue doing what you're doing because you are a great help to someone like me that is in need. You are making a big difference in our lives and also to a new generation to come. Every support you give is well-appreciated. Thank you!"