32 New Homes for Women and Children in Arbutus Ridge
Thursday, October 14, 2021
YWCA Metro Vancouver is thrilled to open 32 new homes for women and children in Arbutus Ridge today, with the grand opening of our newest housing community YWCA xʷƛ̓əpicən. 
xʷƛ̓əpicən, on Vancouver's west side, will add 125 new units of affordable homes for residents on low and moderate incomes, through an innovative partnership with Tikva Housing Society (Tikva) and the Association of Neighbourhood Houses of BC. 
YWCA Metro Vancouver will provide 32 units of safe, affordable housing for single mothers and their dependent children (25 two-bedroom units, 7 three-bedroom units), Tikva will operate 37 units primarily for Jewish singles and couples, and ANHBC will operate 56 units predominantly for seniors and families.
Located at the corner of Arbutus and Yew at Arbutus Centre, the eight-floor building offers an amenity room, a courtyard, children's play area, community gardening areas and a rooftop terrace. When eligible, families at YWCA housing will have access to holistic services to ensure they have support to move toward personal and economic independence.
 

The name xʷƛ̓əpicən was gifted to the project by the xʷməθkʷəy̓əm (Musqueam) Indian Band and means 'below the ridge' or 'a hollow', referring to the housing site's low-lying location below the Arbutus Ridge and also because a hollow is a safe and cozy place where people would gather. 
Hear the pronunciation of xʷƛ̓əpicən, from xʷməθkʷəy̓əm (Musqueam) Indian Band Elder and Cultural Advisor, Larry Grant:
We are so grateful to the City of Vancouver for their willingness to explore new housing solutions, and to Larco Investments Ltd who has built this beautiful building.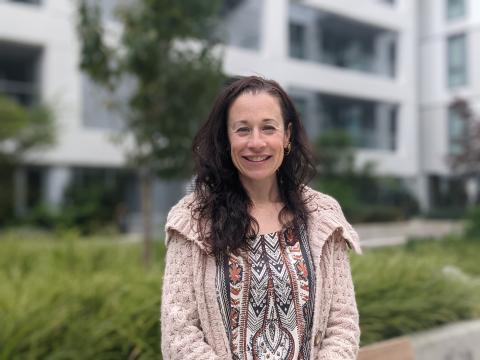 Elise, who is moving into one of the new apartments with her five-year-old son, is thrilled to be one of the first families to move into this new YWCA housing community:
"To have this opportunity to have not only just a space, but a beautiful space for myself and my son, I can't ask for anything better and I'm so incredibly grateful to the YWCA.
"I feel that it's so important, especially for single moms... having a stable home and a nice place to go home to makes so much of a difference".