High School Mentorship Podcast | From Mentee to Mentor
Thursday, December 15, 2022
Have you ever wondered how having a mentor can impact your career goals after high school?
The High School Mentorship program matches Grades 11 and 12 girls* (mentees) with volunteer professionals (mentors) for a one-to-one mentoring relationship. 
Matches are based on career and education goals, hobbies, and the level of support needed. Throughout the program, mentors and mentees meet at least once a month and attend at least one workshop offered by the YWCA. 
* This program is open to youth who self-identify as girls, non-binary or gender diverse. We warmly welcome members of the BIPOC, LGBTQIA2S+ and Disabled communities.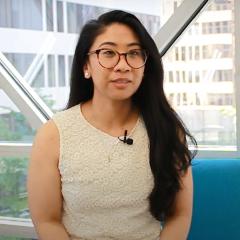 Introducing the YWCA High School Mentorship Podcast
The first of its kind, the High School Mentorship (HSM) podcast speaks with Gabrielen Alvero, current mentor and previous mentee of our YWCA HSM program. It covers valuable information for students thinking about the next steps in their careers.
Listen to her experiences as a previous mentee, as she shares her advice for those joining the program in the future:
1. Intro to the HSM Podcast
2. Our Special Guest Introduces Herself
3. Gabby Discovering HS Mentorship 
4. Gabby's Experience With Being a Mentor & Mentee
5. The Impact of Mentorship 
6. Gabby's Relationship With Her Mentor and Mentee
7. The Impact of Mentorship (Cont'd) 
8. Post-High School Anxiety & Going After Your Passion
9. You're Allowed to Change Your Mind 
10. How Covid Has Changed the Job Market 
11. Persistence & Why Feeling Lost Is Okay 
12. Gaining Confidence as a Mentor & Offering Support in Hard Times 
 13. The Power of Being A Mentor & End Credits
Want to learn more about the program?
Visit the YWCA High School program page.