Advancing Equity: YWCA City Shift's Latest Updates
Thursday, September 7, 2023
Advocating for Equity in Our Cities 
YWCA Metro Vancouver is deeply committed to advancing equity within our cities. That's why we've been leading City Shift, a 2.5-year project that calls on local decision-makers to reflect on the critical work required to transform our region into a safer and more equitable place for everyone.
We're in the final year of this exciting project and are eager to share some milestones and exciting updates.
Join Us in Shaping the Future
City Shift is a short-term project with long term social change aspirations. Help us continue to advocate for transformational systemic change across our region by donating to our advocacy work.
Unveiling the Equity Kickstart Guide for Cities
(March 2023) 
In March 2023, we released our Equity Kickstart Guide for Cities. This comprehensive resource outlines the steps cities can take to operationalize their equity commitments and showcases success stories and effective strategies from other municipalities who are leading the way.
Feedback on our guide has been overwhelmingly positive!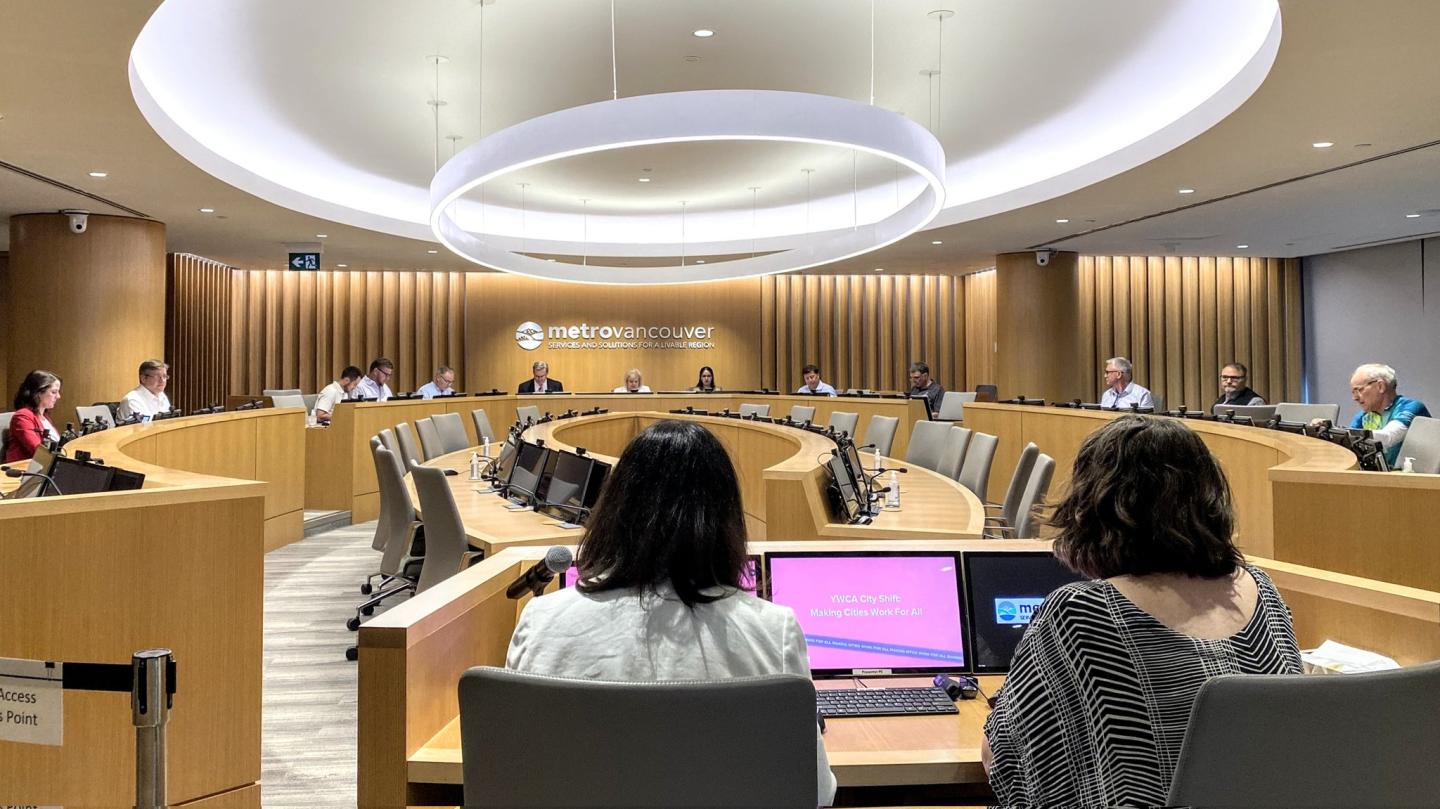 Delegating for Equity to Local Governments 
We've been taking our message of equitable city building and planning across Metro Vancouver. With help from CEO Erin Seeley, we've presented to mayors and councils in the District of North Vancouver, Coquitlam, Burnaby, Metro Vancouver's Mayors Committee, New Westminster, Port Moody and Maple Ridge. Our ask to local governments is straightforward: 
Commit to creating a more equitable city, one where everyone can thrive.  
Launch a pilot project using an equity tool like Gender-based Analysis Plus (GBA+) to shift equity commitments from concept to reality.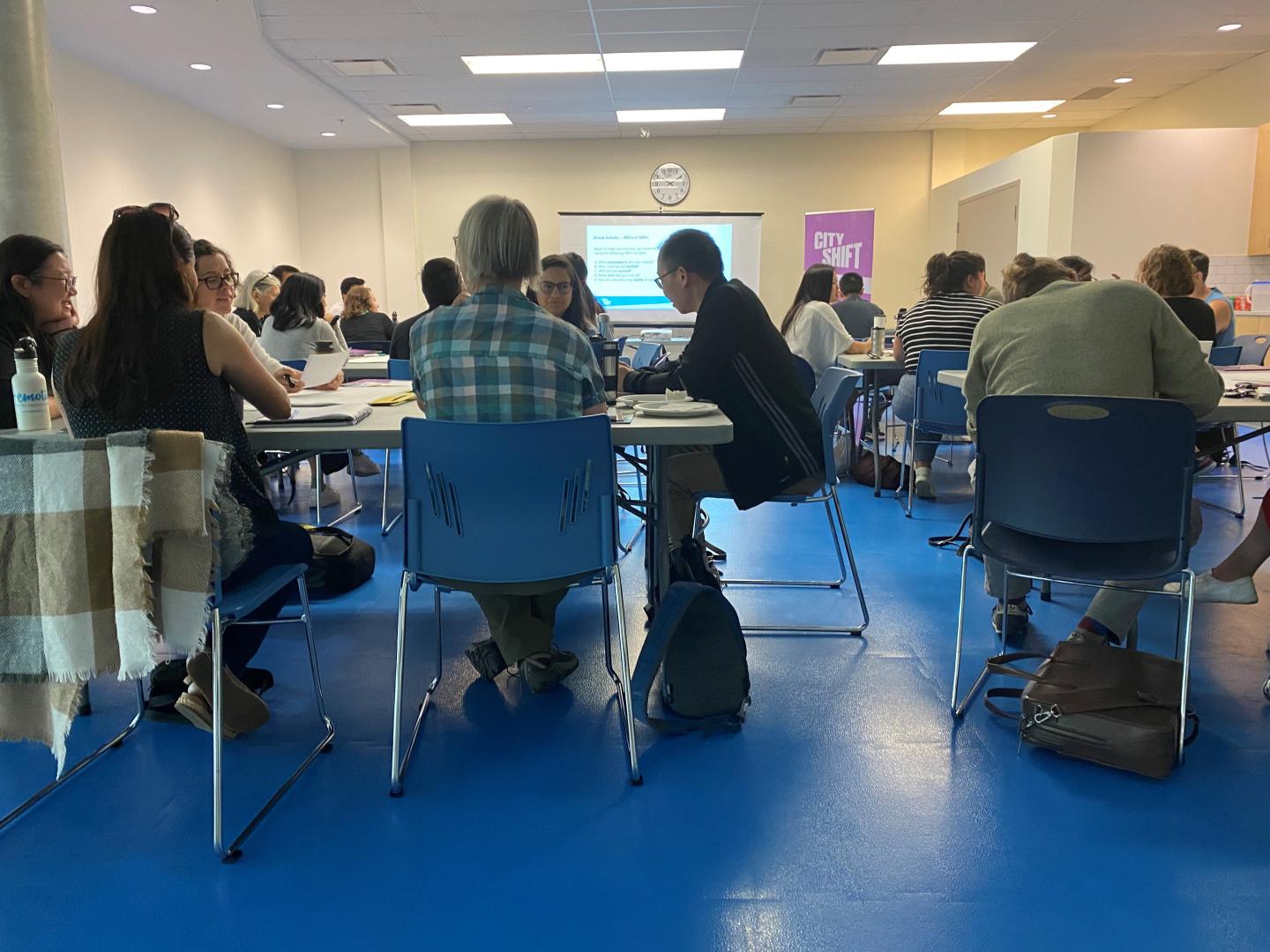 Empowering Municipal Leaders through Engaging Workshops 
Often, the most effective way to learn is by doing!  We developed and are delivering immersive workshops that dive deeper into the content from our Equity Kickstart Guide. We've proudly hosted workshops in multiple cities, engaging with municipal staff and civic leaders. These sessions focus on practical applications of Gender-based Analysis Plus (GBA+) to promote equity within city planning and decision-making. We have also supported one municipality in developing their own definition of equity, which is one of the recommendations in our guide!
If you're interested in having the City Shift team host a workshop in your city, please get in touch.    
Pilot Project Spotlight: City of Burnaby 
We're excited to share that The City of Burnaby is piloting the use of GBA+ in the revitalization of the Edmonds Town Centre Community Plan. GBA+ principles will steer every phase of the plan's update, and Burnaby's City Council will be regularly informed on the progress. The goal is to eventually roll out GBA+ usage across the city. Way to go Burnaby!     
What's next? 
From September 18 to 22, we'll be participating in the Union of BC Municipalities (UBCM) Convention. During the event, we'll engage with councillors and mayors, sharing insights and best practices on equitable city building and planning. 
We're also excited to share that our equitable communities resolution – put forward by Burnaby, New Westminster, North Vancouver and Port Moody – will be voted on at the convention. You can read the full resolution here. 
Additionally, we have exciting plans for a wrap up event. Stay tuned for more details.