The Pender Y: Part of our History and our Future
Wednesday, July 28, 2021
In 2022, YWCA Metro Vancouver will turn 125. To mark this exciting event, The Next 125 campaign is mobilizing the community and raising $12.5M for critical YWCA programs to ensure our work continues.  
This milestone is an opportunity to focus on the future, and to reflect on our history. Our work covers a vast terrain, but it has always been rooted in community. And our approach has always been to partner with the people we serve to address unmet needs.  
In 1938, the YWCA established a community centre in Chinatown to support members of the local Chinese community, many of whom faced racism and barriers to equal opportunity.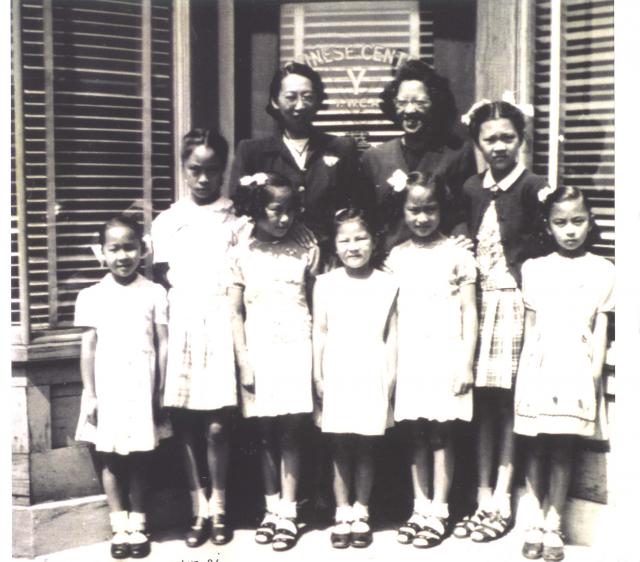 The Pender Y in the 1950s
During the war years, the community centre offered leadership training groups, service clubs and youth programs. In 1952, it officially became The Pender Y, and moved to a new site to accommodate expanding programs and membership. In the 1950s and 60s, The Pender Y was a popular gathering place for youth and adults alike. It remained open until 1977, at which time there were more than 50 organizations actively working in the neighbourhood.   
The Pender Y succeeded because of volunteers and families who generously gave their time and support. We are grateful to each of them and look forward to sharing some of their stories in 2022.  
More than 50 years later, the YWCA still operates near The Pender Y's location. Our safe, affordable housing at YWCA Cause We Care House is located above the Strathcona library; and YWCA Crabtree Corner Community Resource Centre on Hastings Street offers transitional housing, early learning and child care, food programs and a range of supportive programs for seniors and families.  
Words from Next 125 Supporters
"I have supported the YWCA with charitable donations at various times during the last 50 years. The YWCA is a bedrock of the community, providing so many necessary programs and support services, and that is why I am increasing our commitment." 

- Glenna Urbshadt & Katie Trydal, mother and daughter 
"I found the YWCA in the UK at age 16 when I needed a safe and affordable place to live.  It's been in my life in various ways over half a century. I appreciate the values of health and wellbeing, personal and career development, accessibility, safety, care and support. I am proud and honoured to be a part of the YWCA legacy." 

- Anne Dobbie 
You can be part of the YWCA's future and support priority projects like new housing in Richmond. Consider joining The Next 125 as an Urgent Response Partner with a gift of $25,000 or more, pledged over up to five years. To learn more, contact Shantal Cashman at 604 895 5859 | scashman@ywcavan.org.